Bentley Cars for Sale in Philippines
Jun 07, 2023 - Currently, 16 Bentley Cars for Sale in Philippines. Carmudi is your ultimate destination to find all new Cars (16) information, including Car specs, features, prices and images that will help you choose.
16 Bentley Cars available for sale in the Philippines, Explore the range of Bentley car here at Carmudi. Get great deals and promos on Bentley cars for sale in Philippines, view detailed price list (DP & Monthly Installment), reviews, fuel consumption, images, specifications, Bentley car models variant details & more. Select your favorite drive out of available 16 Bentley cars and make your dream come true of buying your own car.
Bentley Cars for Sale Philippines
A name synonymous in the world of luxury motoring, Bentley has come a long way to become a prestigious brand for the elite in all these years. The British car marquee has gained the stature of an ultra-luxurious car brand, with its offerings well known for uncompromised finesse in whichever aspect you talk about. Bentley now has a rich heritage of over 100 years, hailing from Great Britain, and since 1998, has been an integral part of Volkswagen group.
The overall vehicle range of Bentley is not too elongated and comprehensive – its current lineup only gets three different vehicles, all of which are designed for different masses and their different tastes. The range starts off with a two-door coupe, Continental, and its convertible version which offers a quintessential open-top driving experience. Then comes the super saloon, Flying Spur, with the range-topping off with the flagship SUV Bentayga.
Given their super hefty price tags and expensive after-sales ownership experience, the vehicles from Bentley have a very limited customer base. So, finding a used Bentley vehicle can be a strenuous task for some. However, we at Carmudi do try best to list up all the possibilities available used Bentleys currently available in the Philippines car market.
Bentley Sedans for Sale
Bentley always was predominantly known for its sedans, which offer one of the best back seat experiences in the auto industry. Not too long ago, Bentley pulled the plug off from its flagship sedan, the Mulsanne, which happened to be the best sedan Bentley has ever made. However, post its departure, the Flying Spur took off its place as the only sedan available in the Bentley's lineup. The Bentley Flying Spur, much like its direct rival from Britain, the Rolls Royce Ghost, is a super elusive sedan meant for those who want to announce their arrival and authority in style.
Advantages and Disadvantages of Bentley Sedans Philippines
Advantages:
While the exterior visual appeal of Bentley's sedans screams authority, the interior cabin shows no compromise on the fronts of luxury.
The list of comfort and convenience features as well as customization options offered by Bentley for its sedans is super extensive.
Disadvantages:
The sedans from Bentley are super pricey to buy and maintain, thus making them not too accessible for everyone.
The massive size and dimensions of Bentley sedans do need skillful hands to drive, and are not for new drivers.
Bentley Coupes and Convertibles for Sale
The Continental GT has always been the stalwart of Bentley when it comes to coupes and convertibles. This two door vehicle from Bentley is available in the Philippines in both hard fixed coupe roof and convertible options, making it one of the most unique looking ultra-rich options in the category of coupes and convertibles. Like the Flying Spur, the Bentley Continental GT offers a whole host of luxury features and innumerable customization options. The current lineup of Continental GT includes the base coupe, base convertible, Mulliner coupe, and Mulliner convertible. All these variants of the Bentley Continental GT come with both V12 and V8 petrol engine options.
Advantages and Disadvantages of Bentley Coupes and Convertibles Philippines
Advantages:
The overall looks and design of Bentley's coupes and convertibles make up for a perfect combination of panache and luxury.
There is a host of customization options for Bentley's coupe and convertibles, thus making them very desirable personalized cars.
Disadvantages:
The coupes and convertibles from Bentley are not for everyone, due to their super expensive maintenance and ownerships costs.
The mammoth dimensions and performance from mammoth engines of Bentley's coupes and convertibles do need trained hands to handle.
Bentley SUVs for Sale
Bentley was one of the pioneers among the elusive car makers who added an SUV to the otherwise specialist lineup of sedans and coupes. Coming up with an SUV was indeed a big challenge for Bentley, which it successfully accomplished with the Bentayga. While the overall styling of the Bentayga might draw polarized opinions, there is no denying the fact that the SUV scores high on desirability quotient, with its super luxurious cabin and rich features.
Advantages and Disadvantages of Bentley SUVs Philippines
Advantages:
The SUVs from Bentley have a super impressive road presence, which screams of the authority of the highest order.
The interior cabin of the SUVs from Bentley offer uncompromised levels of luxury and refinement.
Disadvantages:
The SUVs from Bentley are purely restricted for the super-rich people only, given their astronomical price tags and ownership costs.
The fuel efficiency of the Bentley SUVs is not something that can be termed as economic.
Bentley Philippines Cars Price List 2023
Bentley Cars for Sale in Philippines Price List start at for the inexpensive model Bentley Flying Spur and goes up to ₱11.9 Million for the most expensive Car model Bentley Flying Spur for Sale.
Second Hand Bentley Cars Price List
Used Cars in Philippines Starts at ₱11.9 Million for model and goes upto ₱11.9 Million for model Bentley Flying Spur for Sale.
Bentley Dealers
There are 2 authorized Bentley cars dealers across 2 cities in the Philippines.
Read Less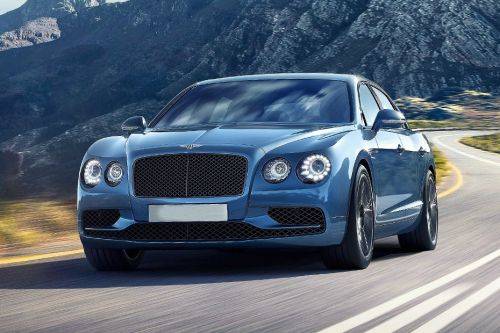 Brands Similar To Bentley Philippines
Bentley Owner Reviews
Based on
13 Customer Reviews