GAC Brings 2020 GS5, GM6 to PH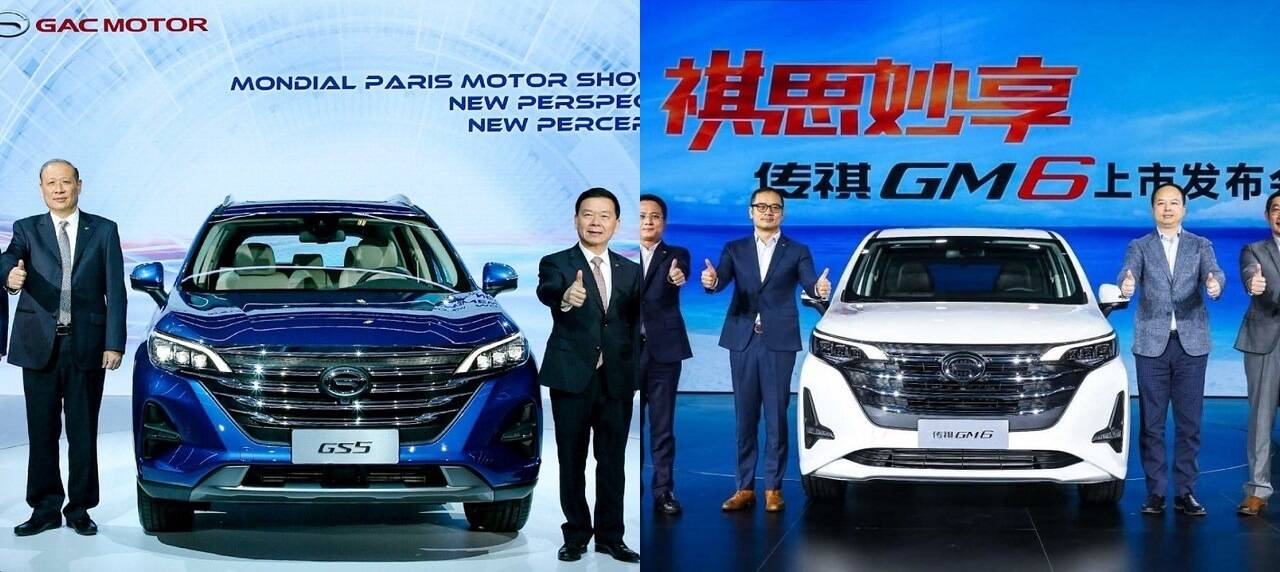 Chinese automobile manufacturer Guangzhou Automobile Group (GAC) adds to its Philippine lineup with two new models—the 2020 GS5 compact crossover and the 2020 GM6 minivan.
GAC GS5
Now on its second generation, the 2020 GS5 is a five-door front-engine compact crossover SUV that comes in front-wheel drive and all-wheel drive configurations. It comes with two versions of 1.5-liter inline-four gasoline engine mated to either a 6-speed automatic or 5-speed manual. The base engine puts out 150 horsepower and 235 Nm torque, while the turbocharged variant makes 167 hp and 265 Nm.
With a length/width/height measurement of 4,695mm x 1,885mm x 1,700 to 1,726mm (with shark fin antenna), the car is designed to compete with the likes of the Toyota RAV4, Honda CR-V, and Mazda CX-5. The vehicle's wheelbase measures 2,710mm long.
The GS5 that's about to arrive soon at GAC dealerships nationwide is actually the same model that was unveiled at the 2018 Paris Auto Show. The car's signature design elements include a massive V-shaped grille that seamlessly blends with the segmented headlamps, giving it a wing-like appearance. At the back, the design takes on a 'unibrow' look courtesy of a chrome strip that connects the taillight assemblies.
The wing design evident on the front grille is reflected in the interior's trimmings, especially the upper section of the dash that houses the center air vents. Overall, the cabin gives off a streamlined and uncluttered feel, with most of the controls strategically housed within the center console. The instrument cluster and infotainment system are both digital.
GAC GM6
The second car being introduced is the 2020 GM6 minivan, which has a front fascia that looks exactly like the GS5. So much so that one would be tempted to think that both cars are made under the same platform. Which is very likely, considering that both cars use the same 4A15J1 engine. Unfortunately, online information doesn't provide verifiable confirmation.
It's worth noting that the GM6 engine has the same torque output as the GS5, but a more powerful 171 hp. The vehicle has a front-engine, front-wheel drive layout, and offers a choice between 6-speed manual and 6-speed automatic transmissions.
Measuring at 4,780mm long, 1,860mm wide, and 1,730 to 1,765mm tall (with shark fin antenna), and a wheelbase of 2,810mm, the seven-seat MPV goes up against the likes of the Toyota Alphard, Kia Grand Carnival, and Honda Odyssey in the local market. The GM6 is meant to be a high-end MPV, with captain's chairs for its second-row seats.
Although both cars are expected to be launched next year, no exact date has been announced yet.