Grab bares funding program to benefit partners, ASEAN communities
Grab Holdings recently announced it latest plans for the GrabForGood Fund that will benefit its driver-, delivery- and merchant-partners, and the broader community of Southeast Asia.
In its statement, Grab said that it will fund with US$50 million (more than ₱2.429 billion) in cash and US$20 million (around ₱971.8 million) in expected value of Grab shares. Grab Group CEO and co-founder Anthony Tan, co-founder Tan Hooi Ling and President Ming Maa pledged a combined US$25 million (around ₱1.215 billion) in personal contribution of Grab shares in expected value). All in all, the fund will have an initial size of $275 million, based on today's valuation.
Tan said that GrabForGood Fund is eyed to support its partners and its community, promoting long-term commitment in the region.
"Since our founding, Grab has been dedicated to our mission of creating economic empowerment for everyone in Southeast Asia. The GrabForGood Fund will be a key pillar of our efforts to uplift Grab partners and our broader community, and represents a meaningful next step in our long-term commitment to Southeast Asia," the Grab Group CEO was quoted as saying.
"The GrabForGood Fund will commence immediate work on meeting the urgent need for COVID-19 vaccines where they're not easily available. Over time, we're planning to introduce other programs that will provide the foundation for social and economic mobility, and give more people access to opportunities to upgrade and improve their lives. Our aspiration is to create lasting positive impact in every country we operate in," he added.
According to Grab, the provision will support a mix of programs to deliver long-term social and environmental impact, including areas such as education, financial support for underserved communities, and environmental issues.
They will also put up a Fund Advisory Board that will help Grab partners and the broader Southeast Asia community voice out feedback and recommendations on the spending of the funds.
Grab also claimed that as part of an immediate effort, it has allocated up to US$20 million (around ₱971.8 million) in cash to fully subsidize the cost of COVID-19 vaccines and vaccine administration of eligible driver- and delivery-partners not covered by a national vaccination program.
Grab has begun sourcing for vaccines, and will look into setting up vaccine centers to inoculate eligible partners locally.
Further, the GrabForGood Fund is set to support other initiatives after it exceeds a certain targeted value. While more details will be determined and disclosed over time in partnership with the Fund Advisory Board, anticipated areas of support include:
For Grab partners:
GrabInsure subsidy: Grab is planning to tailor a GrabInsure program to enable Grab partners to purchase insurance products at discounted rates. The range of insurance products could include life, critical illness, family-member insurance coverage and investment insurance products, and will be customized to the needs of our partners in each country. This is on top of existing region-wide complimentary insurance coverage (Grab Personal Accident Program) that covers all driver- and delivery-partners in event of accidents or death while in service on the Grab platform, subject to the terms and conditions of such coverage.
Education scholarships: a merit-based financial aid for the most underserved of the Grab-affiliated community
Financial aid to Persons with Disabilities (PWD): Financial aid for PWDs to gain mobility and access to income by funding car/bike modifications, driving school fees and necessary hardware such as wheelchairs and hearing aids to enable their use of Grab's platform for income creation opportunities.
Community in Southeast Asia market:
Financial and digital literacy programs: Partnerships with financial/educational institutions to provide educational content.
Climate change resiliency: Grants or incentives toward low- or zero-emission technology and waste reduction solutions, addressing climate change and waste pollution, respectively.
Catastrophy relief: Financial aid for vulnerable groups to help rebuild lives when natural disasters strike.
Moreover, Grab said that the GrabForGood Fund is a "significant milestone building on the success of many existing Grab's initiatives to empower Southeast Asia," which include the Small Business Booster Program—designed to help small businesses to digitalize, and upskilling programs for Grab partners through free access to Microsoft's e-learning digital literacy modules via the Grab driver app.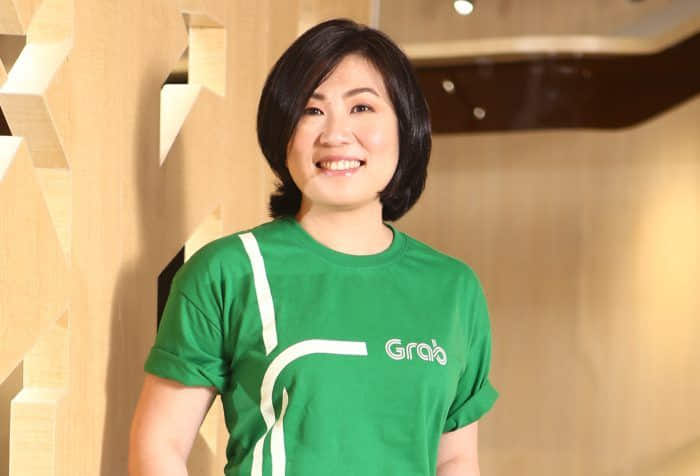 Locally, Grab Philippines has implemented similar programs to help their network of driver- and delivery-partners, as well as merchant-partners:
Madiskarteng Boss Club aimed to provide support to Filipino social sellers through training, solutions, and tools from the Grab platform.
Small Business Booster Program where it provides the necessary tools and solutions for local businesses so that they can better reach and serve their customers online.
Tipping feature to encourage app users to show support and appreciation for the work to the driver- and delivery-partners. One-hundred percent of these tips go directly to driver- and delivery-partners
GrabProtect: a suite of features and solutions eyed to protect the lives and livelihoods of partners on the platform. These include the free RT-PCR testing for all driver- and delivery-partners.
Photos from Grab Philippines
Also read:
Grab to suspend transport ops, continue other services in MECQ
Grab announces cashless payment adoption through Cash-In with Driver