How to behave in the aftermath of a car accident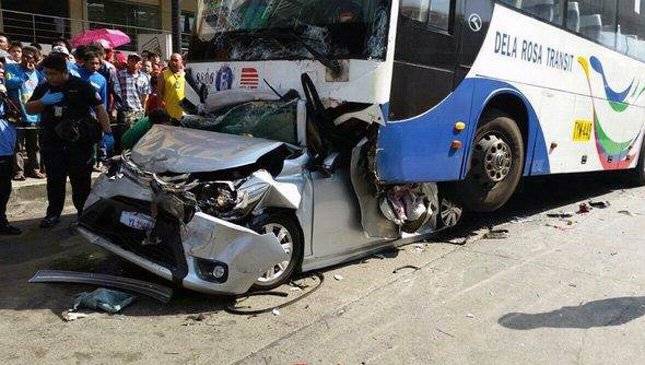 Getting involved in a car mishap can be a stressful situation for many, especially if another car is involved in the collision. Before you release your road rage because of your misfortune, it might be helpful to assess first how you should behave in the aftermath of the car accident.
Carmudi Philippines has listed the best actions you can take when you find yourself in this strenuous situation:
1. Check if anyone has sustained injuries
© www.caraccidentever.blogspot.com
Before bantering to the other driver, regardless if it is his fault or not, you must first check if anyone inside your car has been hurt or may need immediate medical attention or first aid. If you have children on-board ask if they feel anything peculiar such as dizziness or a particular body ache. Check the other car to see if their passengers are OK.
If the collision is potentially serious and someone needs treatment, call an ambulance. If anyone is deeply hurt try not to move them around as this could worsen their injuries. Leave it to the rescuers to carry the victim to the hospital, in case he or she is in a very dire situation. MMDA's emergency response number is 136.
2. Move your car to the side to avoid traffic build up
© www.mobypicture.com
If the collision is very minor, such as a few scratches on the fenders, both parties can agree to move their cars to the side of the road to prevent traffic build up. Make sure not to obstruct the road as much as possible and make sure not to make a scene. Onlookers could flock to the vicinity and cause further traffic incidents.
It is also customary that you turn the hazard lights on, especially if the incident happens during the night. Doing this will warn other road users of your situation. If you have early warning devices in the car, pull them out and install them at a manageable distance to warn vehicles approaching the accident site.
After you have assessed the situation clearly, this is the time when you can call the police, family members and towing company (if your car needs to be towed) to notify them of the incident.
3. Talk to the other party
© www. autoaccidentattorneygrandrapids.com
If no one has been injured on your side, be thankful. Do not let other emotions run through your head, even if the damage to your car may be costly to repair. Approach the other car and talk in a regular tone to its driver.
Do not blame anyone immediately, and simply ask the other driver his side of the story. It may not be his fault, as some accidents are caused by mechanical failures rather than human error. Accidents can also be caused by road obstructions such as a misplaced road barrier or a pedestrian who suddenly crossed the road. Remember never to say that the accident was your fault. Doing this means you are legally liable for the incident and you could end up in court with a hefty lawsuit against you.
4. Take pictures and document the incident
© JONATHAN GIBBY/GETTY IMAGES
If you know that you did not cause the car accident, it may be to your advantage to take pictures and document the whole incident. You can also approach people who may have witnessed the incident and ask them for their opinion as they may have a better understanding of what happened.
Start by taking pictures of the damaged part of your car and the plate number of the other car. You can also take a picture of the area, such as road signs and the name of the street, if you are unfamiliar of the incident's location. Make sure that you make it prompt so you are not offending any the other party.
5. File an accident report
©www.caraccidenttodo.blogspot.com
Often minor incidents end up with a simple negotiation. The victim can agree to a settlement, such as payment for the repair or an amount for treating the injured. But for more serious accidents, especially if the cause is neglect or bad driving practices, filing an accident report is the more logical action. This is to make sure that sanctions and other legal actions can be imposed on the guilty party.
If the other party involved is a public utility vehicle (PUV) or logistics company, you may want to get hold of the contact number of its operator or manager. Be wary as some drivers who are employees sometimes have a tendency to flee the accident out of fear of losing their job. Should this ever happen to you, call the Land Transportation Franchising and Regulatory Board (LTFRB) and notify them of the case and the plate number of the other vehicle.
When filing the report, preferably at the nearest police station (or from the responding unit), you can show the pictures or videos that you have taken to further solidify a case.
6. Find out if your insurance policy covers the accident
© ph.news.yahoo.com
As soon as possible, call your car insurance company and check if your insurance covers such accidents. Some car policies, especially comprehensive insurance, receive full coverage for all financial losses incurred during an accident. Most third-party insurance policies, on the other hand, cover injuries (and even death) to third parties only.