PIAA PH steps up campaign against fake Oto Style Horns
Counterfeit PIAA Oto Style Horns have been reported in the local market, so to protect customers from these fake products, the local distributor of PIAA aftermarket parts in the Philippines placed another feature that would help buyers to easily distinguish the original from the fake.
PIAA Philippines said that those buying a set of PIAA Oto Style Horns may look for the distinct hologram sticker located in front of the box.
"This sticker will help dealers and customers identify that they are getting an authentic PIAA product," the company said. "If your Oto Style Horn does not have the PIAA hologram, it is likely an imitation."
The local distributor also mentioned that aside from helping customers easily verify the authenticity, the sticker bears a QR code that offers the following features:
Warranty claim registration
By scanning and registering details, customers will get to enjoy PIAA warranty and service. "This is also a way for us to be able to serve you properly when the time comes," said the local distributor.
Access details to more PIAA products
Learn more about the PIAA products that are being sold in the country.
Acesss the e-shopping platforms
The site that will be opened once the QR code is scanned with the customer's mobile device provides a direct link to the official Lazada and Shopee stores, which is another avenue to acquire genuine PIAA products.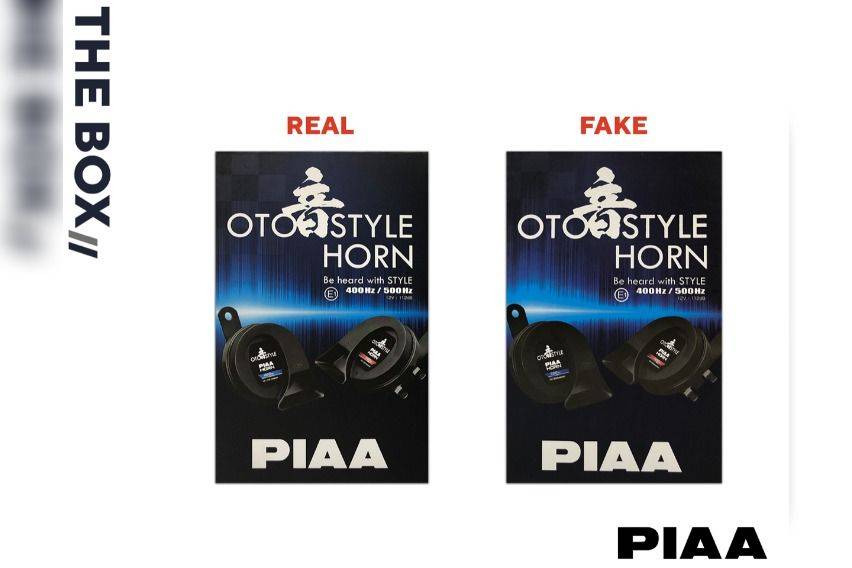 Customers might miss the telltale signs that the product is a phony and have to resort to opening the box to get to see the more obvious indicators.
Previously, PIAA Philippines shared some of the clues to easily spot the real deal from the rip-offs.
The original Oto Horn box has a higher-resolution depth of detail of the Horn image, while the fake ones have no depth; the image is flat and stretched out.
The decals of the original PIAA Oto Horn box use a stylized "R" in the word "HORN." The reflective material of the sticker paper used is also thinner, more delicate, and premium.
The genuine Oto Horn product has the correct PIAA logo—wider letters and no spaces in between the letters; has deep and cleaner etchings of the logo and the product specifications. The body of the horn itself is slimmer.
The authentic Oto Horn has the ">ABS, while the fake version's mark is right-side up.
The actual sound of the fake horn is completely different from the original PIAA Oto Horn.
Currently, the company is in the process of running after the sellers and proliferators of the fake products.
Photos from PIAA Philippines, Ruben D. Manahan IV
Also read:
PNP-HPG Destroys 7.1K Sirens, Illegal Vehicle Accessories
AFTERMARKET: Drive Through Rain Safer with PIAA Silicone Wiper SiTech
How to get a brilliant shine every time with Sonax Gloss Shampoo
Car Articles From Zigwheels
News
Article Feature
Advisory Stories
Road Test