Pope Francis gets a new popemobile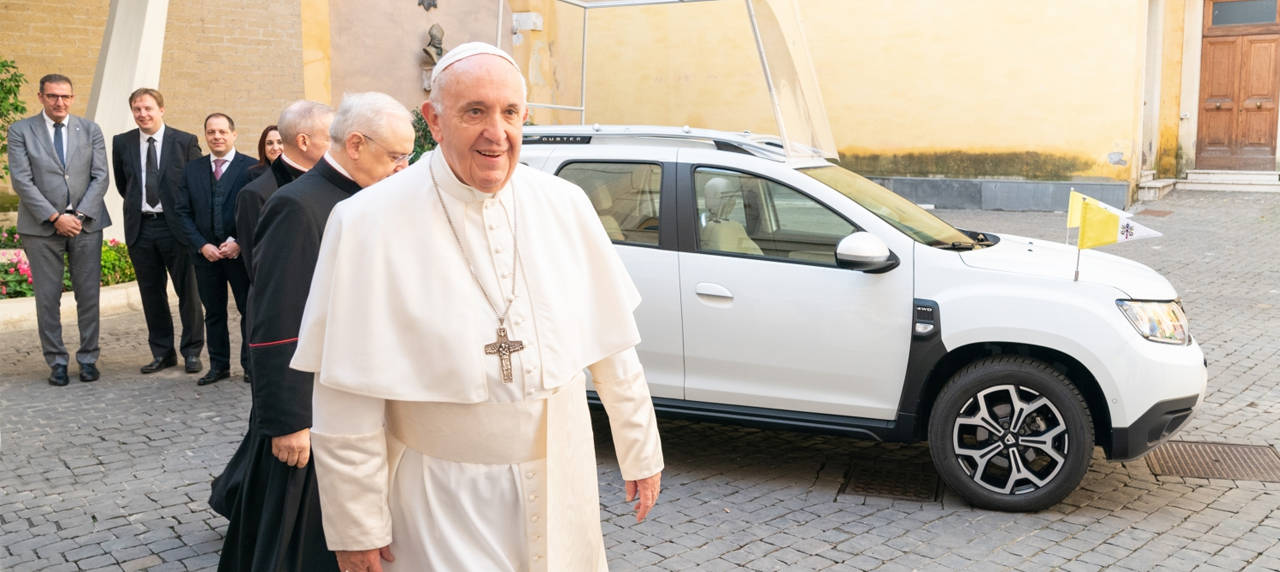 Pope Francis just received a new popemobile, a brand-new Dacia Duster SUV specially outfitted with a removable glass superstructure. The modified 2020 Dacia Duster 4x4 was presented to his Holy See, Pope Francis, by Christophe Dridi, the managing director of Groupe Renault Romania and CEO of Automobile Dacia SA, and by Xavier Martinet, the general manager of Groupe Renault Italy during a visit to Vatican City last Wednesday, November 27.
Martinet said that the Dacia Duster was "modified specifically for the mobility needs of the Sovereign Pontiff" and hopes that "with this gift to His Holiness, Groupe Renault renews its strong and continuous commitment to putting man at the center of its priorities." Group Renault is the parent company of the Romanian car brand that gave the modified Duster. The second-generation Duster popemobile was built by Dacia's prototype-building division with the help of Romanian coachbuilder Romturingia who then cut out a large sunroof to accommodate the removable glass structure where the pope could stand or sit and still be seen by the faithful.
The new popemobile also reduced its ground clearance by more than an inch, 1.2 inches to be exact, to make the cabin more accessible for the pope to enter and alight but still maintains the same diameter of 4.34 meters long and 1.80 meters wide. A comfortable rear bench was also added along with grab handles to ensure that the Pope gets a comfortable ride. On the exterior, the new Dacia popemobile sports the usual white color, same as the other popemobiles before it. But inside, the Duster uses a beige motif.
Though the engine specs were not revealed, we could assume that—given that the new popemobile has a production-based 4x4 Duster, the car is either powered by a 1.4- liter turbocharged 4- cylinder engine that produces a maximum output of 130 hp, or the 1.5- liter turbodiesel engine that churns out 115 hp of power mated to a six-speed manual transmission. The new Dacia Duster popemobile will join the Vatican's fleet of popemobile which include car brands like Renault, Nissan, Fiat, and a few Mercedes-Benz. But since Pope Francis has made it a point to use less ostentatious cars, he is often seen using a Jeep Wrangler, a Fiat 500L, or a 1984 Renault 4 GTL which was gifted to him by a priest.