Watch: Here's How to Do a Pit Stop in Zero Gravity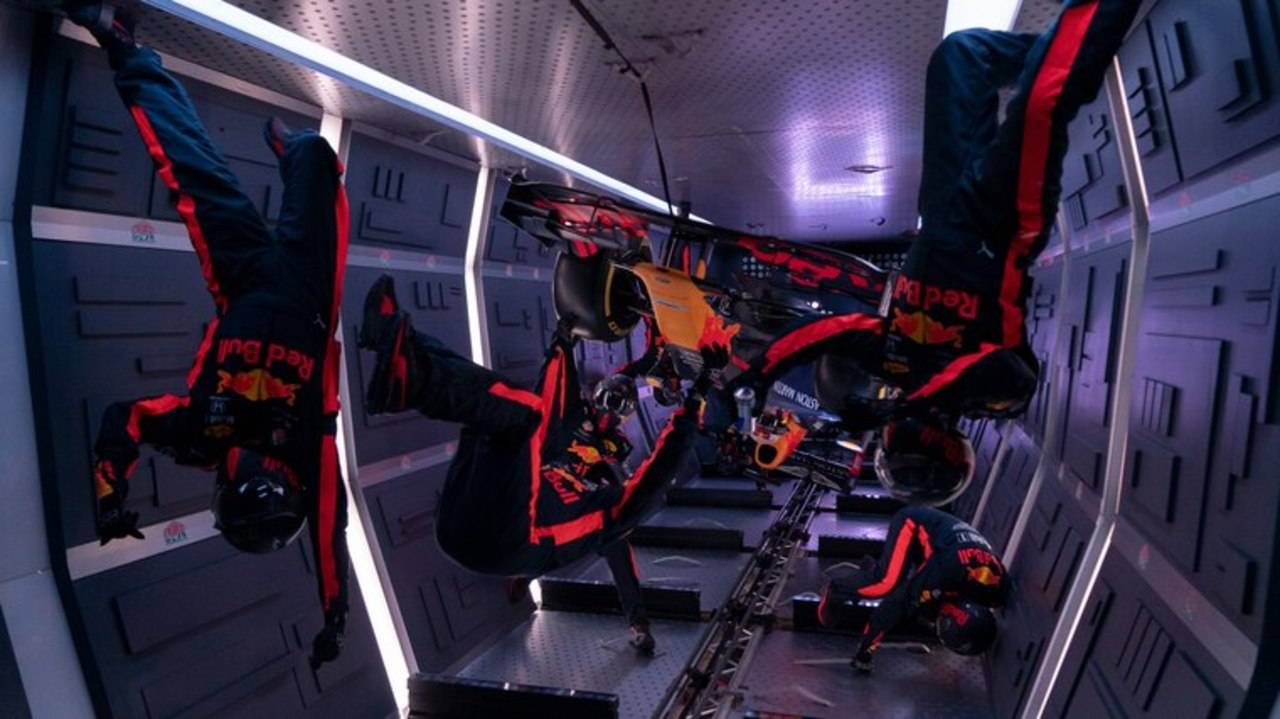 In motorsports, a pit stop is where race cars stop to refuel, change tires, make mechanical adjustments and do small repairs during the race. Doing these things require a high degree of accuracy and coordination, since the driver and the pit crew are required to perform many of these tasks under extreme time pressure.
It takes hundreds of hours of practice to polish these skills to seamless perfection. This is especially true for Formula 1 racing team, Red Bull Racing. Officially named Aston Martin Red Bull Racing--or simply known as Red Bull or RBR--this team has 62 races, 169 podiums, 62 poles, 66 fastest laps, and four world championships under its belt.
Not a bad feat, especially with a winning pit crew that's behind all their victories.
Now that Red Bull Racing's pit crew has conquered the race tracks, what's next for these high-octane team? After careful thought, they thought it would be good to do a record-breaking pit stop practice at an altitude of 33,000 feet on board. And yes, they plan to do it in an Ilyushin Il-76 MDK cosmonaut training plane.

https://youtu.be/IVMICgfzICs

It took the Russian Space Agency Roscosmos' help to turn this feat into reality. The team first set out to ride the plane while "climbing at a 45° angle, then falling in a ballistic arc at 45° – giving the pit crew a period of weightlessness lasting around 22 seconds before the next climb".
"The first parabola we did was really quite strange," says mechanic Paul Knight. "Nothing can prepare you, so our Roscosmos instructors told us to simply sit through it and get used to the experience. There isn't a sensation of going up or down; climbing at 2g, with twice your normal bodyweight feels like being planted into the ground and you struggle to move. Then that sensation reverses when you go over the top and into freefall. They held us down to stop us floating away!"
The Red Bull Racing Pit Stop Team used a 2005 RB1 vehicle for the pit stop challenge. They opted for a lesser contemporary car because of its size advantage.
"We took the RB1 because she's a slight lady," says Marcus Prosser, head of brand and events, who seized the opportunity to roll back the years and get behind a wheel gun again. "We built quite a complex set, hiding all the rails for lights and the cameras. Space was at a premium and having a narrower car gave us a little bit more manoeuvrability within the fuselage."
"It pushed us harder than I thought it would," admits Robinson. "You realise how much you rely on gravity, when you don't have any! Something as straightforward as tightening a wheel nut becomes very difficult when the car is floating, and the only control you have is through the stiffness of your ankles, tucked into floor straps. It challenges you to think and operate in a different way – and that was brilliant."