How to Buy a Family Car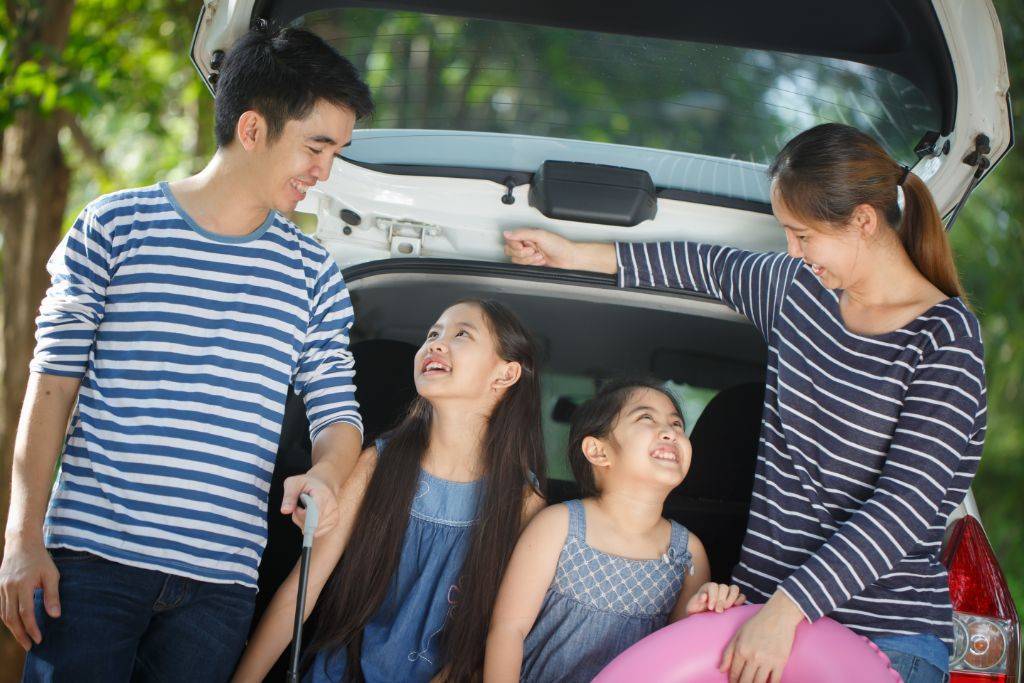 Buying a car is easy if you're doing doing it on your own. But when your family comes into the picture, then you might have to think twice about buying that two-door red convertible. In our opinion, a family car is not something to mess with. You'll spend a lot of time bonding with your family in it. And what's more, your family's safety and well-being is always at stake.
Therefore, knowing how to buy a family car is important. Minivans, station wagons, and SUVs are just some of the vehicles that a large family can use for their day-to-day activities. Families of 4 or 5 can opt for a mid-sized sedan or a small crossover. And while there are many of them to choose from, there are other factors you need to examine first before deciding which to buy for your family.
Here are top six things to consider when buying a family car:
## 1. Safety
Nothing is more valuable than your family's safety and security on the road. Therefore, when choosing a family car, pick the one with the best safety features that your money can afford. How will you know? Check out NHTSA, Euro NCAP, Safercar.gov, and IIHS for more comprehensive reports on crash safety ratings, tests, information, and statistics on popular vehicles.
Read consumer reports, car reviews, and automobile magazines such as Edmunds.co, Car and Driver, and Motor Trends to learn which family-friendly cars have the best safety features. You can also check out car advertisement sites like Carmudi. Just type in your chosen vehicle and you'll find not only a list of safety features and possible safety ratings, but also their prices and specifications.
It's also a good idea to learn more about what features make a vehicle perform safer on the road. For instance, did you know that white cars are less likely to be in an accident compared to black cars? According to the University Accident Research Center, the darker colors are more prone to accidents because they easily blend with the road color, making them harder to see, especially at night.
What are some of the most important features to look out for when choosing a family car? This should include a list of the following:
### Airbags
Look for curtain, knee, front, side, and even overhead airbags (if they're available)
### Anti Lock Braking System (ABS)
This feature allows you to stop the sooner. It also gives you more control over the steering wheel (and the vehicle) even under heavy braking conditions.
### Electronic Stability Program (ESP)
It corrects the car's direction by sensing when the vehicle is going out of control in heavy, sharp cornering.
### Reverse parking sensors
This feature senses when there is something behind the car, and gives an audible sound to alert the driver.
### Reverse parking camera
This mounts a camera on the back of the car, and a screen in front of the dash / console shows what the camera is picking up at the back.
### Seat belts
Look for 3-point seatbelts and child-friendly seatbelts. Make sure that there are seatbelts on the backseat, as well.
### Door and window locks for children
This is especially important if you have kids. You never know when they might suddenly feel the urge to wander off while you're checking your tire gauge—or even talking to the gas attendant.
### Cargo net or barrier
The barrier helps avoid items from being thrown out from the boot of the station wagon or SUV while you're driving.

## 2. Storage
Believe us, you can never have too many storage spaces. Check to see if the car has enough space to place for all your luggages, and if there is enough room for your outdoor gadgets (if your family is into camping), first aid kits, books, and cages (if you have pets).
Fortunately, many vehicles today offer backseat and door pockets. There are also front and/or rear drink holders that come in very handy when you're eating food inside the car.
## 3. Car size
Thinking which family vehicle to buy is really easy if you use plain, good old common sense. What this means is to buy a larger vehicle if you have a big family, and if not, then opt for a smaller one, instead.
This is not a cut-and-dried rule, though. You may have a small family, but if everyone is as tall as a basketball player, then you need a larger car like an SUV or station wagon to provide adequate leg room for everyone.
Generally, a five-door is more practical than a three-door vehicle. If you have kids or household members with special needs or disabilities, opt for cars with wide or sliding doors.
It's also important to think about your garage and driveway space. Make sure you have enough room for your car (or cars). The last thing you want is to find your space wagon stuck in between walls.
Plan ahead, and think of possible changes that might happen along the way. Your kids may be small now, but as they age, they'll get bigger. There might even be plans of adding two more dogs in the household, so use that information when deciding whether or not to go for a bigger car.
In any case, we think that bigger is better than smaller. With a big car, you have more space to maneuver if things change and your family grows bigger. You can then make the necessary adjustments (like making your garage space larger) along the way.
## 4. Location
Your location might be the least thing on your mind right now, but it's also important to consider it when buying your family car. For instance, if it rains frequently in your area, choose cars with good visibility with powerful wipers and headlights. Frequently flooded areas require cars with added ground clearance like as an SUV or a truck. If your family likes out-of-town trips that drive through rugged terrain, then go for all-wheel or four-wheel drive vehicles for better comfort.
## 5. Budget
How much can you afford? You might want to buy a more expensive car, but if you buy a vehicle that's way beyond your means, then you might greatly sacrifice the needs of your family (and cause a lot of tension in the process). So don't buy that Land Rover if it means not being able to pay for your kid's tuition and your monthly mortgages. It's not worth it.
Make sure to sit down with your spouse, and get a realistic assessment of your income, assets, and future prospects when you plan to buy a family car. Ask yourself if everyone can you still live comfortably when you buy it. If not, then choose a more inexpensive vehicle, or if not, just go for that used car, instead.
## 6. Preferences
What matters to you and your family? If you have kids, and cleanliness is important to you, then choose dark colors for car seats so stains won't show too easily. Leather seats are also easier to clean compared to fabric seats.
If convenience is important to you, then go for automatic transmission vehicles that offer keyless entry, automatic locks, one push buttons.
You should enjoy spending a lot of time in your car. What's the point of driving it if you and your family don't like to use it? You should be happy with it, and the way to do that is to make sure that it satisfies everyone's needs and preferences most of the time. That way, you get to share to share a lot of experiences and create memories along the way.
Car Articles From Zigwheels
News
Article Feature
Advisory Stories
Road Test