10 Most Expensive Cars Sold in Car Auctions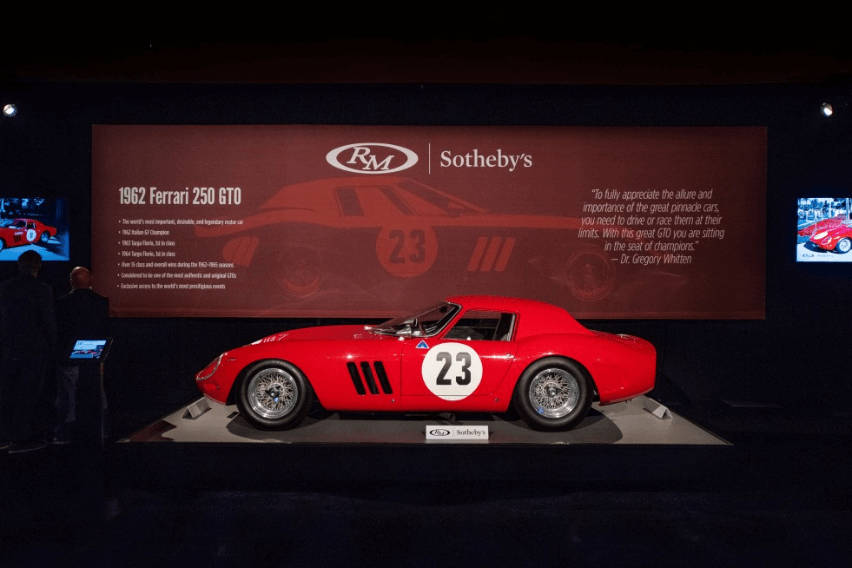 Pre-owned or secondhand cars are, in general, priced far cheaper than when it was brand new.
In general, cars often lost approximately 20 percent of its value in the first year, and 15 percent each year after that.
But some cars have defied all odds, selling for more than three, four, or five times their original base price on car auctions.
On this list, we have compiled the top 10 cars that sold for the heftiest sum on car auctions. Spoiler alert: more than half of them are Ferraris.
10. Jaguar D-Type
On August 2016, a 1955 Jaguar D-Type was sold at RM Sotheby's US auction for $21.8 million, or approximately PhP 1.09 billion. Specifically designed to endure the Le Mans 24-hour race, this D-Type is powered by a naturally aspirated 3.4 liter engine that makes around 250 (horsepower) hp and 328 Nm torque.
9. Duesenberg SSJ
This gorgeous 1935 Duesenberg SSJ is one of the only two ever built. In 2018, auction house Gooding & Company managed to auction this vehicle for $22 million, or roughly PhP 1.11 billion. This beautifully preserved vintage carriage features an engine that delivers a whopping 400 hp, which back in the 30s was unheard of.
8. Aston Martin DBR1
Built in 1956, Aston Martin created the DBR1 as an entry for the World Sportscar Championship. The DBR1 is most famous for winning the 24 Hours of Le Mans in 1959, Aston Martin's only victory at the contest. In 2017, RM Sotheby's sold the legendary car for $22.5 million (PhP 1.13 billion). With a 2.9 liter engine that made around 240 hp, this sportscar has been famously driven by industry legends such as Stirling Moss and Tony Brooks.
7. Ferrari 275 GTB/C Speciale
The first of six Ferraris in this list, this particular 25 GTB/C Speciale was sold by RM Auctions back in 2014 for $26.4 million, or roughly PhP 1.3 billion. This particular model is one of only three ever built and was the first ever road-legal Ferrari to feature an independent rear suspension system.
6. Ferrari 275 GTB/4*S NART Spider
Sold by RM Sotheby in 2013 for a whopping $27.5 million (PhP 1.38 billion), this 1967 Ferrari 275 GTB/4*S NART Spider is one of only 10 that were produced. The NART Spider was originally priced at $14,400 (PhP 725,000) back in the 60s, which translates to roughly about $113,704 or PhP 5.7 million in today's money.
5. Ferrari 290 MM
Created to race in the Italian Mille Miglia (hence the "MM" acronym), the 290 MM is equipped with a muscular 3.5 liter V12 engine that spurts out 320 hp. In December of 2015, RM Sotheby sold one of four 290 MMs ever built, the one personally driven by Juan Manuel Fangio in the 56 Mille Miglia, for $28 million, or roughly PhP 1.4 billion.
4. Mercedes Benz W196
The only Mercedes-Benz in this list sits at the number four spot, and it deserves to be in that position. The W196 was a Formula One race car that was driven by track legends such as Juan Manuel Fangio and Stirling Moss, and won 9 out of the 12 races it entered. In 2013, auction house Bonhams sold it for $29.6 million, or almost PhP 1.5 billion.
3. Ferrari 335 S
Produced in 1957, this 335 S was created to rival the Maserati 450S. Only four 335 S models were produced in total, each with a 4.5 liter V12 engine that produces around 390 hp and reaches 300 km/h. In 2016, Artcurial sold a 355 S for a mind-bending $35.711 million, or almost PhP 1.8 billion.
2. Ferrari 250 GTOIn the middle of August 2014, auction house Bonhams sold a 1962 Ferrari 250 GTO for $38.1 million, or almost PhP 2 billion. At the time of its release, the 250 GTO was not a particularly desired car, starting only at $18,000 back in '62, or about $125,000 (Php 7.8 million) in today's money. However, it seems as though the 250 GTO has aged quite well, as the design is now charmingly retro and its current value has now increased tenfold.
1. Ferrari 250 GTO
It seems as though the only car worthy to dethrone a Ferrari is… wait for it… another Ferrari. Of the same make and model year. This 1962 Ferrari 250 GTO was auctioned off by RM Sotheby's for $48.4 million (PhP 2.4 billion), $10 million more than its sibling. One of only 36 units ever produced, this particular model now officially holds the title as the most expensive car in the world.
Photos taken from Wikipedia, Motorbiscuit, Forbes, RM Sotheby's, Bonhams
Also Read: