Celebrate 31 Years of Toyota with Huge Discounts, Savings This August

This August, Toyota Motor Philippines (TMP) celebrates 31 years of reliably moving the Filipino people by offering big discounts and savings on select models of its best-selling lineup.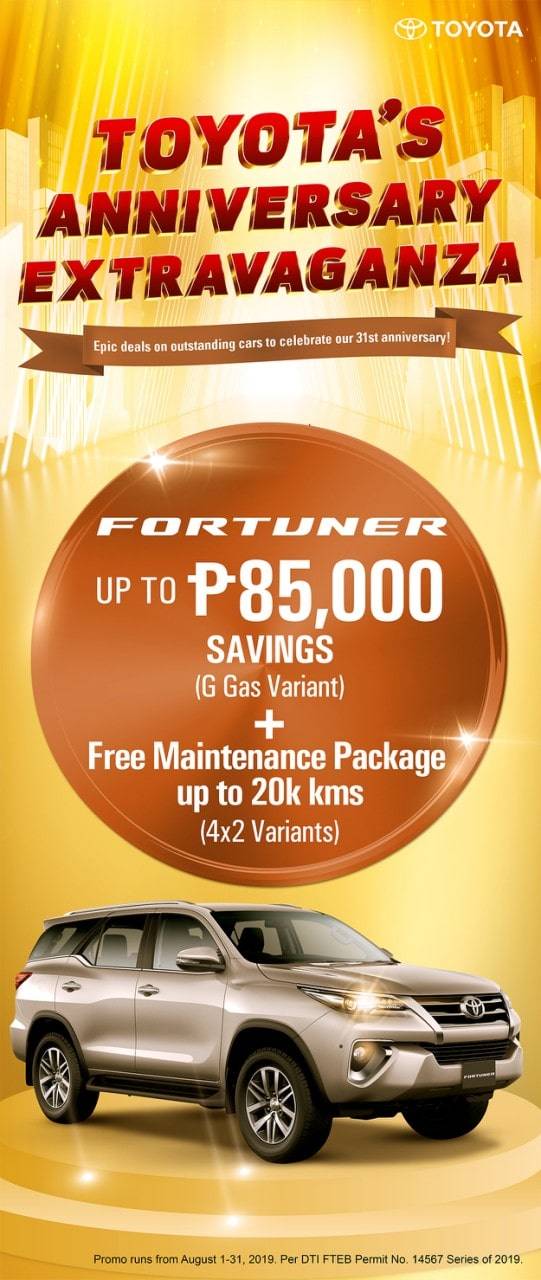 Customers may now avail up to PHP 85,000 cash savings and free maintenance package for up to 20,000 kilometers on Toyota Fortuner (4x2 variants); up to PHP 100,000 off on the Toyota Hilux; and a five-year extended warranty plus new add-on features like Back Camera and Daytime Running Lights for the Toyota Vios (G & E variants). Toyota's Anniversary Extravaganza promo runs from August 1 to 31, 2019. The free periodic maintenance package of up to 20,000 kilometers already includes oil filter, oil drain plug, and cabin air filter replacements. TMP was founded in August 1988 when Metrobank entered into a joint venture with Toyota Motor Corporation (TMC) of Japan and Mitsui & Co., Ltd. Fast forward 31 years and TMP--of which Metrobank's equity position in the joint venture has been transferred to GT Capital Holdings, Inc.--is now the largest automotive company in the Philippines, with a total of 71 dealerships nationwide, including Lexus Manila. "With over three decades of sales and service dedicated to customer satisfaction, it's both an honor and responsibility for all of us in TMP knowing that majority of vehicles we see on the road carry the Toyota badge," said TMP Vice President for Marketing Elijah Marcial. "We will continue to uphold the values that made us number one, and make sure that our customers can put their trust in Toyota for more years to come." Check out great deals for other participating models Wigo, Innova, Rush, and the new Avanza. For details and mechanics of the Anniversary Extravaganza promo, click the link below:
For the latest Toyota news and information, visit TMP's official website at www.toyota.com.ph.