Fancy a Limited Audi RS3 Painted in Nardo Gray?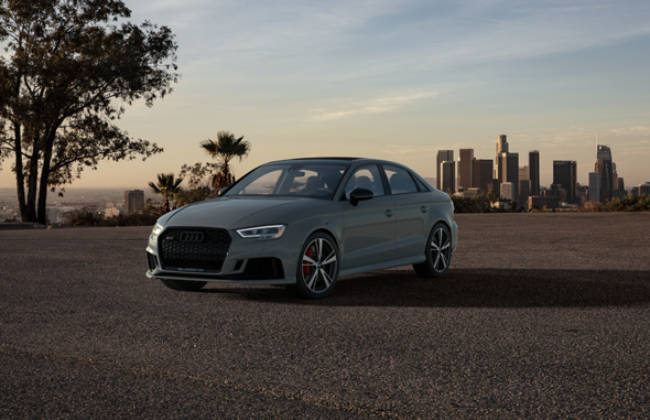 Some car critics call it one of the greatest subcompact performance sedans of our time; others say it gives one of the most "unforgettable driving experiences" today. Yes, the 400-horsepower, 2020 Audi RS3 has the right to toot its horns (a bit). With a turbocharged, 2.5-liter five-cylinder that's paired with a seven-speed dual-clutch automatic transmission, it's getting a limited edition Nardo Gray paint job that's 31 kilometers per hour faster than the standard RS3. The question, however, is this: Do you like the gray color?
The Nardo Gray is an iconic color in the automotive industry. Throw in the "quattro" script on the front splitter, the Black Optic exterior trim on the mirrors, the Audi badges, and 19-inch wheels in a "five-arm-blade" design (with a two-tone black finish) and you get the limited edition RS3 The Audi 2020 Audi RS3 offers a simple but quite classy interior, with well-crafted materials that add an elegant ambiance inside. Think quilted diamond-stitched S sport front seats trimmed in Fine Nappa leather here. They look good in a very understated way. It has a 12.3-inch instrument display, with the optional Sport mode that displays a large, central tachometer and performance statistics, such as a lap timer, horsepower and torque gauge and G-meter. The back seat is a bit cramped though, so don't expect a lot for rear space. However, if you like sounds, then perhaps, its B&O sound system can make up for those occasional tight squeezes at the back. Of course, we couldn't talk about this vehicle without mentioning (again) what it's really good at: performance. This sedan can perform equally well on all kinds of road surfaces. It has an incredibly accurate and tight grip, and can go from mild to aggressive acceleration fast. We also like its unique engine exhaust note. Available in Audi's Sport exhaust system within the available Dynamic package, it's a perfect ending to round off this vehicle's impressive performance. The 2020 Audi RS3 Nardo edition will only be limited to 200 models. The appearance package will be sold in the U.S. at a whopping $60,895 (PhP 3 million), around $3000 (PhP 153,000) more than the standard RS3's starting price. Yes, that's really steep for a sedan. But it's worth it if you really want to have a race-inspired performance Audi sedan in your garage. Just make sure to keep your eyes (and ears) open at all times.
Also Read: