Fortune Seekers- Mitsubishi Montero Sport vs Toyota Fortuner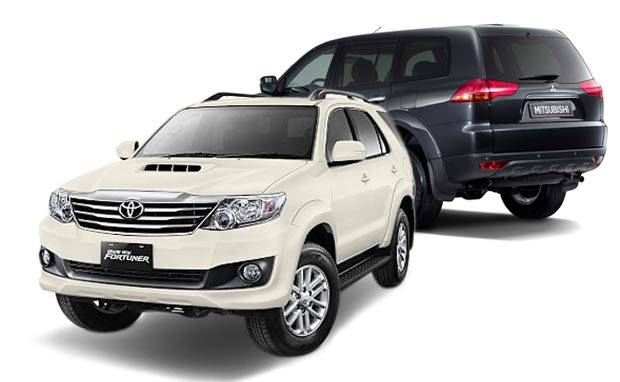 Take a pickup truck. Cover the bed with some sheet metal. Then slap on a third row of seats. Presto… a brand new SUV!
Okay, so there's a bit more that goes into making these popular urban UTEs. R&D and product testing aside, these sales-grabbing SUVs have commanded strong support for very sensible reasons. First of all, these vehicles offer the equivalent carrying capacity of a mini-van as they can swallow 7 occupants. This configuration is simply perfect for the average sized family going on a vacation or simply hitting the mall. Second, these trucks are powered by modern diesel engines that make ownership experience that much lighter on the wallet. Owners love the torque on demand qualities too. Finally, there's the truck DNA that allures buyers for the inherent ruggedness and go-anywhere attitude.
Lets face it, this segment was elevated to new levels of ubiquity by the Toyota Fortuner when it first came out in 2005. Everybody wanted one, and the 10-month waiting list didn't seem to deter customers. But the market has changed since then, and Mitsubishi is determined to crash on Toyota's long-standing parade. Can the newly launched Montero Sport dethrone the truck-based SUV king? Oh but wait a minute…Ford has an ace up its sleeve as well. The Everest seems to be getting better with age, and the blue oval has gone the route of techie-fying its UTE for greater value. Hint: it's the only one here with a Sat-Nav system.
C! tried getting an Isuzu Alterra for this comparo, but unfortunately time constraints didn't permit the unit from being delivered. Alas, we bring you the 7-seater SUV comparo. All diesel powered, all 4x4 and all punished for your reading pleasure. Let's get it on!
The customers have clamored… and Toyota listened. For 2009, the Fortuner, easily the best selling SUV of the decade, receives a host of much needed updates. The changes are most prominent on the front. A new radiator grille sports a new shape with prouder chrome bits, flanked by reshaped projector headlamps, bringing the Fortuner closer to the design accents of the rest of the Toyota line up (i.e. Land Cruiser 200) whilst the rear also has a redesigned pair of tail lamps (i.e. 2009 RAV4) The story continues on the inside, where some useful additions and redesigns have been made. It's still the familiar Fortuner interior with the two-tone gray dash-top over the prevailing cream/beige of the leather, fabrics and plastics. The dash and power window control panels now sport new wood grain accents (instead of the original brushed metal), the well-contoured steering wheel has been reworked to include new audio controls to drive the new audio head unit, which, subsequently, now includes an auxiliary port (for your MP3 player) and Bluetooth functionality (for your mobile phone). A key redesign was the removal of the 3rd row aircon vent from the side panel to the ceiling, facilitating better cooling for the 6th and 7th occupants.
Under the hood is Toyota's 1KD-FTV, a stalwart 3.0-liter diesel inline-four with a variable nozzle turbo and intercooler, producing a healthy 161 bhp and plenty of Earth-moving torque. It's certainly very capable even against the newer range of common-rail diesels from other manufacturers, and when mated to the full time, shift-on-the-fly 4x4 system and a Torsen (torque sensing) limited slip differential driving four massive 17-inch wheels, a Fortuner has the ability to conquer various types of terrain… even when just using stock highway tires.
Off the tarmac and on a beaten path, the Fortuner just feels solid and composed. It's surprisingly stable and reassuringly good on a rocky dirt trail while inside, there are no unwanted creaks or clangs, as everything little bit or piece just seems to fit as snugly as a good quality Tamiya model kit.
It is not without some misgivings from the original, though. The suspension, though slightly softened, is still rather bumpy on tarmac/concrete (unlike the plushness of the Montero) and slightly unnerving the way it judders at moderate speeds. The 3rd row is still cramped (if you're taller than 5'6" or wider than normal) and cumbersome, especially with the fold-down-then-sideways-and-clip-to-the-ceiling-handle affair… it's even more of a mouthful just describing it. Compared to the others, the Fortuner 4x4 is still the great, tried and tested SUV Toyota promised their clientèle. And though it may not win the battle for ride, price, features, reviews or everything else in between, it can (and probably will) win the battle at the sales chart.
The newcomer to the bunch, the Montero Sport was launched barely a year ago as a replacement to the aging vehicle that was still a remnant of late 90's design. It's no secret that this new SUV is based heavily on the very successful Strada pick-up, and what Mitsu truly offers above all is excellent ride comfort. This we know for sure, and have experienced it first hand during the Montero Sport's launch in Thailand's Bira Circuit.
Sure, it rode pretty smooth. But that was inside a tarmac race track where even a tractor would ride quite pleasingly. For purposes of real evaluation, we here at C! took the Montero Sport, along with the two other trucks, to a real off road test that had rocks, mud, more rocks and a flowing stream. Now let's see how well it rides… Before we get to the test results though, lets begin with the hardware. The Montero Sport is powered by the same powerplant found in the Strada, specifically the 3.2L in-line 4 turbo-diesel. It's rated at 161 hp and 253 lb-ft of torque. Married to a 4-speed automatic that has a manu-matic function (the only one in this group), the Montero Sport makes do with a manual switchgear when transferring to 4-wheel drive mode. Others may prefer the electronic 4wd systems of other trucks, but I personally prefer this simpler technology just because when the going gets tough, there are fewer things that can break.
So off the beaten path we went, and once pavement turned to gravel, the Montero Sport didn't disappoint. Soaking the bumps and road debris, the Mitsubishi isolated me from the violent kidney shots often incurred when going off roading. I honestly felt sorry for Vince and Chris, who were in the Fortuner and Everest respectively, since I knew they were both taking a beating compared to me. On a few occasions I would purposely target big rocks just to see if the Montero would pitch uncomfortably, but it didn't. It remained composed and controlled. Ground clearance wasn't an issue of course, proven by its ease of traversing the stream without drama. Off-road master Joey Millonado, who accompanied us for the test, even did the river crossing in reverse and only in 2WD. The Montero made it through easily (So did the Fortuner and the Everest).
Of course, having a pleasant time off-roading was also largely attributable to the Montero Sport's upscale cabin. The seats were wrapped in black leather with exposed white stitching. Wood accent finish was applied on various interior bits. Even the steering wheel and gear lever were covered in leather. Fit and finish was clearly the best here, and these little details made hitting the rough stuff that much easier to bear.
After a day's worth of roughing it out, I dusted the Montero Sport's shoes and hit the highway for some long distance driving. The vehicle pleased in certain aspects but disappointed in some. For one, it is a very relaxed ride to be in kilometer after kilometer of highway. It provides good road visibility and is easy to maneuver when overtaking. However, its size makes it an easy target for crosswinds so be warned that it tends to sway when passing a huge vehicle. The biggest disappointment for me is the 4-speed tranny which hampers this truck's speed and fuel efficiency. Without that extra forward gear, the Montero Sport had difficulty passing 180 km/h and returned a barely competent 11.7 km/L (city driving yielded worse at 8.5 km/L).
In terms of creature comforts, the Montero comes decently equipped. It's the only one with an electric powered driver's seat in this group. The stereo is a JVC unit that plays MP3 formatted CD's, and comes with an auxiliary USB port found in the glove box. Sound quality is not top notch but very acceptable. On a different note, steering wheel mounted controls would have been nice. Among this group, the Montero Sport probably sits in the middle when it comes to this criterion. Exterior appeal remains a highly subjective topic, and while I agree that the Fortuner oozes more testosterone, the Montero Sport has a sleeker profile that lends it a more high-end touch. Although the Everest looks a lot better than when it first came out years ago, there's just no hiding its age beside more youthful company. Worth noting too is the clever design of the third row of seats which fold all the way flat, which when compared to the others (the Fortuner's seats hang sideward, while the Everest's don't fully fold down) translates to more cargo room for this vehicle. Moreover, the Montero Sport's second row offers longer thigh support, making it a pleasant bench to be in especially on long hauls.
Definitely a superior effort from Mitsubishi with this one. It's comfortable (as claimed), capable, and doesn't look cheap. Question really is, are people ready to look its way considering the Fortuner had pretty much defined this segment for the past few years?
First things first: the runner-up. We had high hopes for the Fortuner, now refreshed and sporting some new, neat features, but was somehow lacking. It is, however, the best-rounded of all the SUVs here, scoring decent marks for all our testing parameters. The veritable jack-of-all-trades yet master of none (except in the looks department), Toyota's Fortuner seems to be a great all-around ownership proposition, but the retuned suspension is strangely unnerving on tarmac (yet great off road) and the 3rd row folding system is still very cumbersome. That said, it's the first to go. As for the Montero, it took Mitsubishi over a decade to come up with a replacement for their venerable pick-up-based SUV, but we were thoroughly impressed with the level of on-road comfort, off-road capability, legroom, build quality, ergonomics, car-like interior and the level of features as standard… oh, and it has the lowest price tag of the bunch. The Montero loses out on the running costs (at PhP2.2 of maintenance per km, it's the most expensive to run), but then again, it's the newest platform of the bunch. It's not the slickest handler of the bunch, but would you really be carving corners in this SUV? Nevertheless, the Montero Sport GLS SE just made the most convincing case for us. Originally posted in C! Magazine February 2009 Edition Author: Angelo Puyat, Vince Pornelos
Explore Mitsubishi Montero Sport