Get to Know the 5 Cars That Make up Ssangyong's PH Lineup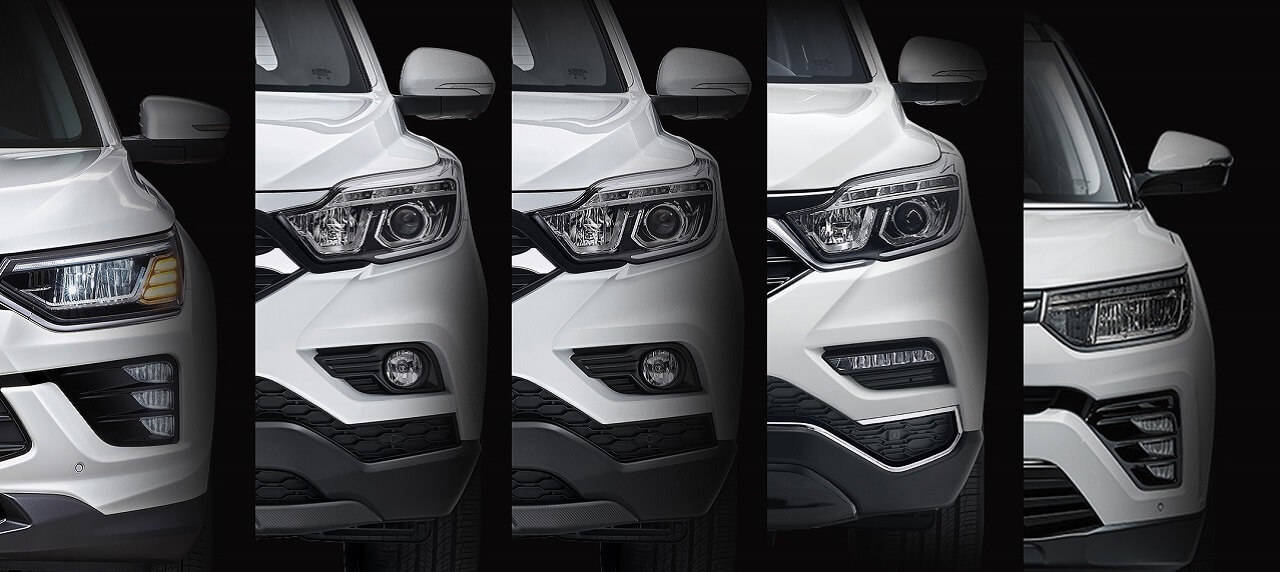 Ssangyong recently brought the 2020 Korando to the Philippine market, as the South Korean car brand looks to solidify its position as a serious contender in the local automotive industry.
Although Ssangyong is a relatively new entry in the Philippine automotive market with only three dealerships nationwide to speak of (one in Quezon City, a second one in Sta. Rosa, Laguna, and a third one in Cebu), the Korando isn't the only car that they are selling here. In fact, their current lineup consists of five cars in all.
©ssangyong.ph
The 2020 Tivoli crossover SUV sports a new front façade, starting with the new-look headlights and the addition of more pronounced character lines on the hood, giving Ssangyong's most popular car a "a more dynamic sense of movement." Exterior changes also include new foglights and new taillight graphics.
Inside the Tivoli, the dashboard has been redesigned to be more ergonomic and intuitive, with a 10.25 digital instrument cluster, new center stack, additional air vents, and a 9-inch touchscreen infotainment system with Apple CarPlay and Android Auto capabilities.
The new Tivoli comes in two variants—1.6 Diesel Sport and 1.6 Diesel Premium. They are priced as follows:
| | |
| --- | --- |
| Ssangyong Tivoli 1.6 Diesel Sport | PHP 1,180,000 |
| Ssangyong Tivoli 1.6 Diesel Premium | PHP 1,290,000 |
2020 Ssangyong Korando
©ssangyong.ph
The bigger Korando, now on its fourth generation, sports an all-new look that eschews the curves of its predecessor for a sharper look that mirrors the rest of Ssangyong's lineup. Powered by a choice of 1.5-liter turbo gasoline (163 hp and 280 Nm) or 1.6-liter diesel (136 hp and 324 Nm), the Korando comes in three different trims: the Korando 1.5T Sport (gasoline), the Korando 1.6D Sport (diesel), and the Korando 1.6D Premium (diesel).
All three trims have six-speed AISIN automatic gearboxes. Unfortunately, while the international version comes in a choice of front-wheel drive and four-wheel drive, only the former will be sold here.
While the Korando may be larger than the Tivoli, it appears to have a shorter dash, which should do wonders for the cabin's spaciousness. The overall design is also more angular than its partner release. For infotainment, there's an 8-inch touchscreen.
| | |
| --- | --- |
| Ssangyong Korando 1.5T Sport | PHP 1,290,000 |
| Ssangyong Korando 1.6D Sport | PHP 1,578,000 |
| Ssangyong Korando 1.6D Premium | PHP 1,770,000 |
©ssangyong.ph
The Musso is a midsize pickup that's got what it takes to mix it up with the more popular models in its segment, including Nissan Navara, Ford Ranger, Isuzu D-Max, and Toyota Hilux, among others. Based on the same body-on-frame construction used in the Rexton, the 2019 Musso carries a 2.2-liter e-XDi 220 inline-4 turbodiesel under its hood, able to deliver 179 hp and 420 Nm of torque. This engine is mated to a 6-speed automatic transmission. Afive-link suspension configuration provides stable support for the rear cargo area.
Inside, the 2019 Musso receives a two-tone interior design theme that showcases Brown Nappa leather on the seats and leather steering wheel. Infotainment system is controlled via the eight-inch touchscreen, the same one used in the other models. In addition, the Musso gets powered 8-way adjustable seats for the driver and front passenger. SsangYong also mentions that the second-row seat can be reclined up to 27 degrees.
| | |
| --- | --- |
| SsangYong Musso 2.2 4x2 AT | PHP 1,495,000 |
2019 Ssangyong Musso Grand
©ssangyong.ph
The top-spec 4x4 AT hosts power-adjustable driver and passenger seats, premium brown leather seat covers, contrast stitching, and heating and ventilation controls and vents for both front and rear occupants. An 8-inch touchscreen comprises the infotainment system, complete with Apple Carplay and Android Auto connectivity.The Musso Grand is a long-wheelbase version of the standard Musso with a longer cargo bed. That said, Musso's premier pickup is not only the longest pickup truck in the market, but also the one with the widest and deepest. Suffice to say, when it comes to rear cargo storage space, you can't get any better than the Musso Grand. Both Musso pickups line are the only ones in the market that offer two suspension options–coil springs and leaf springs. Powered by a 2.2-liter diesel engine that dishes off 181 horses and 400 to 420 Nm of torque depending on variant, of which there are three: 4x2 MT, 4x2 AT, and 4x4 AT.
| | |
| --- | --- |
| SsangYong Musso Grand 2.2 4x2 MT | PHP 1,180,000 |
| SsangYong Musso Grand 2.2 4x2 AT | PHP 1,230,000 |
| SsangYong Musso Grand 2.2 4x4 AT | PHP 1,650,000 |
©ssangyong.ph
The Rexton, Ssangyong's original SUV, is what the standard Musso pickup is based on. Now on its second generation, the Rexton enjoys a reputation as the widest midsize SUV in the market at 1,960mm. Sporting the same dashboard setup as its pickup sibling, the Rexton combines a spacious cabin with tastefully polished interior boasting excellent materials and craftsmanship. The 2019 Ssangyong Rexton packs a 2.2-liter diesel engine that shells out 181 hp and 420 Nm and paired to a seven-speed automatic gearbox with drive mode select.
| | |
| --- | --- |
| SsangYong Rexton 4x2 AT | PHP 1,730,000 |
| SsangYong Rexton 4x4 AT | PHP 2,230,000 |
Ssangyong hopes to mirror the success of its fellow South Korean car brands Hyundai and Kia in the Philippines. As the fourth largest car brand in its home country, Ssangyong is owned by Indian multinational auto company Mahindra.
Also read: Will the Ssangyong Tivoli Gasoline variant be Phased Out in PH by Yearend?
PIMS 2018: SsangYong Musso Enters Pickup Segment