Hyundai PH, Plan International Set Hyundai Dream Centre-Philippines as State-of-the-Art Industry-Based Automotive Technical Skills Training Model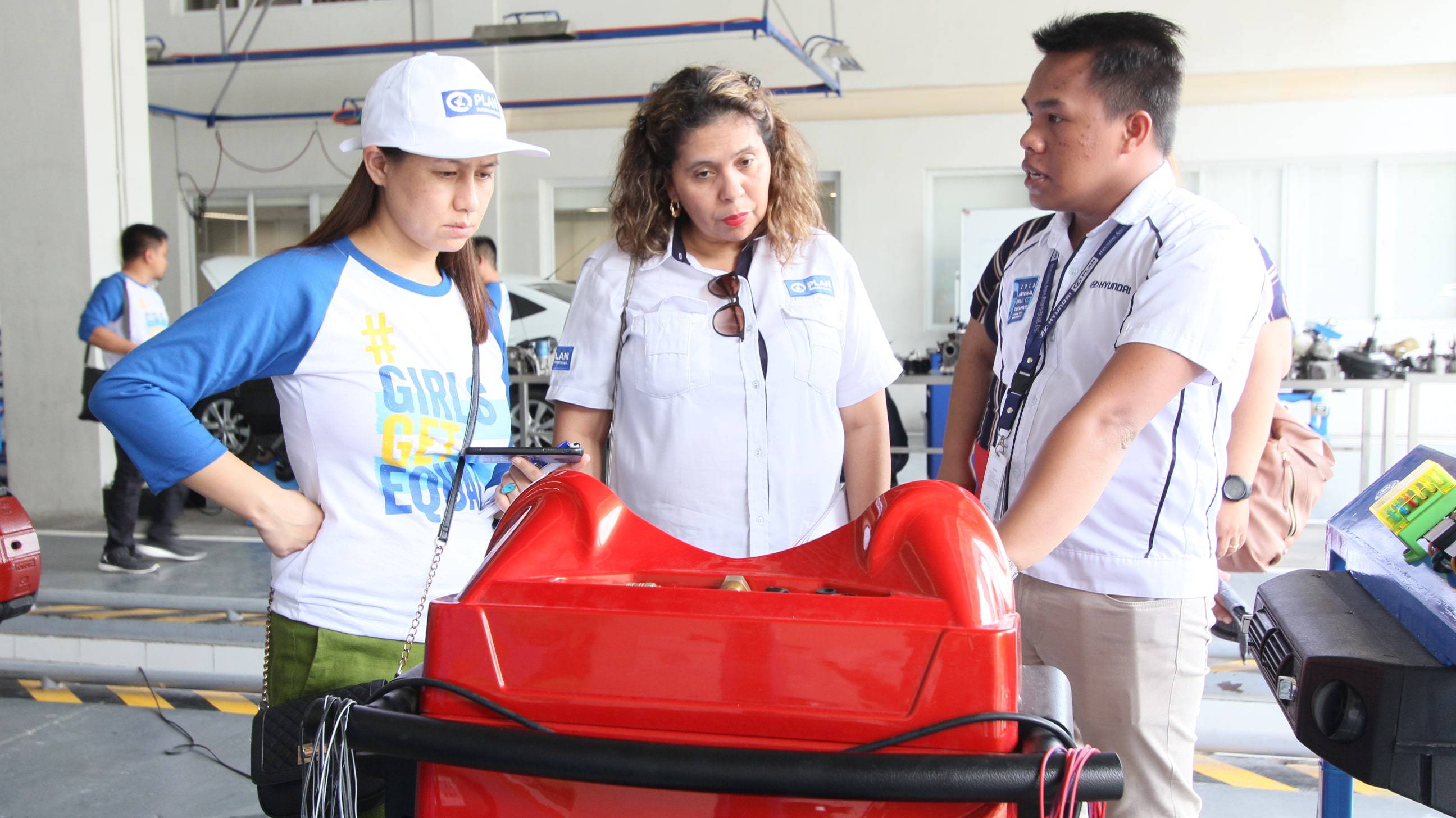 Hyundai Dream Centre-Philippines (HDCP) welcomed visiting Plan International representatives on an observation tour of the training center's world-class facilities. Verónica Aguirre, Economic Development Manager of Plan International Guatemala, and Pragya Gurung, Skills and Opportunities for Youth Employment and Entrepreneurship (SOYEE) Specialist of Plan International Nepal, engaged HDCP officers and staff in a friendly exchange of best practices with the view of potential replicability in other countries. Aguirre noted that young people in Guatemala only receive short-time training to meet market demand, adding. "I know of the social responsibility of Hyundai to help young people to become successful in life. I asked Plan Philippines to have me come here to learn about your technical and soft-skills training for young people and I am very surprised and happy with what I have seen... We will have a better future for the Philippines and all over the world because we see this model and can escalate it to other countries." For her part, Gurung wanted to see how the SOYEE project in Nepal could be amplified as their skills training has not yet reached industry level. "This is a very big learning for me," she said. "I was very happy to see that how Plan (International) Philippines has partnered with a company like Hyundai and how both the demand and supply side of human resources have been met… (I am impressed with) the infrastructure and the way the trainers and the staff have devoted themselves to make this project such a success. Hyundai Dream Centre is an example of modernization and industrialization and how it is creating more job opportunities for young people. This is definitely an example that I would take back home and something that we need to think about for creating more opportunities for the youth."
Since its inauguration on April 10, 2018, HDCP has produced close to a hundred young male and female automotive technicians, service advisors, and warranty officers. Hyundai Motor Company (HMC), Hyundai Asia Resources, Inc. (HARI), and Plan International cooperated to implement a training program made up of three courses adapted to the scholars' diverse educational backgrounds. A significant number of marginalized young men and women were referred as scholars by Plan International from their program areas, including Mindoro, Masbate, Cebu, Samar, Leyte, Cotabato, and Maguindanao. HMC has established similar Dream Centres in collaboration with local vocational schools in Ghana, Indonesia, Cambodia, and Vietnam. This is the first time that HMC partners with a distributor to design and implement the training courses for a Dream Centre. The first batch of 45 scholars graduated on November 29, 2018, while the second batch of 43 graduated last June 13, 2019. Almost 80 of these are now working as technicians and service professionals at Hyundai dealerships in the country. The past months saw HDCP host a wide variety of visitors. Last May, HDCP received His Excellency Han Dong-Man, the Ambassador of the Republic of Korea to the Philippines, who cited HDCP as an embodiment of the strong partnership between the Philippines and the Republic of Korea. In August, the 2019 Mutya Pilipinas candidates spent a day interacting with the scholars and later shared their insights on sustainability and women empowerment during the pageant proper and on social media. "These recent developments involving Hyundai Dream Centre-Philippines are truly something to be proud about," said HARI President Maria Fe Perez Agudo. "Hyundai Dream Centre-Philippines is truly a gift to the country. It is a symbol of Hyundai's commitment to make the dreams of our young people come true. By providing globally-certified voc-tech skills education to our underprivileged youth, HDCP gives more Filipinos a better shot at starting productive careers in the automotive and manufacturing industries."