Lamborghini Lambo V12 Vision GT Unveiled for PS4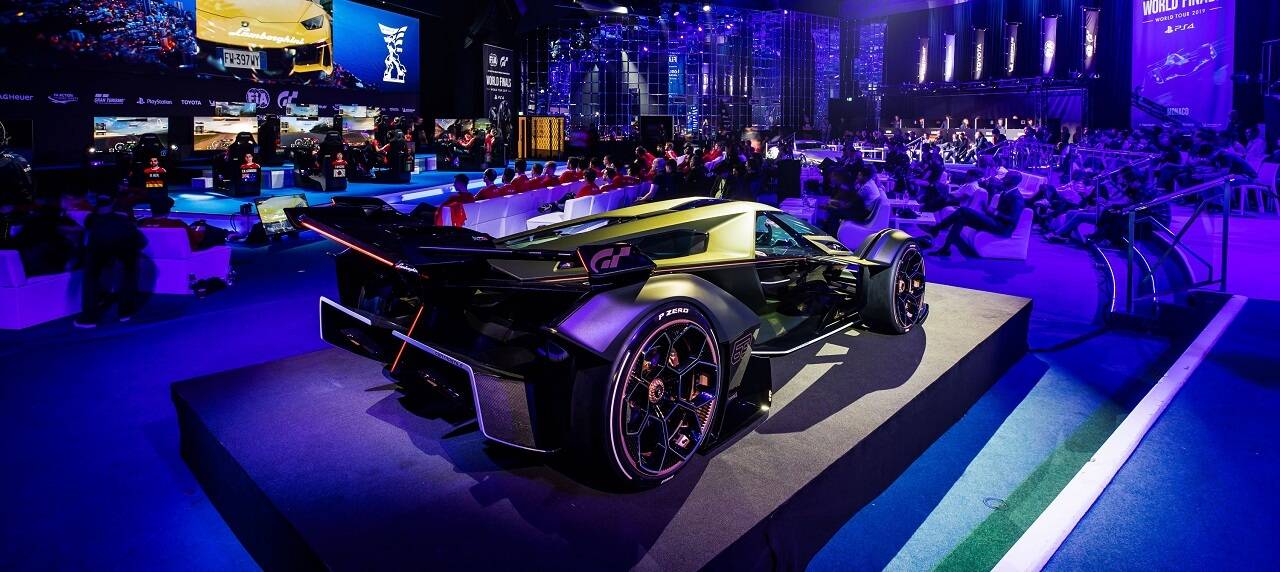 The Italian Bull has designed a concept racer for exclusive use in the Sony Playstation 4 racing game Gran Turismo Sport. The car—a single-seat hyper dubbed the Lambo V12 Vision GT and designed by Centro Stile Lamborghini, the brand's in-house design department—was launched ahead of this year's FIA-Certified GT Sport Online Championship World Final, which takes place in Monte Carlo, Monaco this coming weekend.
Along with the announcement, Lamborghini unveiled a full-sized physical model of the car. Unfortunately, the display car is just for show. For those who would like to see how the car performs on the (virtual) road, you can purchase the car when it becomes available spring 2020.
"Lamborghini is a very young brand," said Stefano Domenicali, Chairman and CEO of Automobili Lamborghini S.p.A. "And this is why we are here today to present our newest virtual vision in the form of a real model, with a highly futuristic and cool design to be enjoyed by the young generation of racing game and super sports car enthusiasts."
In its virtual form, the Lambo V12 Vision GT carries a powertrain lifted from the limited edition hybrid Lamborghini Sián FKP 37. This means the car uses a combination of 6.5-liter V12 engine and 48-volt e-motor that delivers a combined 808 hp and mated to a 7-speed ISR semi-automatic gearbox.
Even though the car only runs in a game, the people at Lamborghini still gave painstaking effort to ensure the car has optimal aerodynamics. The disparate body elements and ginormous front splitter are said to make air flow efficiently over and around the sheetmetal, feeding the massive Y-shaped rear wing and diffuser to help produce the downforce needed to further propel the car to hyperspeeds, and possibly even the moon, as the press kit suggests.
A virtual weight of 819 kgs, which should give the car a one-to-one power-to-weight ratio, further supports the claim that this is the 'best virtual car ever.'
"The Lambo V12 Vision Gran Turismo was designed to be the best virtual car ever for all the young gamers and fans who love our brand," said Mitja Borkert, the Director of Centro Stile Lamborghini. "It is an opportunity for the genius and talent of our designers to fully express themselves and imagine a car that is not only fascinating and incredible to drive, but also reflects the design center's commitment to developing innovative technologies, especially in the field of light materials and hybridization."