Top 5 Most Affordable Subcompact to Compact SUVs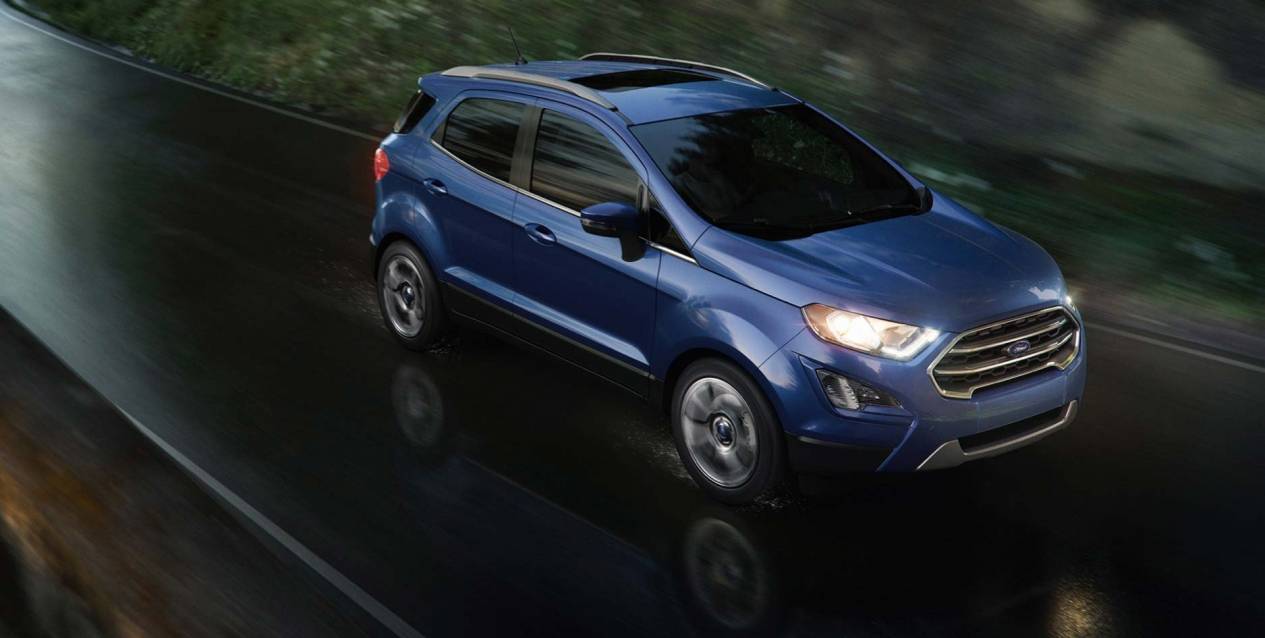 You think Ford's crossover SUVs are expensive? What if we tell you that some of its more affordable variants almost have similar prices compared to a supermini like Ford Fiesta?
Or that other brands also have their own versions of "cheap compact SUVs" as well?
Will you change your mind?
Now, please remember that the cheaper variants offer lesser features than their high-end counterparts. Still, you'll have a much better chance of owning them because they're less expensive. If you can live with that, then here are the best subcompact to compact SUVs you should definitely keep in mind:
5. Chevrolet Trax (starts at ₱ 998,888)
Chevrolet Trax 1.4 LS AT - ₱ 998,888
One thing worth noting about the Chevrolet Trax is its headroom height. Really, this car is perfect for tall drivers because it has a lot of headroom compared to other compact SUVs in the market today. In fact, adults over 6-ft. tall can still find the vertical space comfortable and less stifling.
Despite these goodies, we still have some complaints: (1) the design lacks character and style; (2) it's not as spacious when it comes to width; and (3) the engine's not as powerful as you want it to be.
Aside from offering great headroom and legroom, this car also offers good standard equipment and  great safety features for the money. Six (6) Airbags, Roll Over Mitigation, Electronic Brakeforce Distribution,  Anti-Theft Alarm, and ABS are just some of the standard safety amenities that go along with it.
The Chevrolet Trax runs on a 1.40 liter 4-cylinder engine that can churn out 138-hp with 200 Nm of torque.
4. Honda BR-V (starts at ₱989,000)
Honda BR-V 1.5  S CVT - ₱989,000
Honda BR-V is a taller and sportier version of Mobilio, so if you find Honda Mobilio too lackluster for your taste, the BR-V is something you should definitely look at.
Surprisingly roomy for its class, it's classified a 'compact SUV' but can seat seven occupants comfortably well. And that's one edge BR-V has over the rest.
Now, here's what we don't like: (1) tire noise is a bit excessive from time to time; (2) there's no seat-height adjuster for vertically-challenged drivers; (3) the brakes can get in too deep when you press it downwards.
Still, BR-V does offer good cargo that becomes spectacular if you fold the third rows in. What's more, you don't have to burst a blood vessel hauling heavy baggage inside, since its low cargo load height makes things easier to move things about.
Honda's 1.5L EURO 4 Certified i-VTEC engine works in tandem with Honda's Earth Dreams Technology. It can churn out a maximum of 120 hp and 145 Nm of torque. And while the engine isn't as strong as other SUVs we know, Honda's CVT gives it a more responsive acceleration when driven on high speeds.
3. Nissan Juke (starts at ₱980,000)
Nissan Juke 1.6 Upper CVT - ₱980,000
The Nissan Juke is a gorgeous, stylish, fun, unique, and affordable crossover. This car has light, exceptional steering that makes it a joy to drive around tight corners, and its turbocharged engine makes great fuel mileage.
It does have some weaknesses like all cars. This vehicle doesn't have the most spacious interiors around. Unfortunately, the cost of having such a great and attractive exterior means that space is compromised. Also, this car's spirited engine allows you a fun drive, but it might mean you will occasionally feel the bumps and potholes very well.
Now with a sportier vibe, this stunner also offers adequate safety amenities like anti-lock brakes, stability control, airbags anti-whiplash, and anti-theft immobilizer to keep you secure on the road.
The Nissan Juke comes with a 1.6-liter hp engine that produces 154 Hm of torque.
2. Kia Soul (starts at ₱875,000)
Kia Soul - 1.5 LX CRDI M/T - ₱875,000
Kia Soul is technically a compact hatchback, but we think its unique shape and style can actually pass off as a subcompact SUV pretty well.
You can squeeze in five adults here, and there's plenty of space at the rear passenger seat. There's also enough headroom for taller adults to sit comfortably, with good cargo room to fit in a couple of your bags and luggage well.
Now here are things that bother us a bit: fuel economy is good, but still sub-par compared to others in its class. Also the engine isn't as spunky as we'd like it to be.
Still, the safety features are more than enough to get you going. The IIHS gave it a "Good" rating, so it offers enough amenities to keep you feeling secure when driving. Some of the standard ones are airbags, anti-lock braking, and electronic stability control.
Now with an upgraded engine to make it more impressive, Kia Soul offers a lot of great upscale amenities and versatility that will make you love it even more. It uses a U2 1.6-liter CRDi inline 4-Cylinder diesel (VGT) engine, together with a 6-Speed AT.
1. Ford EcoSport (starts at ₱ 795,000)
Ford EcoSport 1.5 Ambiente MT - ₱ 795,000

Ford EcoSport 1.5 Trend MT - ₱ 855,000

Ford EcoSport 1.5 Trend MT Black Edition - ₱ 868,000

Ford EcoSport 1.5 Trend AT ₱ - 905,000

Ford EcoSport 1.5 Trend AT Black Edition - ₱918,000
Ford EcoSport is undoubtedly one of the most popular sub-compact crossovers in the Philippines because: 1) it offers adequate performance; 2) it's very affordable; and 3) it's attractive.
Roughly the size of Nissan Juke, the EcoSport offers around 30 storage compartments, bins, and pockets to keep you organized. And you can also use the assorted hooks splattered around the cabin if you need more storage.
Now, here's the lowdown: this car is a pretty straightforward car. It does well on city driving, but its engine can be underwhelming when turning in corners and riding over bumps and holes. This can make driving in rural areas a challenge.
The trunk entrance is also impractical. The door actually opens to the side, which can be a problem if there's a car parked behind you and it's a tight squeeze.
Despite this, EcoSport makes up for it by adding good standard amenities inside. The engine line-up includes a 1.5L Inline 4-Cylinder Ti-VCT petrol engine that churns out 108-hp and 142 Nm of torque. And you can choose either a 6-speed automatic or 5-speed manual transmission.