Toyota Hiace: same price, different options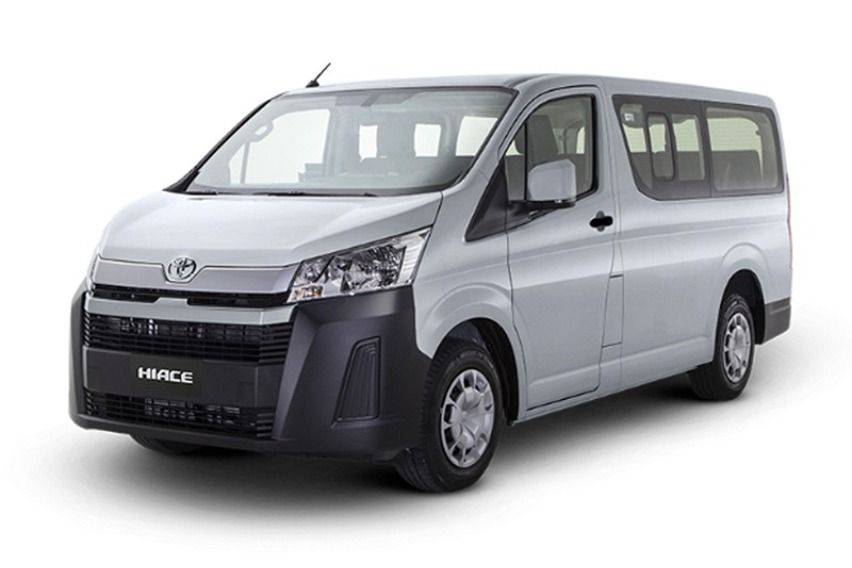 Commonly used as passenger vans or "UV Expresses", Toyota's Hiace has proven itself to be a necessity for Filipinos for many years now. Its sturdy, planted structure as well as the practical, reliable interior has made it a public transportation staple. The variant of the Hiace that is most commonly used as a UV Express vehicle is the commuter model, offering maximum seating capacity with the lowest possible price. As of now, the Toyota Hiace Commuter Deluxe starts off at PHP1.48 million.
However, if you're on the market for a commuter van that isn't the Toyota Hiace, here are other options to consider.
Nissan NV350 Urvan (PHP1.44 million)
As the Hiace's toughest rival, Nissan's Urvan is equally as reliable and practical as Toyota's van. These two vans are almost identical, even in their status as public transpo legends. The base model Urvan is priced at PHP1.44 million. The said variant has a 15-seater configuration, and is equipped with a 4 Cylinder diesel engine that makes 127 hp and 356 Nm of torque, all paired up with a 5 speed manual transmission.
From the outside, the Urvan is nothing more than a shapely box. Back when it first started, earlier versions of the Urvan were more rounded and were much smaller, as was the trend at the time. Now though, the Urvan is a sturdy and solid rectangle that measures 4,695mm long, 1,695mm wide, and 1,990mm tall.
The Urvan comes with a newly redesigned Black Front Bumper, Black Rear Bumper, a newly designed Honeycomb-Type with Piano Black Finish V-Motion, 15-inch Steel wheels with Full Wheel Cover, AND Multi-Reflector Halogen headlamps with Integrated Side Turn Signal Lamp.
Going inside the Urvan, the following features can be seen inside the van's cabin. There is an instrument Panel with Drive Computer, a 2DIN AM/FM & CD with AUX with 4 Speakers, Power Windows with One-Touch Auto-Up/Down with Anti-Trapping Feature, Front Driver Seat: with Manual Slide and Recline Functions (High Back-Type) with Fixed Head Restraint. There is also a manual dial type airconditioning unit, and a rear airconditioning with Independent Control and 12 Individual Vents.
Hyundai Grand Starex (PHP1.39 million)

Another icon in the local van scene is Hyundai's Starex. As of now, the latest generation of the base model Hyundai Starex only seats up to ten passengers. This particular variant is equipped with a 2.5 liter TCI SOHC engine that makes 98 hp and 225 Nm of torque, paired up to a 5 speed manual transmission.
Exterior-wise, the massive Grand Starex measures 5150mm long, 1920mm wide, and 1925mm high and is equipped with Multi-Reflector Halogen headlamps with Integrated Turn Signal Lamps, 16 inch steel wheels. Overall, the exterior of the Grand Starex is the most distinct one out of the bunch, as it sports a more premium look than its competitors.
The premium look and feel of the vehicle carries over to the interior, as the 10 seater Grand Starex sacrifices seating capacity for added comfort and features. There is a 1-DIN AM/FM/CD audio system with AUX & USB connectivity, as well as air conditioning vents for all rows of seats.
Foton TransVan (PHP1.14 million)

As a relatively new contender in the passenger van market, Foton's TransVan is slowly but surely paving its own way and making a name for itself. The TransVan is priced at only PHP 1.14 million, and it comes with a 4 Cylinder In-line turbocharged diesel engine that makes 94 hp and 225 Nm of torque. This engine configuration comes paired up with a 5 speed manual transmission.
Exterior-wise, the TransVan looks more like the conventional passenger van, using the same box-shaped exterior as the Hiace. It measures 4,850mm long, 2,020mm wide, and 2,000mm high.
Inside, the base model Foton TransVan features a 13-person seating capacity. It comes with front and rear air conditioning, as well as an AM/FM radio with a CD, AUX, and USB input. Other features include power windows and power door locks.
Maxus V80 Comfort (PHP1.57 million)

Although relatively small, Maxus' V80 Comfort does fit the price range of the base model Hiace. It comes with a 2.5 liter 4 Cylinder 16 Valve turbo diesel engine, paired up with a 6 speed manual transmission. The engine puts out 134 horses of power and 330 Nm of torque.
The Maxus V80 Comfort measures 4,950 mm long, 1,998 mm wide, and 2,132 mm high. Despite its relatively small frame, the V80 Comfort seats up to 13 people, and comes with features such as front and rear air conditioning, power steering, a 12V outlet, and a 2DIN AM/FM radio with USB and AUX outputs with bluetooth connectivity.
JAC Sunray 4 Series (1.31 million)

Although mostly known for making industrial type trucks, JAC also produces passenger vans. One such van that fits the price range of the base model Hiace is the JAC Sunray 4 Series, which is priced at PHP1.31 million. It comes with a 2.8 liter Diesel Engine that makes 119 hp and 250 Nm of torque, all connected to a 5 speed manual transmission.
The JAC Sunray 4 Series measures 4900 mm long, 2080 mm wide, and 2340 mm tall, and comes with features such as front and rear air conditioner vents, air quality control, automatic climate controls, keyless entry, and an AM/FM radio system.
Photos from Toyota, Nissan, Hyundai, Foton, Maxus, JAC
Also Read:
Review: 2020 Mercedes-Benz V 220d Avantgarde Long
Abandoned 1970s Volkswagen Camper van is now a local monument