Toyota Hiace users get livelihood boost with Oil-In Promo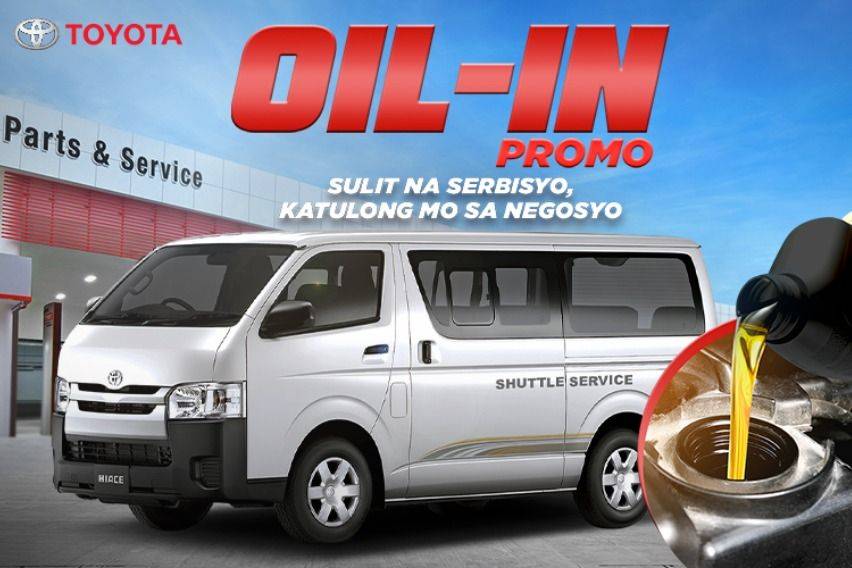 Toyota Motor Philippines (TMP), the country's top automotive manufacturer, understands the plight of everyman, and knows that in today's scenario, every penny counts. With that, drivers and operators of the Hiace Commuter being used for commerce are given a specific promo to help restart their livelihood.

The local arm of Japanese automotive titan has launched the Oil-In promo to provide owners of commercially-used Hiace Commuter vans with discounted change oil and filter services at any Toyota dealer nationwide.

According to TMP, Hiace Commuter models being used as school bus, UV Express, ambulance, tourist shuttle, airport shuttle, and in courier or delivery, among others, can enjoy as much as P1,170 savings while being attended by Toyota's top caliber technicians.

TMP First Vice President for Customer Service Operations Rainnier Gregorio noted the significance of the Hiace Commuter as a utility vehicle.

"The Toyota Hiace, the Commuter variant in particular, has played a big role in moving people and industries through the years, and its usefulness has become more evident now that physical distancing is the norm," Gregorio said.

"Commercial Hiace drivers and operators have been doing great service to the public, and we'd like to assist them, especially now that most of them need assistance to restart their operations."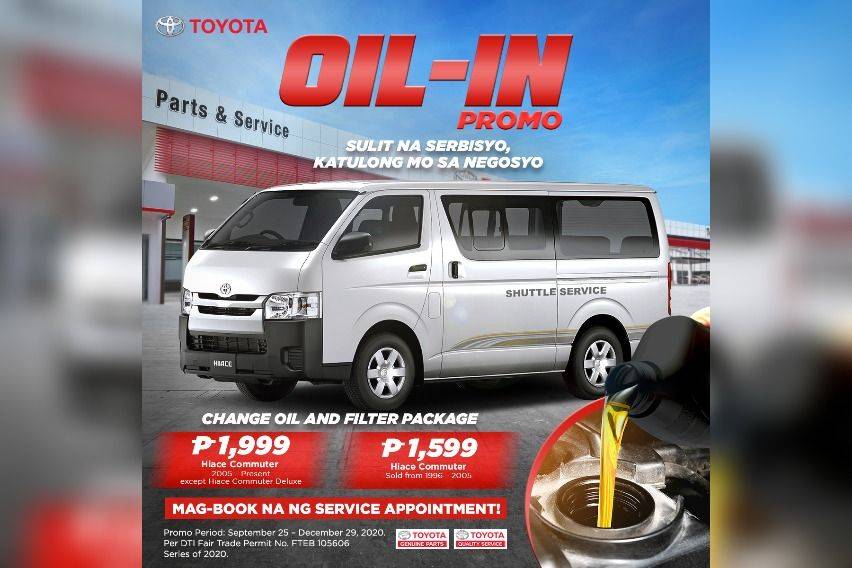 Available until December 29 this year, the Toyota Oil-In promo will be accorded to Hiace Commuters being used in businesses bought from any Toyota dealer since 1996. Models bought from 1996-2005 can get the change oil and filter service for only P1,599 (P994 discount compared to from original price of P2,553). On the other hand, Hiace Commuters purchased from 2005-present (except Hiace Commuter Deluxe) are to pay only P1,999—a P1,170 discount versus the original price of P3,169.

The Oil-In promo will ensure the Toyota Hiace Commuter will only be fitted with genuine parts and materials like Toyota Genuine Motor Oil (Mineral), Toyota Genuine Oil Filter, and Toyota Genuine Drain Plug Gasket. The said amount also covers labor cost.

Owners of Toyota Hiace Commuter vans are encouraged to book their appointment at their nearest Toyota dealer or service center.

Photos from Toyota Motor Philippines