Toyota PH's upgraded app eyes to elevate customer experience
Toyota Motor Philippines (TMP) has upgraded its mobile app in its bid to raise the level of experience for its customers.
TMP First Vice President Sherwin Chualim said that the updated myToyota app addresses the need for accessible products and services during these times.
"Part of our commitment to providing ever-better products and services is continuously improving the customer experience — from inquiring about your dream Toyota, acquiring and taking care of your vehicle, and moving on to your next Toyota — through any of our 71 Toyota dealerships nationwide or through our amplified digital touchpoints. With the new myToyota app, life with Toyota is made easy, worry-free, and happier in a tap," he explained in a release.
Through the myToyota app, mobile phone users can explore TMP's vehicle lineup, browse the latest car deals, book car appointments, purchase vehicle upgrades and packages, and get access to services like roadside assistance.
The unified platform tackles the Toyota customers' need end-to-end; from car-buying, to maintenance needs and upgrades, after-sales deals and assistance, and even up to vehicle trade-ins.
Vehicle viewing
The myToyota app showroom features a carousel displaying featured vehicles and provides a 360-degree virtual viewing of a model of choice. It also has a vehicle configurator that lets users pick available color options, choose compatible accessories and other items for the vehicle. Aside from that, it provides access to the financing calculator and allows users to chat with a dealer for contact information.
The app also allows users to see the available service packages and applicable promos as well as pick a preferred delivery schedule for items ordered.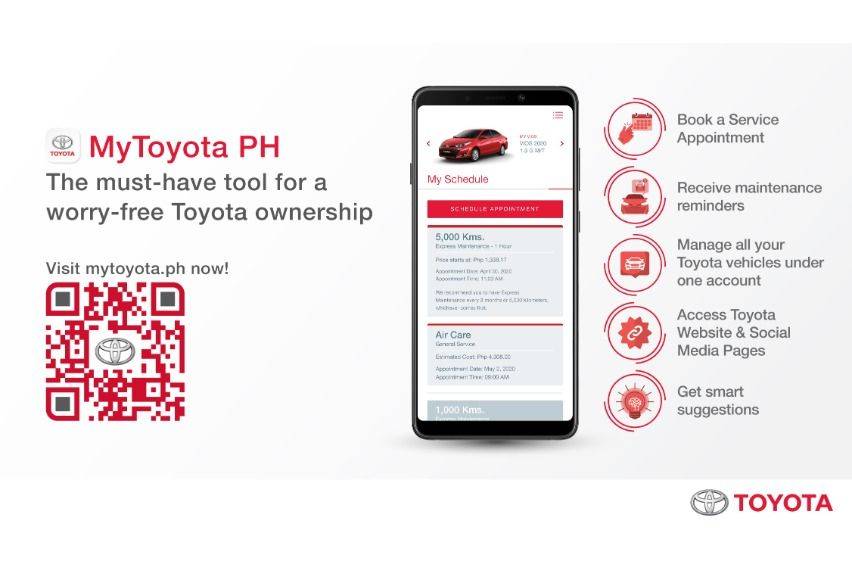 Car care in the digital sphere
Via the myToyota App, Toyota car owners can check and choose service schedules and easily monitor the vehicle's preventive maintenance schedules. Apart from keeping tabs on the car's service history, it can also check repair status and informs users of available service packages and promos. App users can also reschedule or cancel the service appointment the same way they have scheduled it.
Moreover, users can learn about the status of their vehicle's insurance through the link to the e-policy and can easily be redirected to the Online Store's Insurance Renewal page to get a detailed computation and submit a renewal request.
Photos from Toyota Motor Philippines
Also read:
Toyota lets you check its offers via a virtual showroom
Toyota PH now offers home delivery service
Toyota PH outlines changes to accommodate 'new normal' in business