2020 Kia Stinger vs. the competition: Your other local sports car options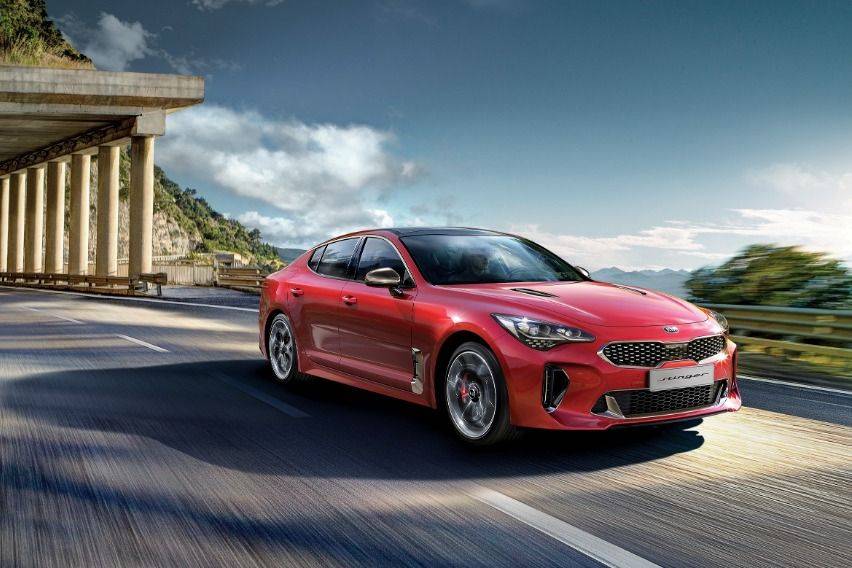 Birthed in 2017, the Kia Stinger is basically a newbie in its segment. Nevertheless, this sports car offering from the South Korean car manufacturer has managed to kick up a storm since its introduction. Now more than three years old, the sporty fastback finally receives some clever updates that further prove its gran turismo abilities while boosting comfort and convenience inside the cabin.

The 2020 Kia Stinger is propelled by a 3.3-liter V6 direct-injection twin-turbo engine outputting 365hp and 510Nm. The powerful engine links to an 8-speed automatic transmission with shift-by wire feature and controlled via paddle shifters. As a rear-wheel drive, the Stinger powers to a 0-100kmph acceleration time of 4.9secs.A limited-slip differential keeps responses robust.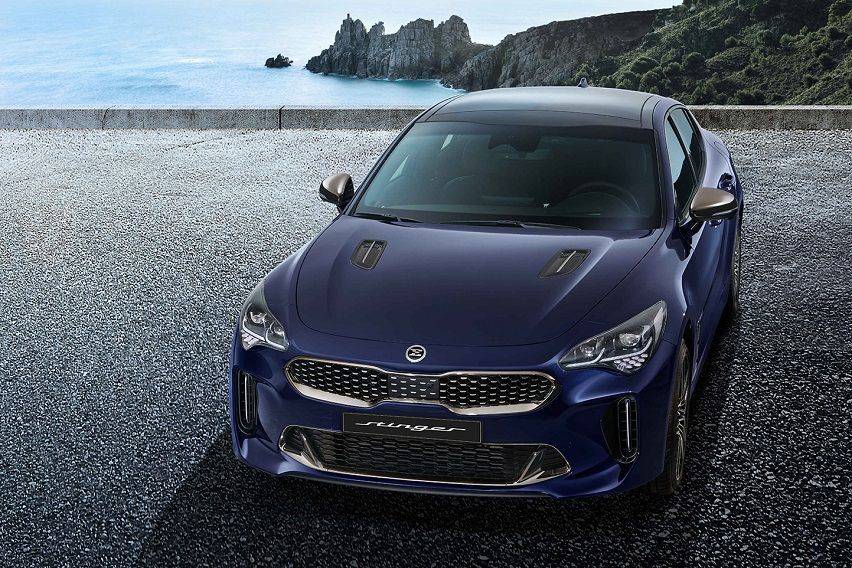 But more than a sports car, the Kia Stinger is also designed to deliver a plush ride. Inside, there's plenty of leather upholstery to impress. The low-slung driver's seat further lends credence to the car's sporty flair, while numerous design and technical refinements that scream upscale elegance. The aircraft-inspired vents serve as a nice throwback to the classic sports cars of the yonder years, lending the Kia Stinger cabin an alluring retro vibe.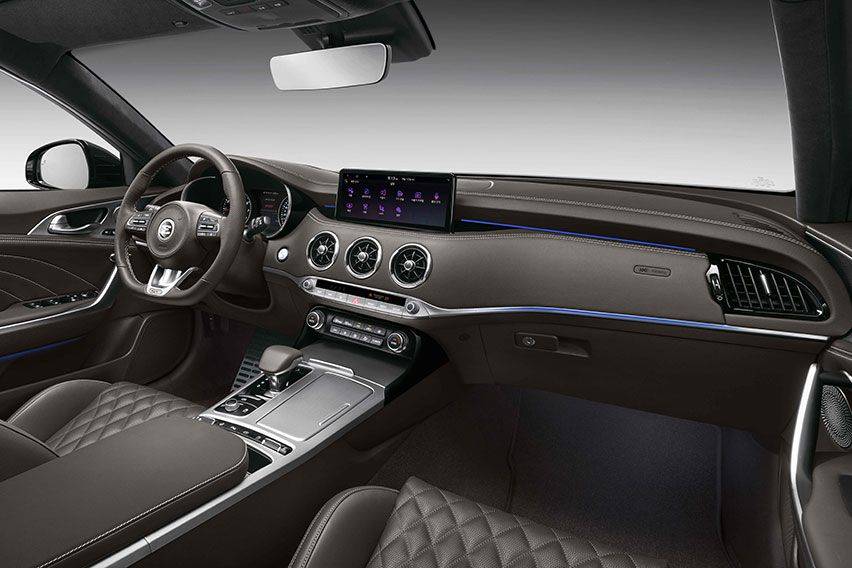 Though design cues draw plenty from sports car tradition, they nevertheless manage to be exceptionally modern, starting with the instrument panel that consists of a seven-inch multi-function display, to the Integrated Memory System lets you store seat and side mirror settings. There's even ambient lighting to set the mood, ventilated front seats to keep your tush cozy, and an ultra-cool triple-zone climate control to ensure every occupant enjoys the same level of comfort as everybody else. There's also a 15-speaker Harman/Kardon premium sound system delivering high quality audio to match the engine's mammoth revs.

The 2020 Kia Stinger starts at PHP 3.32 million. If you want to see what other sports car options you have out there, here are your prime choices.

Affordable, powerful, and highly customizable—there's very little doubt why the Ford Mustang is the world's bestselling sports car of the last 50 years. For folks who want a sports car that comes rolling out of the dealership with as much of their personal preference as possible, Ford lets you build your own Mustang with a lengthy selection of packages including Black Accent Package, EcoBoost Performance Package, and Premium Plus Package, to name a few.

As for the standard features, the Ford Mustang comes in four different trims with two engine options—a 5.0-liter V8 for the GT variants (460hp, 569Nm) and a 2.3-liter Ecoboost for the Fastback (310hp, 434Nm), priced from PHP2,585,000 to PHP3,718,000. Both engines are mated to a 10-speed SelectShift automatic, but the convertible variant comes with the option for a 6-speed manual transmission.

The Ford Mustang cabin welcomes drivers to a 12-inch LCD instrument cluster—the first all-digital display ever offered for the model. What's nifty about it is that it allows users to customize colors, gauge layout, selectable drive modes, and more. A MyMode system lets drivers set their drive settings and remembers them for the next use. That even includes steering and suspension preferences.

The onboard SYNC 3 infotainment system is as advanced as these systems can get, allowing for voice activated responses along with the capacitive touchscreen with impressive responsiveness. The intuitive and user-friendly system lets users connect to and control their smartphone, while also providing real-time navigation. The audio system includes Shaker Pro Audio with HD Radio Technology providing AM/FM stereo, single-CD/MP3 player functionalities and 12 speakers – one of which is an eight-inch trunk-mounted subwoofer. Thanks to HD Radio Technology, reception is crystal clear, with no audio distortion, buzz, popping or static.

Of course, being a Ford, the Mustang possesses some of the most advanced safety  systems out there for a sports car including AdvanceTrac with electronic stability control, individual tire pressure monitoring, and SPS post-crash alert.

The Honda Civic Type R sure is drop-dead gorgeous. Recently updated inside and out, the new Type R's tweaked front façade serves more than just aesthetic purposes, as it also allows for better engine cooling as the car goes faster.

For power, the Type R relies on a 2.0-liter direct-injected and turbocharged 4-cylinder engine with VTEC valvetrain delivering 306hp max power and 400Nm max torque. Power is sent to the front wheels via a close-ratio 6-speed manual transmission and limited-slip differential. There's no automatic gearbox in sight, so purists rejoice! For drivers who have honed their shifting prowess to perfection, the Type R can speed up from 0 to 100kmph in 5.7secs.

Same as in the old Type R, drivers have three driving modes to choose from: Comfort, Sport and +R modes, which affect suspension firmness, steering and throttle response so as to suit personal driving tastes as well as on-road driving conditions. Handling is improved by stiffer rear bushings, enhanced dampers, and various updates to the front suspension and steering systems. The brake system also gets revised with new two-piece brake rotors and brake pads designed to reduce fade and improve high-speed braking efficiency.

Inside, drivers can now enjoy a new Alcantara-wrapped steering wheel, as well as a new shifter with a restyled knob and shorter shift throws. Infotainment is handled by a 7-inch touchscreen with navigation, Blutooth, USB, and HDMI. Sorry Android users, only Apple devices are allowed to connect to this baby.

For peace of mind while satiating your need for speed, every 2020 Civic Type R comes with the Honda Sensing suite of safety and driver-assistive technologies, making the Honda Sensing suite standard equipment on all Civic models and trims. New for 2020 is the Active Sound Control feature, which adapts the interior sound in accordance with the selected drive mode.

The fifth generation Toyota GR Supra boasts a precise and agile rear-wheel-drive configuration that pays a respectful tribute to Toyota's rich racing heritage. Its design is directly informed by vintage Supras of the past, as well as the highly popular 1967 2000 GT. Retro design elements abound, seamlessly intertwined with some sleek contemporary aesthetic cues.

The all-new Supra engine bay houses a 3.0-liter turbocharged inline-six that produces 335hp and 500Nm. This links to an 8-speed automatic transmission controlled by paddle shifters that come with manual control option. Two driving modes--Normal and Sport--allow the driver to modify throttle response steering weight and transmission shifting to enhance performance. It's the quickest Toyota-branded production vehicle yet, with its 0-100kmph acceleration of 4.2 seconds.

Inside the Toyota GR Supra, infotainment is housed in an 8.8-inch Widescreen TFT LCD with USB and Bluetooth, linked to a 12-speaker JBL HiFi Surround Sound System. Safety consists primarily of 7 SRS airbags, vehicle stability, traction control, and Toyota's patented anti-lock brakes.

A lot pricier than the rest of the sports cars on this list, but also the plushest. The Nissan GT-R got a 3.7-liter VQ37 DOHC V6 engine that can dish out 327hp and 363Nm. Shifting is managed by a paddle-shifted 6-speed sequential dual clutch transmission that has its transfer case mounted directly to it, effectively making the GT-R the world's first independent rear transaxle for an All-Wheel Drive vehicle.

For its interior, the Nissan GT-R exudes a driver-centric design with its four-way power adjustable seats, triple meter, push start and stop button, and sports pedals. Infotainment is as high-tech as can be, with an 8-inch touchscreen that permits Bluetooth connections and hands-free calling. In addition to touch functionality, the screen can be controlled using the Display Commander that allows users to toggle up and down, side-to-side, rotate, scroll through, and control the infotainment system, doing away with the need to look down or touch the display screen.

Other upmarket additions include active noise cancellation, active sound enhancement, and an exclusively designed 11-speaker Boss audio system with dual subwoofers. The car is also imbued with the Nissan Intelligent Mobility suite, making the GT-R Premium one of the most advanced performance units in terms of safety.

If luxury is a primary consideration, and you're willing to compromise performance numbers for it, then you'll certainly enjoy buying the GT-R. For those who think the price is too much, don't worry. The GT-R also comes with a performance-oriented version, the GT-R Nismo, with pricing available upon request.

The recent version of the Ford Mustang's fellow American make was launched locally at the 2019 MIAS, ushering the car's return after a brief hiatus from the PH market. The latest Camaro offering from Chevrolet Philippines is powered by a 2.0-liter DOHC VVT direct injection turbo engine mated to an 8-speed paddle-shift automatic transmission, delivering 275hp and 398Nm of torque. This max output launches the Camaro from 0 to 100kmph in 5.4 seconds.

The sixth-generation Chevrolet Camaro muscle car features a custom leather-trimmed dashboard and console, leather-wrapped flat-bottom steering wheel, and black leather interior panel. Driver comfort is further enhanced by sport buckets memory seat with eight-way power adjust and ventilated with cooling and heating. Shotgun riders also get their share of the creature comforts via sport buckets seat features a six-way power adjust with cooling and heating ventilation.

Complementing the car's performance-focused nature is an RS package that lends the Camaro plenty of sporty refinements, including a decklid spoiler, polished honeycomb grille, illuminated Camaro sill plates, LED tail lamps, five-spoke 20-inch machined wheels, black front and rear Chevrolet bowtie emblems, and RS badging.

Photos from Kia, Toyota, Honda, Nissan, Ford, Chevrolet