A V8-Powered, 6-Wheeled Jeep Wrangler Just Got Interesting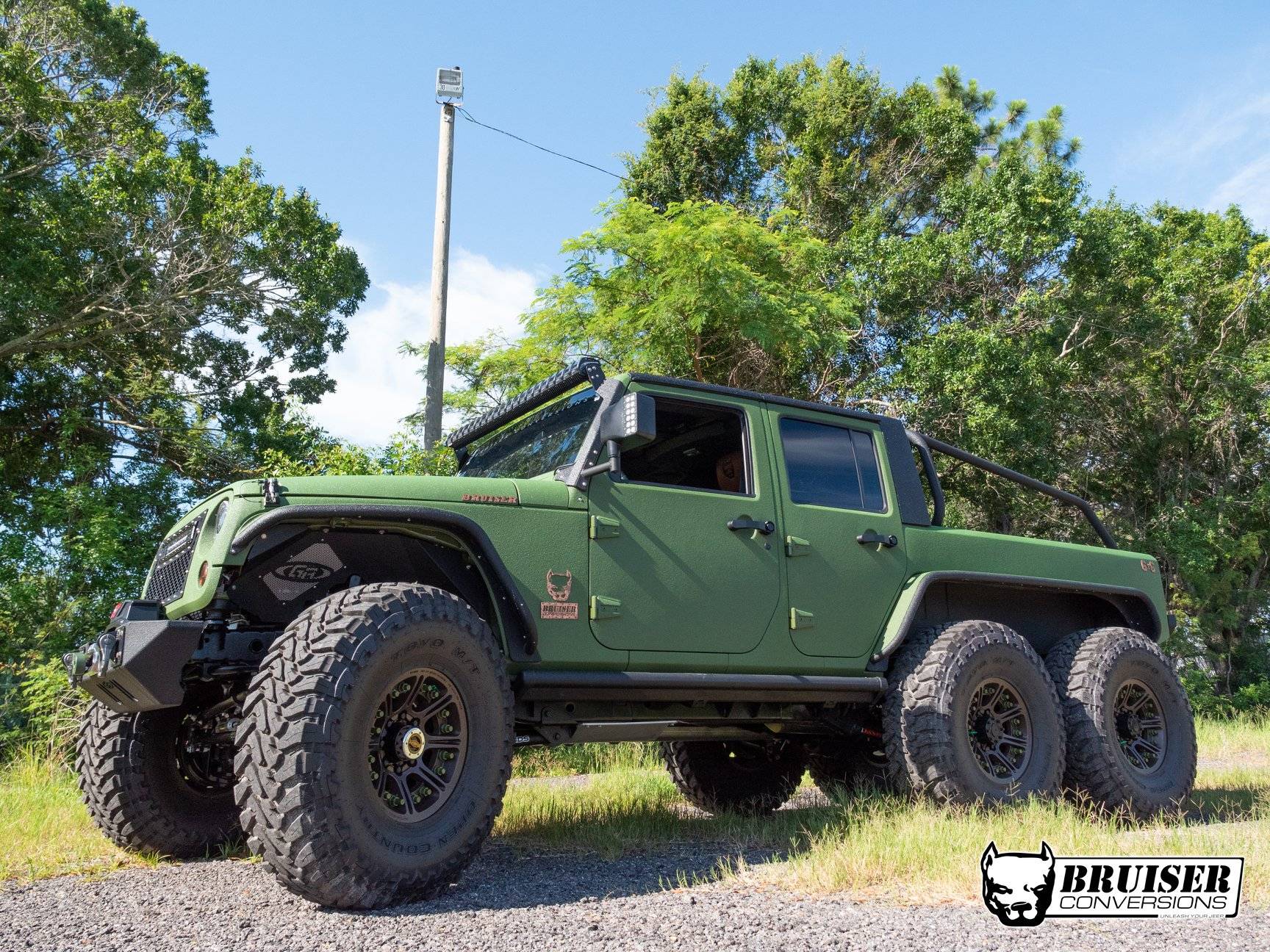 There's something about increased wheel counts that make us stop and pay attention. Perhaps, it's because it looks so unusual to find a road car with six wheels, or maybe it's because it's highly-technical, and requires a lot of engineering skills to do.
Whatever the case, Bruiser Conversions of Clearwater was up for the challenge--and managed to turn an ordinary Jeep Wrangler into a brutish 6x6 road warrior. And the result was truly amazing.

https://youtu.be/yGyv4XjhI-Q

Bruiser, which is popular for its clean conversion kits and full vehicle transformations, introduced this beast at the 2017 SEMA show. Using a Jeep Wrangler 4-door as its base, the company extended the rear to create a truck-style bed and extra rear axle. These rear axles are custom-made Ford nine-inchers that come with Detroit lockers and 4.88 gears.
The engine is a 6.2 liter V-8--a General Motor LS3 unit--while its power is distributed by an Atlas Twin Stick transfer case. Bruiser also installed six 40-inch tires on 17-inch beadlock wheels to make its 450 hp roll down effortlessly,
The Jeep Wrangler's front also used Fox coilovers and a four-link travel suspension system. There are more Fox suspensions placed at the back plus, of course, adjustable track bars to make that off-road adventure much more interesting.
This is the first time Bruiser created a six-wheeler Jeep, and we're actually pleased with the end product. It's well-made, and looks ready to crush anything hat comes down its path.