Car Comparison: Starex vs. V80 vs. Grandia Tourer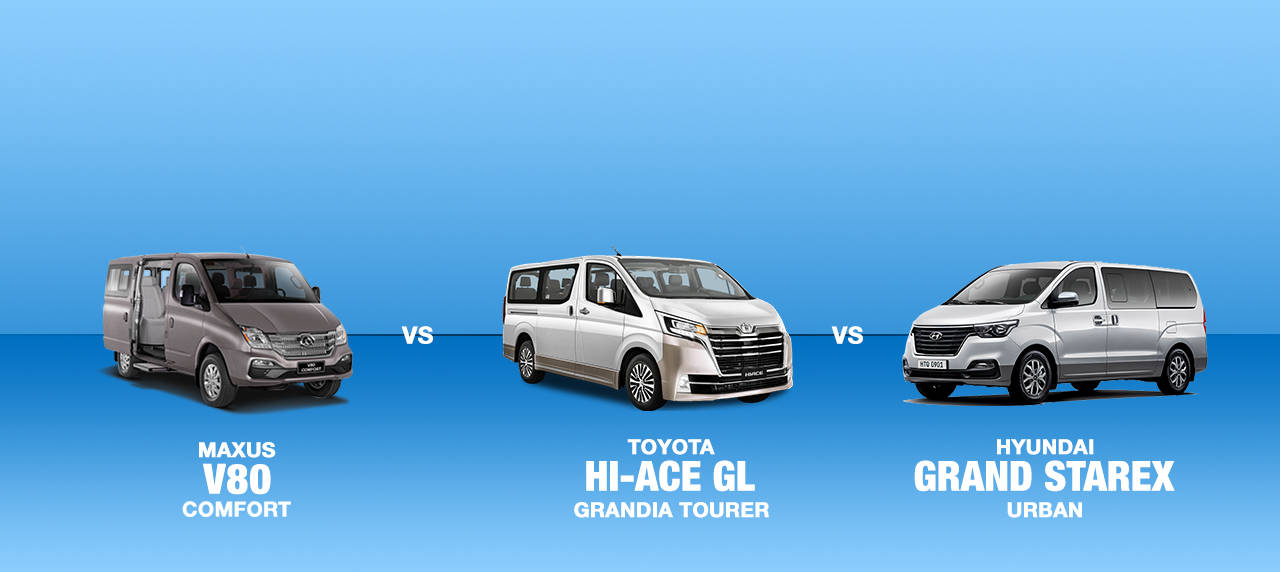 The local passenger van market is at an all time high, with the release of the Ford Transit, the re-release of the Mitsubishi L300, and the updated Hiace lineup. While most buyers of vans use the said vehicles as a means of public transpo, the three vehicles we will be comparing in this article are more premium than their standard variants.



Power and Dimensions
The GL Grandia Tourer is powered by a 2.8 liter In-line 4 Cylinder engine that makes 160 hp and 420 Nm of torque. There is a choice of either a 6 speed manual or a 6 speed automatic transmission for this van.
The Grandia measures 5,915 mm long, 1,950 mm wide, and 2,280 mm tall, with a wheelbase of 3,860 mm to ensure a stable ride for all of its 14 passengers.
The Hyundai Grand Starex Urban is powered by a 2.5 liter CRDi VGT DOHC engine that makes 173 hp and 461 Nm of torque. This engine comes mated to an H-Matic 5 speed automatic transmission.
The all new Starex Urban measures 5,150 mm long, 1,920 mm wide, and 19,25 mm high. It seats up to 9 passengers only.
The Maxus V80 Comfort is powered by a 2.5 liter Turbo diesel engine that is able to produce 134 hp and 330 Nm of torque, mated with a 6 speed manual transmission.
The V80 Comfort is visibly smaller than the other two vans in this list, measuring 4,950 mm long, 1,998 mm wide, and 2,132 mm high, with a wheelbase of 3,100 mm.
Winner: 
Tie
Trims, Options, and Pricing
There are three color options for the GL Grandia Tourer, (1) Luxury Pearl Toning, (2) Silver Mica Metallic, and (3) Light Blue Metallic. The GL Grandia Tourer starts at Php 2.160 million for the 6 speed manual transmission variant, and the automatic transmission variant starts at Php 2.250 million.
The Hyundai Grand Starex Urban comes in four different exterior color options: (1) Timeless Black, (2) Tan Brown, (3) Creamy White, and (4) Hyper Metallic Silver. Pricing starts at Php 2.750 million.
The Maxus V80 Comfort is available in four exterior color options, namely (1) Silver, (2) Gray, (3) White, and (4) Brown. The V80 is a lot cheaper, starting at Php 1.570 million.
Winner: 
Toyota Hiace GL Grandia Tourer
Passenger Accommodation
The Toyota van is a great step up from its predecessor. The 14 passengers this van accommodates will be sitting on fabric lined contoured seats with vinyl leather inserts in a two-tone beige and gray cabin. Up front, there are only two seats instead of the standard three seater configuration. The front middle seat has been traded for a large center console area. There are two seats in the second row, three in the third and fourth row, and four seats in the last row. The last row seats can be folded up in order to increase cargo space. Toyota has also placed a total of 24 cup holders in the Tourer's interior, along with 8 12V sockets to plug in your electronics.
The Hyundai Grand Starex Ubran is the most luxurious out of the bunch. Despite its spacious interior, Hyundai only placed a total of 9 seats in the cabin, including the driver and front passenger. By doing so, Hyundai made sure that each passenger has ample legroom and overall space to be transported in maximum comfort. The seats are wrapped in natural brown leather and all individual seats recline.
The V80 Comfort seats up to 13 people. There's three seats up front, three seats on the second and third rows, and four seats on the last row. All seats are lined with fabric, and all the individual rear seats recline, except for the last row, which is a bench seat. There are four speakers all throughout the cabin, and there's even an electronic step board that makes entry and exit easier.

Winner: Hyundai Grand Starex Urban

Safety
The most noticeable change in the Tourer is its body shape. The previous Hiace model looked like a plain box, whereas the new ones now have a nose. This means that the engine that used to be mounted under the front seats has now been moved up front. Aside from removing the uncomfortable source of heat under the driver's seat, providing a crumple zone up front is also better in case of emergencies. Another significant improvement from the previous version are the new 3 point seatbelts for the rear, as opposed to the 2 point lapbelts the Hiace used to have. Other safety features include Anti Lock Brake System, Vehicle Stability Control, Hill Start Assist, and a reverse camera.
The Hyundai Grand Starex Urban comes with driver, front passenger, and driver side airbags, an Electronic Stability Program, Anti Lock Brake System with Electronic Brakeforce Distribution, keyless entry, and rear parking sensors. The Korea-spec Starex Urban is also equipped with a tire pressure monitoring system and an emergency stop signal, although it is unclear if the local Urban will share those features.
The V80 Comfort is equipped with driver and front passenger airbags, 3 point seatbelts for the front seats, and 2 point lapbelts for the rear passengers. There's also an Anti Lock Brake System with Electronic Brakeforce Distribution, a rear parking sensor, and an immobilizer.
Winner: 
Toyota Hiace GL Grandia Tourer
Final Word
The Maxus V80 Comfort is the obvious odd one out. Aside from going against two established names in this category, there really isn't much to say about the Maxus aside from its price tag and efficiency. The Maxus is a great choice if you want to experience a better-than-normal ride, but don't want to pay full price.
The GL Grandia is the van to get if you and your big family are going on a long road trip. Great safety features, comfortable ride, and 12V sockets and cup holders galore, the GL Grandia Tourer is the ultimate road trip buddy.
The Hyundai Grand Starex Urban is the go-to choice if you don't carry a lot of people. The cabin is big and spacious, but it's also the most expensive one.
Overall, if you want versatility, go for the GL Grandia Tourer. If you prefer luxury, opt for the Grand Starex Urban. And if you want something in between, choose the V80 Comfort.