LTO caps off allowed emission tests by PETCs at 120 per day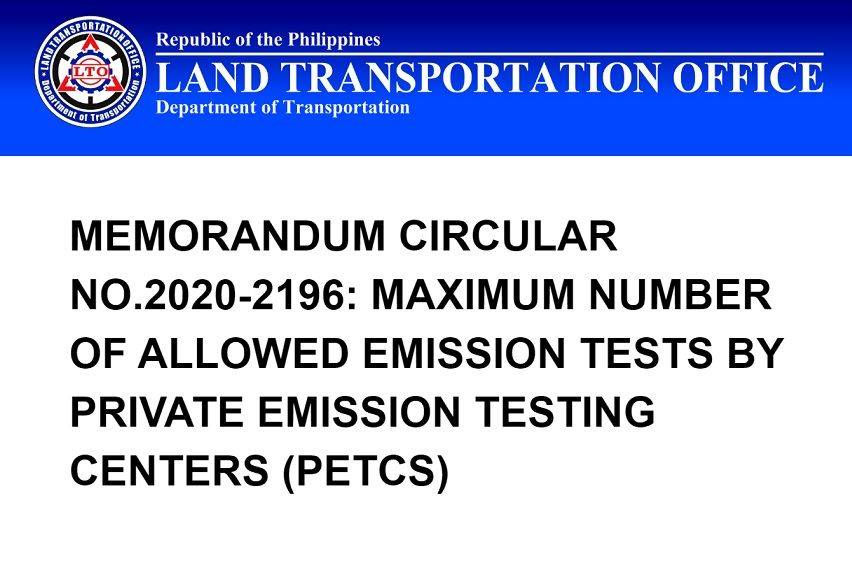 The Land Transportation Office (LTO) released a memorandum circular that now allows private emission testing centers (PETCs) to conduct emission testing on up to 120 vehicles per day.
LTO's Memorandum Circular No.2020-2196, dated July 6, 2020, effectively suspends the capping of emission test uploads of PETCs.
The memorandum adheres to the stipulations set in the Clean Air Act, or Republic Act 8749, requiring all owners to have their vehicles emission-tested and certified at any PETCs accredited by the LTO.
Before the new memorandum, Vehicle Emission Testing Centers with one lane only were allowed a maximum of 80 tests per day, while those with two lanes were allowed 160 tests per day.
The memorandum is signed by LTO Assistant Secretary Edgar Galvante. Below is a copy of the document.
On May 16, 2019, the LTO and Department of Transportation (DOTr) issued a joint memorandum ordering all PETCs, IT Service Providers, and LTO Regional Directors to require motor vehicle owners to bring the original copy of their vehicle's official receipt (OR) and certificate of registration (CR), along with a certificate of authorization to use temporary number plates--otherwise known as the 'certificate of no plate'--when taking their vehicles for emissions testing prior to the renewal of their registration.
However, the memorandum was met with significant backlash online, with many netizens stating that a copy of their OR/CR should be enough, and that the 'certificate of no plate' requirement adds unnecessary burden to motor vehicle owners, as it has never been required before.
Caving in to public pressure, both agencies retracted their memorandum and issued a new one dated May 24, 2019, stating that they are doing away with the original OR/CR requirement, and will allow motorists to simply bring a copy of their OR/CR instead.
Photo/s from DOTr
Also read:
DOTr Plans 'Hatid-Estudyante' Program to Bring Stranded Students Home