New Mercedes-Benz 'Humans First' Tech Communicates with Pedestrians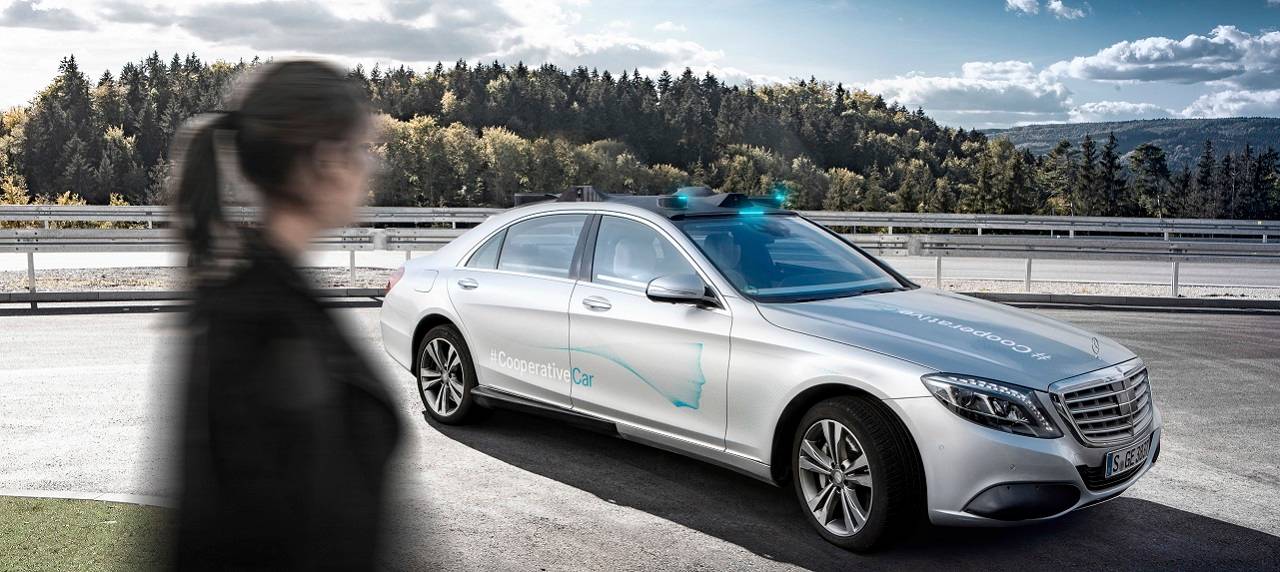 Mercedes-Benz has unveiled a 'Co-Operative Car' concept vehicle that is currently studying how to be a safer vehicle around pedestrians. The cooperative vehicle, based on an S-Class sedan, is equipped with a gamut of autonomous technology and uses a whole suite of sensors and lighting strips, as well as directional speakers to let pedestrians know what it intends to do.
Using turquoise light strips in the windscreen, the radiator grille, the headlamps, the exterior mirrors and the lower area of the windows, the vehicle is able to indicate to pedestrians and surrounding traffic that it is in autonomous mode. Lamps on the roof 'tell' the next actions that the vehicle is going to perform. Meanwhile, the directional speakers can communicate with people on the sidewalk and on the road.
The sensors not only detect people's bodies, but their faces as well. The car has been imbued with 'human' attributes, with the LED headlights acting as pupils that 'look' at people and track pedestrians as they cross. The headlights can also indicate to pedestrians that they've been 'seen' and tell them that it's okay to cross using non-verbal instructions and suggestions, such as nudging its 'eyes' in a certain direction.
Mercedes says that all these new features makes the car feel more life-like, allowing humans to interact and react with the vehicle more intuitively.
"At Mercedes-Benz, we are convinced that the digital transformation can only be designed successfully if it is deeply anchored within society. Humans and access to data must be at the heart of a digital transformation," says Jasmin Eichler, Head of Research Future Technologies at Daimler AG. "That is why we are also working on solutions in the field of digitalization which place the freedom, decision-making autonomy and individuality of human beings at their center. We aim to create a balance between humans and technology. The approach we are following here is 'Human first.'"
Mercedes-Benz Cars Models
Explore Mercedes-Benz S-Class