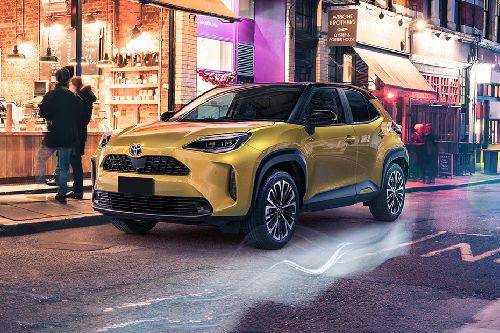 Toyota Yaris Cross
Toyota Yaris Cross is a 5 seater Hatchback car. Toyota Yaris Cross is available in 1 variants and 8 colours. The Toyota Yaris Cross is powered by a 1498cc 3-cylinder Gasoline engine produces 118 hp of power and 145 Nm of torque. It comes with the option of a 6-Speed Manual transmission gearbox.
Expected Launch date: Jun, 2021
Key specifications & features of the Toyota Yaris Cross. View engine specs, dimensions, safety and technology features in detail below
Features

Parking Sensors
Child Safety Locks
Side Impact Beams
Rear Seat Belts
Front Impact Beams
Toyota Yaris Cross Price List
Checkout Yaris Cross price list below to see the SRP prices and promos available.
Share your experience and
get a chance to win an Apple Watch.
Terms & Condition*
Write a review
Toyota Yaris Cross Colors and Images
Front Angle Low View
Front Left Side
Rear Angle View
Rear Right Side
Center Console
Center Console
Front Ac Controls
AC Controls
Steering Wheel
Steering Wheel
Tachometer
Instrument Cluster
Multi Function Steering
Steering Controls
Glove Box
Glovebox (Closed)
Richbrook Competition Foot Pedal Set
Pedals
Drivers Side In Side Door Controls
Door Controls
Front Fog Lamp
Front Fog Lamp
Drivers Side Mirror Front Angle
Side Mirror (Body)
Drivers Side Mirror Rear Angle
Side Mirror (Glass)
Toyota Yaris Cross Colors
Toyota Yaris Cross is available in 8 different colors - Pearl White, Red, Sky Blue, Blue, White, Yellow, Black and Gray
Front Angle Low View
Front Left Side
Rear Angle View
Rear Right Side
Front Fog Lamp
Front Fog Lamp
Drivers Side Mirror Front Angle
Side Mirror (Body)
Drivers Side Mirror Rear Angle
Side Mirror (Glass)
Center Console
Center Console
Front Ac Controls
AC Controls
Steering Wheel
Steering Wheel
Tachometer
Instrument Cluster
Multi Function Steering
Steering Controls
Glove Box
Glovebox (Closed)
Richbrook Competition Foot Pedal Set
Pedals
Drivers Side In Side Door Controls
Door Controls
Second Hand Cars Similar to Toyota Yaris Cross