2021 Suzuki Jimny: The 4 variants in detail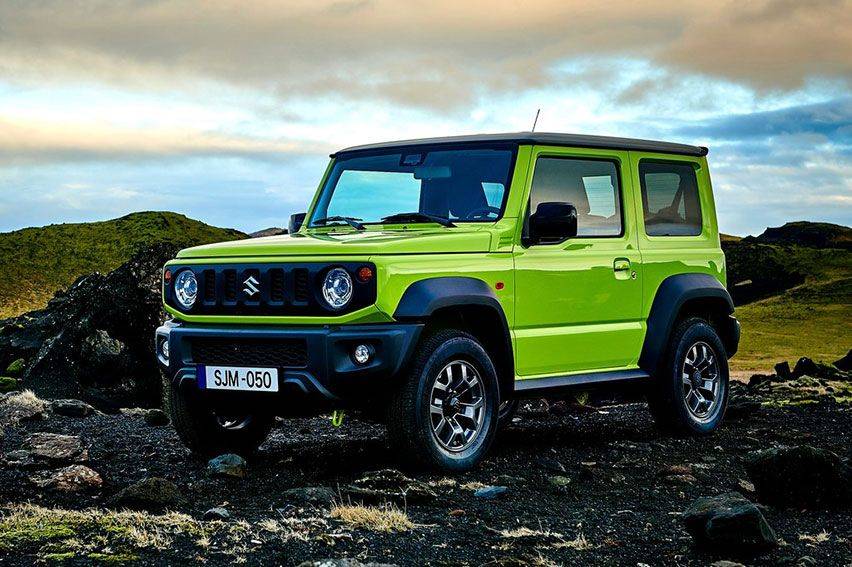 Unveiled in 2018, the new-generation Jimny was easily one of, if not THE most anticipated cars when it launched locally, with reserverations and wait times reportedly extending over a year. Much of the excitement over the compact crossover related to its cute retro design cues, meant as a throwback the Jimnys of years past. The round LED headlights embedded in the grille pay homage to the classic, first-gen model, while the clamshell hood harks back to both the second- and third-gen models. Even the placing of the taillights in the rear bumper mirrors that of the second-gen of the mini crossover.

Despite having all the trappings of a vintage vehicle, the 2021 Jimny—a 2020 carryover—still manages to be modern with plenty of contemporary embellishments including headlight washers, steering wheel controls, rearview camera, and more. Inside, a touchscreen infotainment system brings the dashboard elements together, which also houses a climate control air conditioning. Another digital display for the vehicle's settings can be found between the two orange-on-black gauges.

Powertrain-wise, the all-new Jimny is available with a newly-developed 1.5-liter K15B engine that produces 100hp and 130Nm of torque, mated to either a four-speed automatic or five-speed manual or gearbox.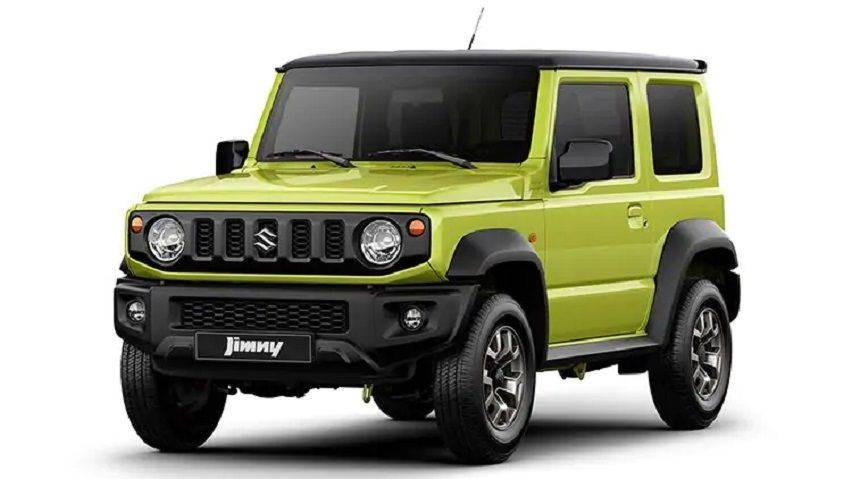 Utilizing a newly-developed ladder frame, the Jimny body rides on three-link rigid axle suspensions with coil springs. Meanwhile, an AllGrip Pro part-time, four-wheel-drive system with low-range transfer gear boosts its off-road capabilities. Ground clearance sits at a comfy 210mm, and approach, break over, and departure angles of 37-, 28-, and 49-degrees, respectively.


Dimensions (mm): 3480 x 1645 x 1725


Wheelbase (mm): 2250


Ground clearance (mm): 195


Seating Capacity: 4 Persons


Luggage Capacity Seatback Raised (Liters): 85


Luggage Capacity Seatback Folded (Liters): 377


Fuel Tank Capacity (Liters): 40


Curb Weight (kg): 1090 / 1095


Gross Vehicle Weight (kg): 1435


POWERTRAIN


Engine Type: K15B Inline-4 16-Valve Multi-Point Injection


Displacement (cc): 1462 (1.5L)


Fuel Type: Gasoline


Max power (hp / RPM): 100 @ 6000


Max torque (Nm / RPM): 130 @ 4400


Transmission Type: 5-Speed Manual


Drivetrain: 4x4 All Grip Pro


Front / Rear Suspension: 3-Link Rigid Axle with Coil Spring / 3-Link Rigid Axle with Coil Spring


Front / Rear Brakes: Solid Disc / Leading and Trailing Drums


Wheels: 195 / 80 R 15 + Alloy Wheels


EXTERIOR


Headlights: Halogen Multi-Reflector


Front Fog Lamps: With


Lamp Washer: Without


Automatic Lamps: Without


Headlamp Levelling: Without


Outside Door Mirrors: Unpainted


Outside Door Handles: Black


Tailgate Opener: With


Drip Rails: With


Wiper: 2-Speed Intermittent with Washer (Front) / 1-Speed with Washer (Rear)


Paint Options: Solid Jungle Green, Solid Medium Gray, White, Pearl Bluish Black, Metallic Silky Silver


INTERIOR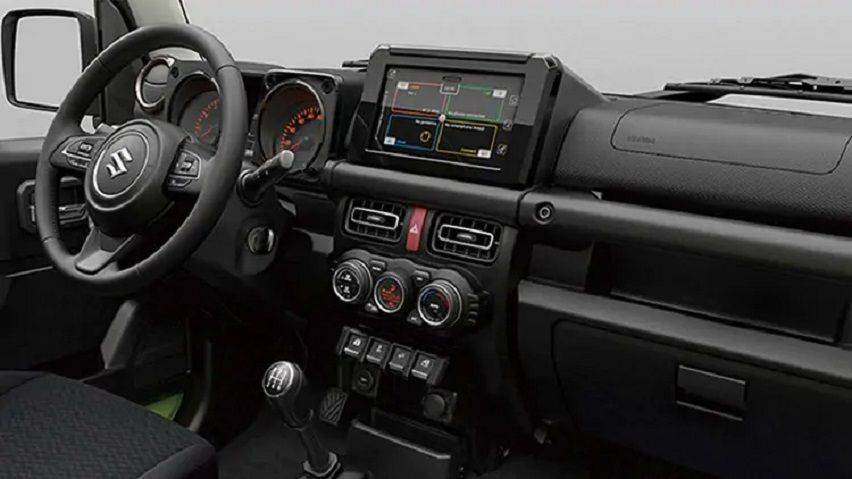 Air Conditioning System: Manual


Cruise Control: Without


Steering Wheel: Urethane


Gear Shift Knob: Chrome


Seat Material: Fabric


Power Windows: With


Audio System: 9-inch Multimedia Audio Touchscreen


Connectivity: USB, 12V Socket, Bluetooth, MirrorLink


Number of Speakers: 2


Luggage Box: Without


SAFETY


Airbags: Driver and Front Passenger


Brake Assist: Without


Reverse Parking Camera: Without


Reverse Parking Sensor


Anti-Lock Braking System


Side Impact Door Beams


Electronic Stability Program


Offline Navigation


Hill Hold Control


Engine Immobilizer


SPECIFICATION


Dimensions (mm): 3480 x 1645 x 1725


Wheelbase (mm): 2250


Ground clearance (mm): 195


Seating Capacity: 4 Persons


Luggage Capacity Seatback Raised (Liters): 85


Luggage Capacity Seatback Folded (Liters): 377


Fuel Tank Capacity (Liters): 40


Curb Weight (kg): 1110 / 1110


Gross Vehicle Weight (kg): 1435


POWERTRAIN


Engine Type: K15B Inline-4 16-Valve Multi-Point Injection


Displacement (cc): 1462 (1.5L)


Fuel Type: Gasoline


Max power (hp / RPM): 100 @ 6000


Max torque (Nm / RPM): 130 @ 4400


Transmission Type: 4-Speed Automatic


Drivetrain: 4x4 All Grip Pro


Front / Rear Suspension: 3-Link Rigid Axle with Coil Spring / 3-Link Rigid Axle with Coil Spring


Front / Rear Brakes: Solid Disc / Leading and Trailing Drums


Wheels: 195 / 80 R 15 + Alloy Wheels


EXTERIOR


Headlights: Halogen Multi-Reflector


Front Fog Lamps: With


Lamp Washer: Without


Automatic Lamps: Without


Headlamp Levelling: Without


Outside Door Mirrors: Unpainted


Outside Door Handles: Black


Tailgate Opener: With


Drip Rails: With


Wiper: 2-Speed Intermittent with Washer (Front) / 1-Speed with Washer (Rear)


Paint Options: Solid Jungle Green, Solid Medium Gray, White, Pearl Bluish Black, Metallic Silky Silver


INTERIOR


Air Conditioning System: Manual


Cruise Control: Without


Steering Wheel: Urethane


Gear Shift Knob: Chrome


Seat Material: Fabric


Power Windows: With


Audio System: 9-inch Multimedia Audio Touchscreen


Connectivity: USB, 12V Socket, Bluetooth, MirrorLink


Number of Speakers: 2


Luggage Box: Without


SAFETY


Airbags: Driver and Front Passenger


Brake Assist: Without


Reverse Parking Camera: Without


Reverse Parking Sensor


Anti-Lock Braking System


Side Impact Door Beams


Electronic Stability Program


Offline Navigation


Hill Hold Control


Engine Immobilizer


SPECIFICATION


Dimensions (mm): 3480 x 1645 x 1725


Wheelbase (mm): 2250


Ground clearance (mm): 195


Seating Capacity: 4 Persons


Luggage Capacity Seatback Raised (Liters): 85


Luggage Capacity Seatback Folded (Liters): 377


Fuel Tank Capacity (Liters): 40


Curb Weight (kg): 1110 / 1110


Gross Vehicle Weight (kg): 1435


POWERTRAIN


Engine Type: K15B Inline-4 16-Valve Multi-Point Injection


Displacement (cc): 1462 (1.5L)


Fuel Type: Gasoline


Max power (hp / RPM): 100 @ 6000


Max torque (Nm / RPM): 130 @ 4400


Transmission Type: 4-Speed Automatic


Drivetrain: 4x4 All Grip Pro


Front / Rear Suspension: 3-Link Rigid Axle with Coil Spring / 3-Link Rigid Axle with Coil Spring


Front / Rear Brakes: Solid Disc / Leading and Trailing Drums


Wheels: 195 / 80 R 15 + Alloy Wheels


EXTERIOR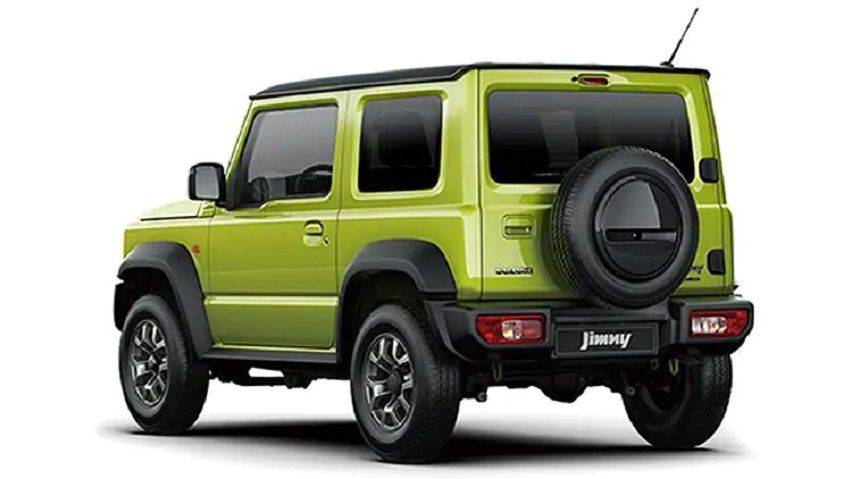 Headlights: LED Projector Low Beam


Front Fog Lamps: With


Lamp Washer: With


Automatic Lamps: With


Headlamp Levelling: With


Outside Door Mirrors: Painted


Outside Door Handles: Body Color


Tailgate Opener: With


Drip Rails: With


Wiper: 2-Speed Intermittent with Washer (Front) / 1-Speed with Washer (Rear)


Paint Options: Solid Jungle Green, Solid Medium Gray, White


INTERIOR


Air Conditioning System: Automatic


Cruise Control: With


Steering Wheel: Leather-Covered


Gear Shift Knob: Piano Black


Seat Material: Fabric


Power Windows: With


Audio System: 9-inch Multimedia Audio Touchscreen


Connectivity: USB, 12V Socket, Bluetooth, MirrorLink


Number of Speakers: 4


Luggage Box: With


SAFETY


Airbags: Driver and Front Passenger


Brake Assist: With


Reverse Parking Camera: With


Reverse Parking Sensor


Anti-Lock Braking System


Side Impact Door Beams


Electronic Stability Program


Offline Navigation


Hill Hold Control


Engine Immobilizer


SPECIFICATION


Dimensions (mm): 3480 x 1645 x 1725


Wheelbase (mm): 2250


Ground clearance (mm): 195


Seating Capacity: 4 Persons


Luggage Capacity Seatback Raised (Liters): 85


Luggage Capacity Seatback Folded (Liters): 377


Fuel Tank Capacity (Liters): 40


Curb Weight (kg): 1110 / 1110


Gross Vehicle Weight (kg): 1435


POWERTRAIN


Engine Type: K15B Inline-4 16-Valve Multi-Point Injection


Displacement (cc): 1462 (1.5L)


Fuel Type: Gasoline


Max power (hp / RPM): 100 @ 6000


Max torque (Nm / RPM): 130 @ 4400


Transmission Type: 4-Speed Automatic


Drivetrain: 4x4 All Grip Pro


Front / Rear Suspension: 3-Link Rigid Axle with Coil Spring / 3-Link Rigid Axle with Coil Spring


Front / Rear Brakes: Solid Disc / Leading and Trailing Drums


Wheels: 195 / 80 R 15 + Alloy Wheels


EXTERIOR


Headlights: LED Projector Low Beam


Front Fog Lamps: With


Lamp Washer: With


Automatic Lamps: With


Headlamp Levelling: With


Outside Door Mirrors: Painted


Outside Door Handles: Body Color


Tailgate Opener: With


Drip Rails: With


Wiper: 2-Speed Intermittent with Washer (Front) / 1-Speed with Washer (Rear)


Paint Options: Solid Kinetic Yellow / Black, Metallic Brisk Blue / Black, Metallic Chiffon Ivory / Black


INTERIOR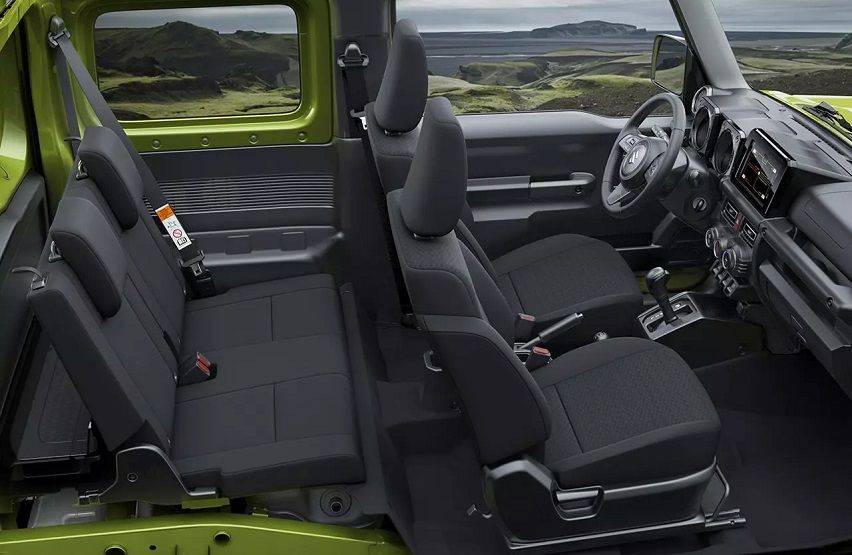 Air Conditioning System: Automatic


Cruise Control: With


Steering Wheel: Leather-Covered


Gear Shift Knob: Piano Black


Seat Material: Fabric


Power Windows: With


Audio System: 9-inch Multimedia Audio Touchscreen


Connectivity: USB, 12V Socket, Bluetooth, MirrorLink


Number of Speakers: 4


Luggage Box: With


SAFETY


Airbags: Driver and Front Passenger


Brake Assist: With


Reverse Parking Camera: With


Reverse Parking Sensor


Anti-Lock Braking System


Side Impact Door Beams


Electronic Stability Program


Offline Navigation


Hill Hold Control


Engine Immobilizer


Photos from Suzuki