Audi R8: The coupé and the convertible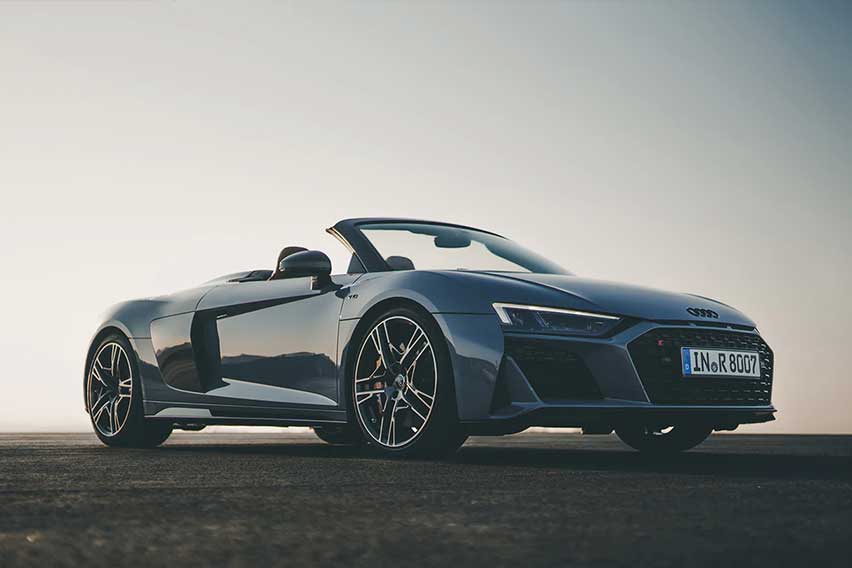 In the market for a classy two-seater mid-engine sports car? Audi's got the right performance vehicle for you, the kind that Christian Grey drives — both in the movie and in the books. Outfitted with the German car maker's hallmark Quattro all-wheel-drive system, the Audi R8 makes for a great option for those looking for a supercar that has as much style as it has power.

The Audi R8 is equipped with a naturally aspirated V10 engine situated between the axles. The 5.2 FSI (fuel stratified injection) mill is based on the Gallardo—now Huracán—from Lamborghini which gives the R8 tremendous power and a dominating (See what we did there?) character. It's capable of putting out 570 horses and a maximum of 560Nm of torque propelling the R8 from zero to 100 in just a little over three seconds.

The V10 engine is also outfitted with a dry-sump system that allows the powertrain to be mounted lower for a more favorable center of gravity. A special firing sequence provides a remarkably distinctive sound letting unsuspecting gapers know that you're driving an R8.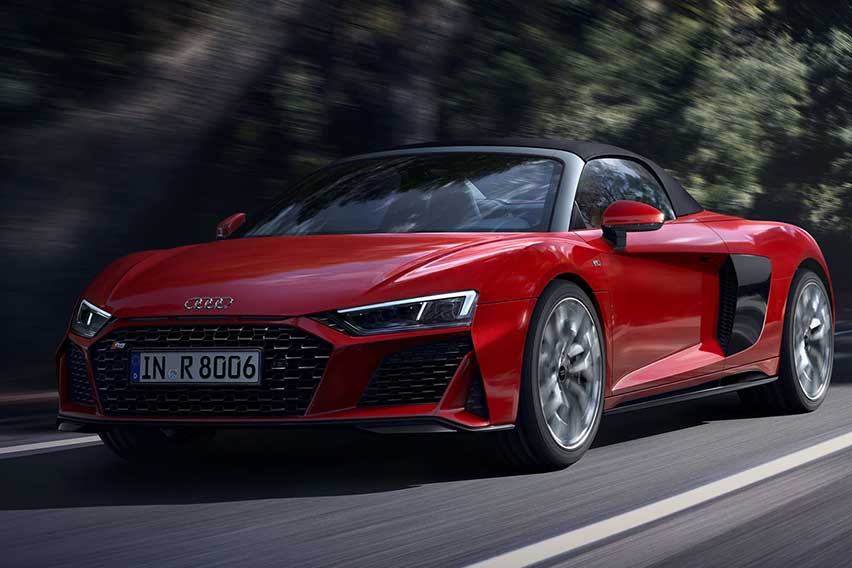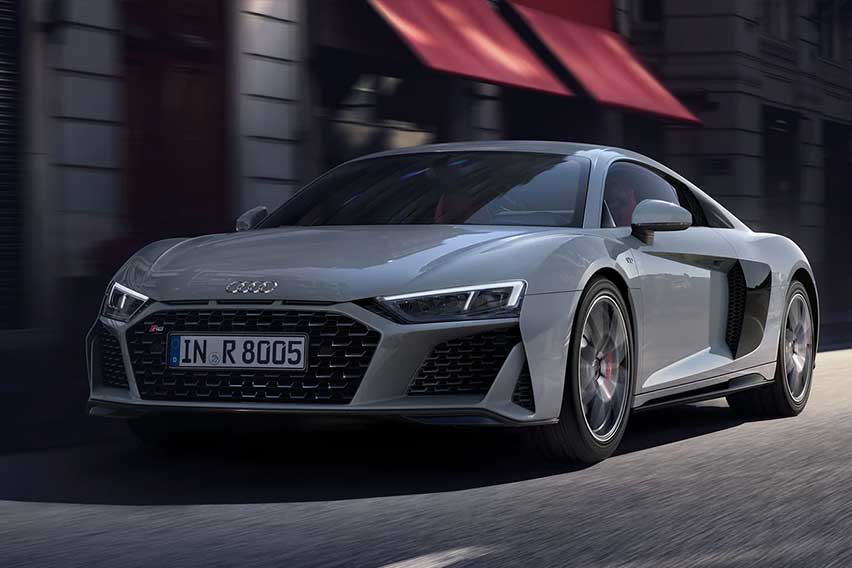 On the outside, the Audi R8 sports an aggressive look befitting what it hides under the hood. The deep horizontal lines on the exterior give the R8 a flattened, sporty appearance. Its side profile is emphasized by the wide blades, a rear sporty diffuser, and are finished by oval exhaust tailpipes at the rear.

In the two-seater cabin, the R8 offers a driver-focused interior design. A large, contoured arch brings all of the controls together visually right in front of the driver with a touch of luxurious but simple layout. The seats are electrically and pneumatically adjustable with the heated R8 sports seats covered in fine Nappa leather.

Locally, the Audi R8 is offered in two variants: the Audi R8 Coupé V10 Quattro and the Audi R8 Spyder V10 Quattro. Although virtually identical, both supercars still offer subtle differences. Check out the specifications below.

Audi R8 Coupé V10 Quattro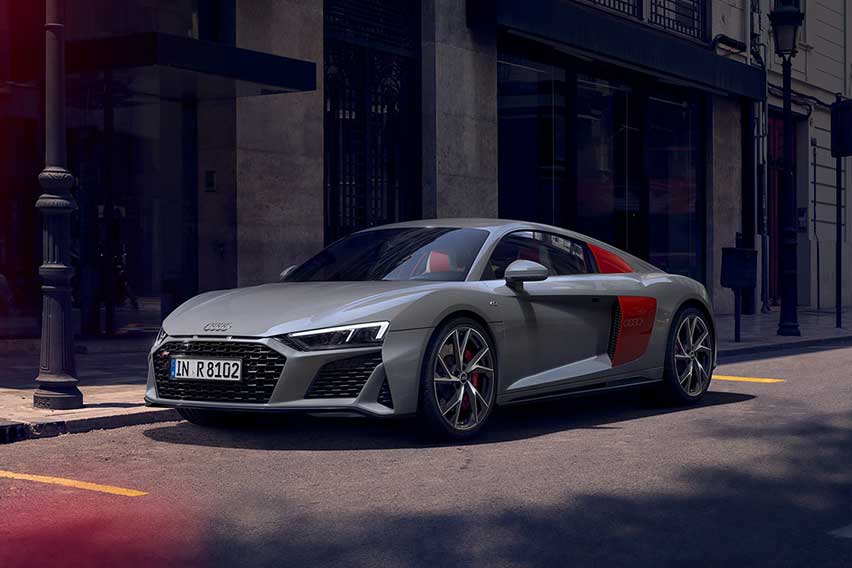 Length: 4429mm


Width: 1940mm


Height: 1236mm


Wheelbase: 2650mm


Powertrain


Engine: 5.2 FSI Engine


Number of Cylinders: 10


Maximum Power: 570hp


Maximum Torque: 560Nm


Transmission Type: Seven-Speed Automatic


Exterior


Roof: Fixed


Headlight: LED


Wheels: 19-inches


Interior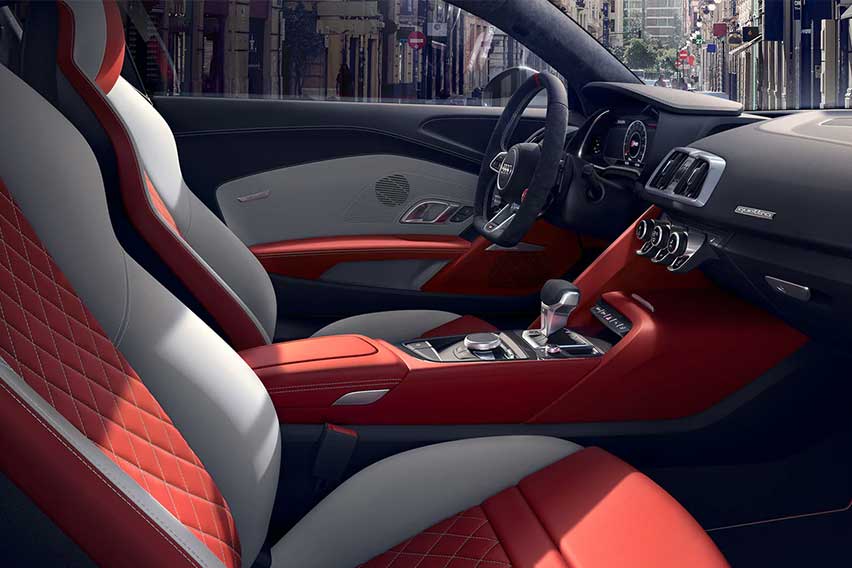 Number of Seats: Two


Material: Nappa Leather


Display: 12.3-inch Virtual Cockpit with Multi-Media Interface (MMI) Control and Voice Recognition


Safety


Airbags: Equipped


Immobilizer: Equipped


Audi Drive Select: Equipped


Anti-lock Brake System (ABS): Equipped


Anti-Slip Regulation (ASR): Equipped 


Electronic Differential Lock (EDL): Equipped


Electronic Stabilisation Control (ESC): Equipped


Audi R8 Spyder V10 Quattro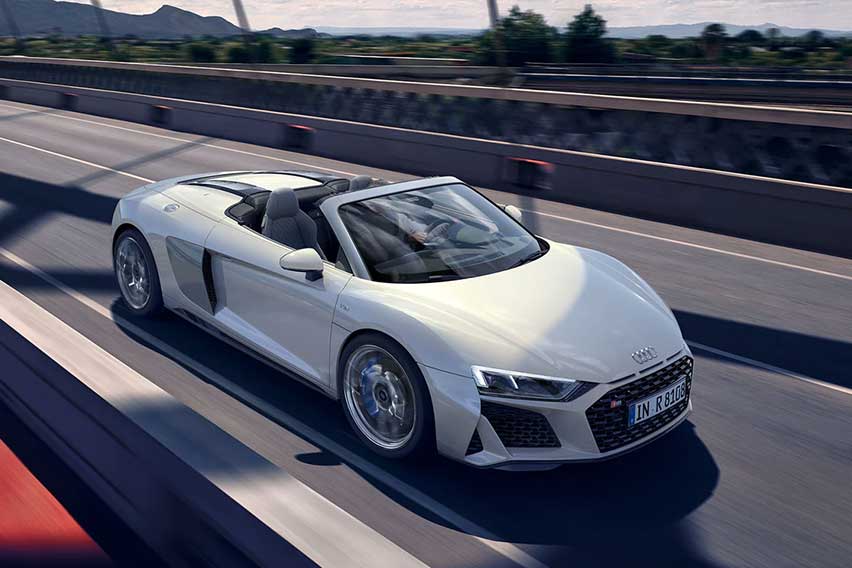 Length: 4429mm


Width: 1940mm


Height: 1242mm


Wheelbase: 2650mm


Powertrain


Engine: 5.2 FSI Engine


Number of Cylinders: 10


Maximum Power: 570hp


Maximum Torque: 560Nm


Transmission Type: Seven-Speed Automatic


Exterior


Roof: Convertible


Headlight: LED


Wheels: 19-inches


Interior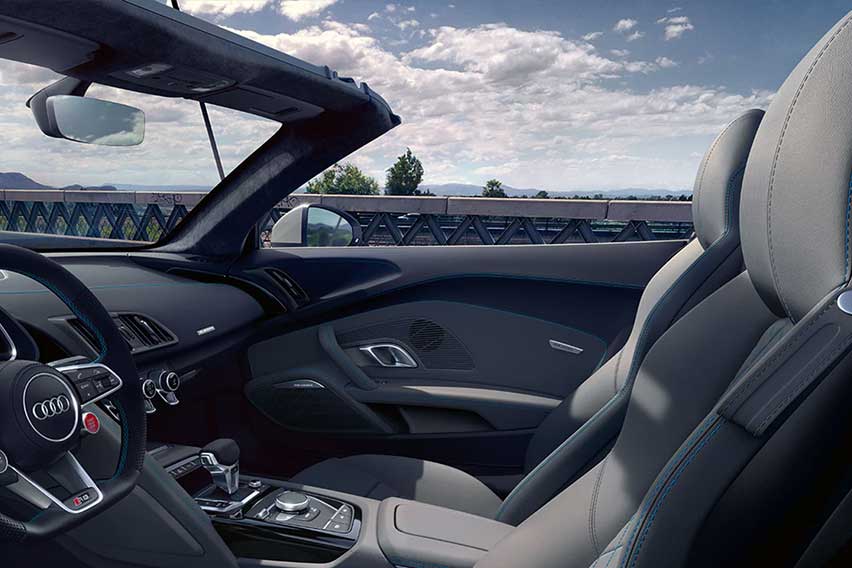 Number of Seats: Two


Material: Nappa Leather


Display: 12.3-inch Virtual Cockpit with Multi-Media Interface (MMI) Control and Voice Recognition


Safety


Airbags: Equipped


Immobilizer: Equipped


Audi Drive Select: Equipped


Anti-lock Brake System (ABS): Equipped


Anti-Slip Regulation (ASR): Equipped 


Electronic Differential Lock (EDL): Equipped


Electronic Stabilisation Control (ESC): Equipped


Photos from Audi