Buyer's Guide: The 2020 Land Rover Defender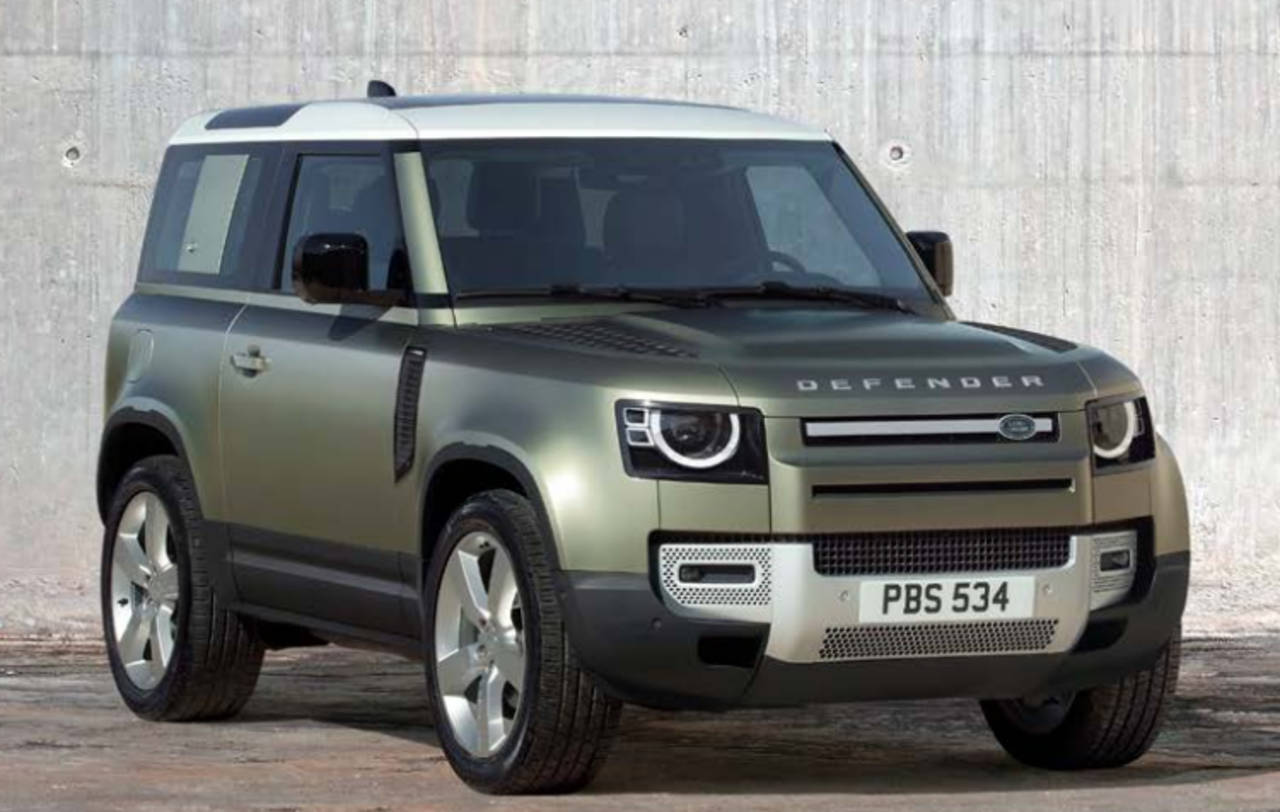 The newest
Land Rover Defender
isn't going to be released in the Philippines, yet. But like all good things in life, they may take time to bear fruit. In this case, you can expect it to arrive in Philippine soil on the first quarter of 2020--sometime in February or March. Yes, we know--it will be two or three months of nervous anticipation before you see one face-to-face. But the more important question here is this: is it worth all those restless tossing and turning at 2am? Or those passive-agressive fights with your wife because you love the Defender more than her mother? Yes, we know it's an anguishing thought. And while we can't give you all the answers, we can help you decide if the New Land Rover Defender is really worth all that--and more. Here's a preview of what's in store for this iconic vehicle:
Exterior
One look at the Defender, and it looks like a robotic E.T. with a case of indigestion. We mean this in a good way, though. Its distinctive Matrix LED headlights with signature DRL almost look like piercing eyes that's looking to devour our souls whenever we make a wrong turn. Whatever the case, the design is so simple it's almost sophisticated to look at. Yes, even Steve Jobs would be proud. When viewed near or far, one thing stands out: it looks extremely solid and secure--so much so that we almost want to tuck ourselves in its leather seats and lull ourselves to sleep. Land Rover boasts of its "unique monocoque architecture", making it the toughest and strongest vehicle "they have ever created".
Its body is "three times stiffer than the generic body-on-frame chassis. The solid shoulders, the squared-off wheel arches, and the upright front and rear elevations add more to its solidity. And to make sure they're really tough, the vehicle had to go through more than 62,000 tests before getting their much-needed approval.
Interior
The Land Rover Defender has an upgraded interior, such as the updated touchscreens, tall shifters, and switchgear. What hasn't changed, however, is the quality. Every stitch and every material in the Defender's interior is well-crafted (and well-thought out). The interior's design is elegant, with various console veneers and finishers you can choose from like our favorite: the open pore wood with a "Rough-cut Walnut or Natural Smoked Dark Oak veneer". Meanwhile, the grained leather seats with canvas-inspired Robust Woven Textile helps reduce wear and tear. If you have monster kids that make the Terminator move like Olaf, then you're in for a treat: you can go for the optional seat material designed for extreme wear-and-tear--a Windsor leather combined with the tough Kvadrat Steelcut Premium wool textile. We're sure they'll wear themselves out trying to tear these material into pieces. And now that's the perfect time to let them have for their "much-needed nappy". You can get them in the mood by playing music using the 10" Pivi Pro with Interactive Driver Display infotainment system.
Audiophiles are in for a treat. Its Meridian™ Sound System offers three options: the six-speaker system, the Meridian Sound System1 that has ten speakers with a subwoofer for exceptional definition, and the Meridian Surround Sound System2 that has 14 speakers and a subwoofer. The latter offers the clearest, most engaging and authentic sound here. It's like you're actually inside the booth jamming with Drake or Taylor Swift.
Safety
Speaking of stress, perhaps one of the most stressful ones we all experience these days is traffic.
Land Rover
included advanced technologies and driver assistance features in the Defender that will definitely ease the burden here. They include the following:
A comprehensive system of six airbags including driver and passenger airbags, side curtain and thorax airbags to help protect occupants.
Emergency Braking that displays a warning in the event of a potential collision and applies brakes if no action is taken.
Cruise Control and Speed Limiter that maintain the current speed of the vehicle without the need to continually use the accelerator pedal.
Lane Keep Assist that detects when your vehicle is unintentionally drifting out of lane and will apply a corrective torque to the steering wheel to encourage you to guide your vehicle back.
Driver Condition Monitor that detects when you're starting to feel drowsy and gives an early warning to take a break
Aside from Driver Assistance, other impressive safety features included are ClearSight interior rear view mirror, Blind Spot Assist Pack 3D Surround Camera, 360° Parking Aid, Wade Sensing Traffic Sign Recognition and Adaptive Speed Limiter. The list goes on and on.
Comfort and Convenience
The new Land Rover Defender gives you two choices when it comes to body design: the 90 or 110. If you are six in the family (or less), then you can choose 90 since it has six seats. However, if your family resembles a basketball team, then better to choose the 110. This one has a third option of a third row with 5+2 seats.
The Land Rover Defender comes with a a Smartphone Pack, Connected Navigation Pro, and Auto-dimming interior rear view mirrors. Add to that a heated standard leather steering wheel, with a 12-way heated memory front seats and 2-way manual headrests, ergonomic seats, and you almost have a cozy nook to retreat to after a grueling day at the office. To make it even relaxing, you can open the alpine window in the roof. This is available in all models. However, if you're the type of person who tends to hyperventilate due to so much stress, then you can opt for the full-length folding fabric roof option to add more oxygen in. Let's hope you don't get blown to outer space here. Those who want versatility in space can opt for the cabin walk-through* feature. This optional front jump seat and center console can be configured in a number of ways depending on how much space your need.
Performance
The Defender has an AWD that combines with Electronic Traction Control (ETC) to deliver the best driving experience--even in the most rugged and challenging situations. It has a Twin-Speed Transfer Box that act like additional set of lower gears to support you during steep inclines or declines, off-road driving, or even towing. Meanwhile, its coil sprung suspension system combines double wishbones at the front with an advanced multi-link rear suspension to create an agile and responsive chassis. Its Electronic Air Suspension allows you to select your ride height depending on the road condition. For instance, you can select an access height of 40mm below normal ride height, or extend it to a ride height of 70mm if you're doing extreme off-road conditions. Are you an extreme adventurer? Then you can use their first-ever Terrain Response feature. This allows you to individually configure Defender's powertrain, steering, differentials and traction control settings. The Defender will drive through any rugged or extreme terrain like a hot knife on melted butter. What if you're too lazy to customize them? Then you can opt for the optional Terrain Response 2. This features an automatic setting which monitors the terrain and systematically selects the most suitable setting.
Specification
The newest Land Rover Defender is offered in two body types: 90 or 110.
It comes in six variants: Defender, S, SE, HSE, First Edition or Defender X. What's more, the Defender will have four Accessory Packs created to suit your needs: the Explorer Pack, Adventure Pack, Country Pack, and Urban Pack. Land Rover calls it the "ultimate personalization". This, in our opinion, is its greatest strength: it's extremely versatile.
Land Rover Defender 90 comes in diesel and petrol variants. Both come in two engines: the D200 and D240. The diesel variety offers a maximum power of 197hp / 4,000 rpm and 236 hp / 4,000 respectively. Both of their maximum torque comes at 430 Nm / 1,400 rpm. Meanwhile, the Defender 90 petrol variant comes in two engines: the P300 and P400 MHEV. They offer 296 hp / 5,500 and and 394 hp / 5,500 respectively. The maximum torque comes at 400 Nm / 1,500-4,000 rpm (P300), and 550 Nm / 2,000-5,000 (P400 MHEV). The Defender 110 comes in Diesel and Petrol variants. Similar to Defender 90, the diesel variant has two engines: the D200 and D240. The diesel variety offers a maximum power of 197hp / 4,000 rpm and 236 hp / 4,000 respectively. Both of their maximum torque comes at 430 Nm / 1,400 rpm. Meanwhile, the Defender 110 petrol variant is similar to Defender 90's petrol variant. It also has P300 and P400 MHEV engines. Their maximum power comes at 296 hp / 5,500 and and 394 hp / 5,500 respectively. The maximum torque comes at 400 Nm / 1,500-4,000 rpm (P300), and 550 Nm / 2,000-5,000 (P400 MHEV). Its new platform and suspension setup gives a "long-haul cruising comfort. It allows a maximum braked-towing capacity of 3500kg, a payload of 900kg, and a 300kg static roof load.
Our Verdict
The newest Land Rover Defender hasn't been released in the Philippines, yet, but many are already expecting a lot from this iconic SUV. Will they live up to our high expectations? But more than that, will they
exceed
our highest expectations? Perhaps yes--or no. It can be more expensive than the rest of the SUVs in the market today, and you might find parking a bit challenging sometimes. Despite appearances, some critics also say it's not as tough as it appears to be compared to predecessors. But one thing's for sure: the Land Rover has reached its iconic status because it made its way there. It's secure enough not to make loud bells and whistles to get attention. Neither does it apologize for being exactly what it is--an extremely tough, versatile, and well-rounded vehicle that seeks quality in everything it does. Why shouldn't it be anything less? Land Rover knows well enough that the Defender is worth every dime you'll spend on it.