Coca-Cola Beverages selects Toyota PH as fleet solutions provider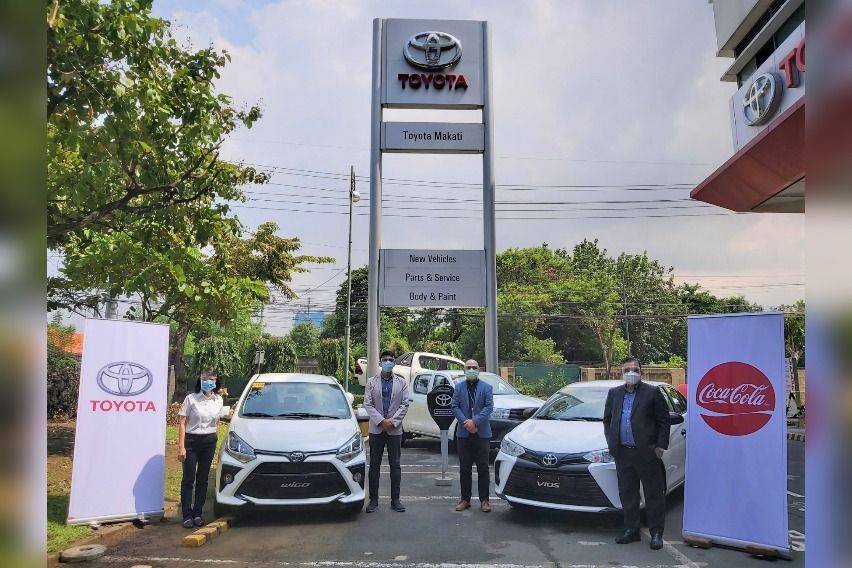 The local bottling arm of beverage giant Coca-Cola has placed their trust and confidence in the leading vehicle manufacturer in the country, Toyota Motor Philippines (TMP) ,to boost their sales fleet.

Together with leasing partner Orix Rental Corporation (ORC), the local arm of the Japanese automaker provided over 200 units of Toyota vehicles, ranging from Wigo hatchback, Vios subcompact sedan, and Hilux pickup, to Coca-Cola Beverages Philippines, Inc. (CCBPI).

Purchased under Toyota Makati Inc. (TMI), the latest vehicle fleet of CCBPI is aimed to empower as well as equip its employees in their collective bid to meet personal and business goals, in line with CCBPI's People First approach, prioritizing employee safety and well-being.

Aside from that, procurement of the vehicle units is part of its Tools of Trade refresh initiative—as they decommission old units and replace them with new ones.

CCBPI has inked a full operating lease agreement with ORC to ensure that all vehicles are properly maintained with regards to periodic maintenance services, insurance, and overall management.

The vehicle fleet refresh initiative is part of the beverage brand's continued growth trajectory that includes expansions by way of sustained investments.

Earlier, CCBPI said that they have allotted additional $22M (around P1.066 billion) for local operations.

These newly purchased vehicles will also be utilized as protection during the pandemic while fulfilling duties in service of micro, small, and medium enterprises (MSMEs) such as sari-sari stores and carinderias across the country.

During the turnover ceremony at theTMI showroom, CCBPI Procurement Director Ronald Tamayo is confident that the recently-acquired Toyota units (via Toyota Fleet Solutions) will "effectively help CCBPI associates achieve not only their business objectives, but also stay true to their commitment to assisting Filipino entrepreneurs and serving the Philippine market." 

"We serve almost 1M sari-sari stores and over 5,000 business partners—therefore having reliable, safe, and efficient vehicles for our sales force is very important in our business operations," Tamayo said. "More importantly, the safety and well-being of our personnel have always been a priority, and this refresh and update of our service fleet will also allow them to carry out their duties with more safety." 

"We will continue to strengthen our sales team and empower them as they work to reach and serve stores and communities. Having Toyota as our fleet management partner means that we can fulfill our responsibility to our people, who in turn can fulfill their service to our valued stakeholders," he added.

For their part, TMP First Vice President of New Mobility Business Division Ma. Cristina Fe Arevalo said expressed elation over the forged partnership with CCBPI.

"We, at Toyota, are glad to be helping the country move forward by providing mobility to people and industries, especially now when transportation remains to be a challenge for many. With Toyota's commitment to delivering quality, durability, reliability, and safety, we're confident that our vehicles will further empower CCBPI to deliver products, services, and opportunities to countless families and communities."

Photo/s from Toyota Motor Philippines