It's the All-New Land Rover Defender!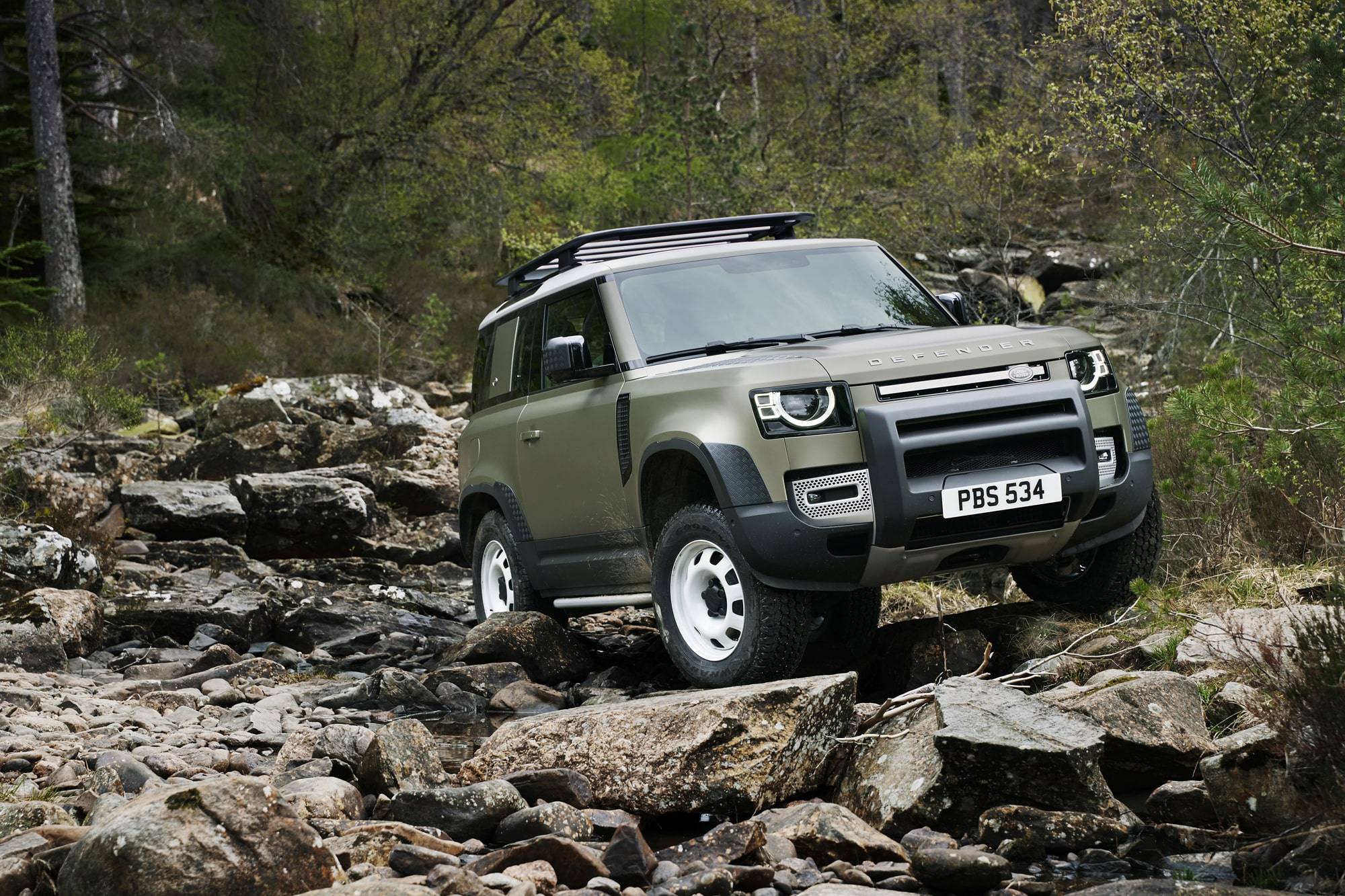 Land Rover has launched the all-new Land Rover Defender at the Frankfurt Motor Show, calling it "an icon reimagined for the 21st century."


The unmistakable silhouette is familiar yet new. It looks tough and is tough but designed with purpose and engineered to excite. Iconic in name, shape and capability, the Defender can be personalized to allow owners to make the most of their world.

"The new Defender is respectful of its past but is not harnessed by it," said Gerry McGovern, Chief Design Officer, Land Rover. "This is a new Defender for a New Age. Its unique personality is accentuated by its distinctive silhouette and optimum proportions, which make it both highly desirable and seriously capable--a visually compelling 4x4 that wears its design and engineering integrity with uncompromised commitment."

A distinctive silhouette makes the new Defender instantly recognizable, with minimal front and rear overhangs providing excellent approach and departure angles. Land Rover's designers re-envisioned familiar Defender trademarks for the 21st century, giving the new 4x4 a purposeful upright stance and Alpine light windows in the roof, while retaining the side-hinged rear tailgate and externally-mounted spare wheel that make the original so identifiable.

The stripped-back personality of the original Defender has been embraced inside, where structural elements and fixings usually hidden from view have been exposed, with the emphasis on simplicity and practicality. Innovative features include a dash-mounted gear shifter to accommodate an optional central front 'jump' seat, which provides three-abreast seating across the front like early Land Rovers.

Like its predecessor, the all-new Defender will be available in 90 (three-door) and 110 (five-door) body designs, with up to six seats in the 90 and the option of five, six, or 5+2 seating in the 110. In the 110, load space behind the second-row seats is up to 1,075 liters to as much as 2,380 liters when the second row is folded.

The new body architecture provides ground clearance of 291 mm and world-class off-road geometry, giving the 110 approach, breakover, and departure angles of 38, 28 and 40 degrees (off-road height), respectively.

Configurable Terrain Response debuts on new Defender, allowing experienced off-roaders to fine-tune individual vehicle settings to perfectly suit the conditions, while inexperienced drivers can let the system detect the most appropriate vehicle settings for the terrain, using the intelligent Auto function. Its maximum wading depth of 900 mm is supported by a new Wade program in the Terrain Response system, which ensures drivers can ford deep water with complete confidence.

On dry land, Land Rover's advanced ClearSight Ground View technology helps drivers take full advantage of the Defender's all-conquering capability by showing the area usually hidden by the bonnet, directly ahead of the front wheels, on the central touchscreen.

As a result, the new Defender redefines breadth of capability, raising the threshold for both off-road ruggedness and on-road comfort. It can negotiate crowded city streets as effortlessly as climbing mountains, crossing deserts and withstanding freezing temperatures. Its carefully honed handling delivers both a rewarding drive and first-class long-haul comfort across all terrains.

The model range comprises the Defender, First Edition, and the range-topping Defender X models, as well as standard, S, SE, HSE specification packs.

Customers will be able to personalize their vehicle in more ways than any previous Land Rover with four Accessory Packs. The Explorer, Adventure, Country and Urban Packs each give Defender a distinct character with a specially selected range of enhancements. The exclusive First Edition model features a unique specification and will be available throughout the first year of production.

A choice of gasoline and diesel engines are offered for the new Defender, with a Plug-in Hybrid Electric Vehicle (PHEV) powertrain joining the range next year, providing the prospect of silent EV-only progress.

At launch, the gasoline line-up comprises a 2.0-liter 300-hp four-cylinder and a powerful 3.0-liter 400-hp six-cylinder featuring efficient Mild Hybrid Electric Vehicle technology. Alternatively, customers can choose from a pair of 2.0-liter four-cylinder diesels--a 200-hp and a more powerful 240-hp--both of which deliver fuel economy of 15.8 km/L and CO2 emissions of 199g/km (NEDC equivalent).

Permanent all-wheel drive, a twin-speed automatic gearbox, center differential, and optional Active Locking Rear Differential ensure the all-new Land Rover Defender "has all the hardware required to excel in the soft sand of the desert, the freezing tundra of the arctic, and everywhere in between."

 

Explore Land Rover Defender