LOOK: Here are the approved toll fees for Skyway Stage 3
The Skyway Operations and Maintenance Corporation (SOMCO) started collecting toll at the Skyway Stage 3 last Monday (July 12, 2021).
The newest thoroughfare, which connects South Luzon Expressway (SLEX) to the North Luzon Expressway (NLEX), is expected to cut the travel time to around half and from usual three hours or more.
Just in case you have not used the latest operational toll road yet, here are the approved rates for all three classifications as posted in the Toll Regulatory Board website:
Earlier, SMC announced that the Skyway Stage 3 will be limited to Class 1 vehicles with RFID stickers.
Meanwhile, SMC president Ramon Ang apologized to the public who took the Skyway Stage 3 last Monday for experiencing heavy traffic and announced that the toll operator has installed new measures to avoid similar incidents.
"It's unfortunate that many motorists were caught in traffic last Monday. We apologize for the inconvenience. While this was not totally unexpected on the first day of toll collection, for our part, we know we have to do better. Hopefully, with the measures we put in place, traffic conditions will continue to improve and normalize," Ang was quoted as saying.
"Our Skyway teams are always on the ground, and we monitor our expressways via cameras 24/7. If there's any issue, we can respond and make corrective measures very quickly," he assured, revealing that the prevailing cause of the slowdown at toll plazas where insufficient load, and those availing of free RFID sticker installation and re-loading on-site.
The newest measures at the Skyway Stage 3 are as follows:
Deployment of more personnel for traffic management, toll collection, and Autosweep RFID sticker installation,
Opening more lanes for Autosweep RFID installation and reloading,
Installation of more signs to guide motorists unfamiliar with the expressway, its toll plazas and the start of toll collection,
Motorists with no RFID stickers, who insist on paying in cash, or have insufficient balance are asked to exit the toll booth and park on the side so as not to inconvenience existing ETC users. They are given the option to have RFID tags installed or reloaded, or pay in cash,
Vehicles with no RFID or have insufficient balance are directed to Del Monte Toll Plaza B coming from Balintawak where they can have their RFID tags installed or reloaded,
SMC claimed that for the second day of toll collection, traffic throughout at toll plazas "was significantly better." "For instance, traffic queues at the Buendia southbound exit, which only has two lanes, and where there was significant buildup Monday, was considerably shorter at only up to 200 meters. This was observed only during rush hour, starting 8 a.m.," the company noted.
"While the vast majority of motorists utilized electronic toll collection, a small percentage, four percent, consisting of cash-paying motorists and users with insufficient load, slowed down transaction times at toll plazas," it added.
Apart from the abovementioned actions, Autosweep sites along the elevated expressway are now open round-the-clock.
"I would like to request our motorists who have not yet availed of their free RFID stickers to please do so, and make sure they are activated with sufficient credit. This measure, which was pushed by government last year, is for everybody's safety and also for your convenience," Ang said.
"Using RFID will ensure you have better, safer, faster trips on the expressways. Also, as a reminder, please be conscious of which toll lanes you are using. Do not use ETC-only lanes if you have insufficient balance, as there are penalties that come with this. If you have insufficient balance, please use the assigned lanes for RFID installation or reloading. Most of all, please always show courtesy towards fellow motorists and tollways workers," he continued.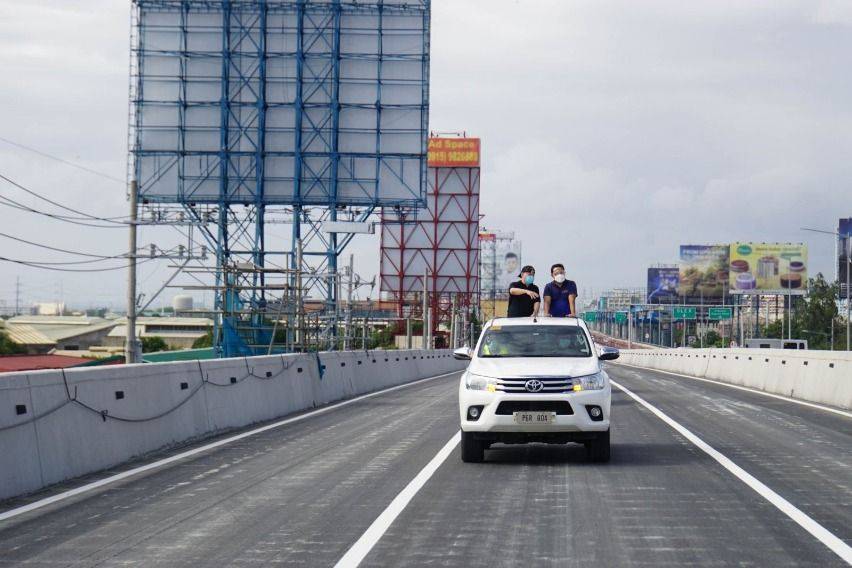 The RFID and reloading stations at the Skyway Stage 3 are as follows:
Northbound:

Zobel northbound (after entry)
Quirino northbound exit
Nagtahan northbound exit
Quezon Ave. northbound entry
Del Monte northbound toll plaza,

Southbound

Del Monte southbound toll plaza
Quezon Ave. southbound entry
Plaza Dilao southbound entry
Meanwhile, motorists are also advised to utilize the numerous Autosweep reloading platforms to avoid further delays when using the expressways.
Photos from Antonette Meude, Toll Rgulatory Board, Billy Bilano, San Miguel Corporation
Also read:
TRB conducts SMC Skyway Stage 3 toll readiness test
TRB approves 'provisional' Skyway 3 toll fees
Close, open: Public perplexed over announcement of Skyway Stage 3 'closure'