Maxxis, NAsFOR Reforge Partnership for 4x4 Cup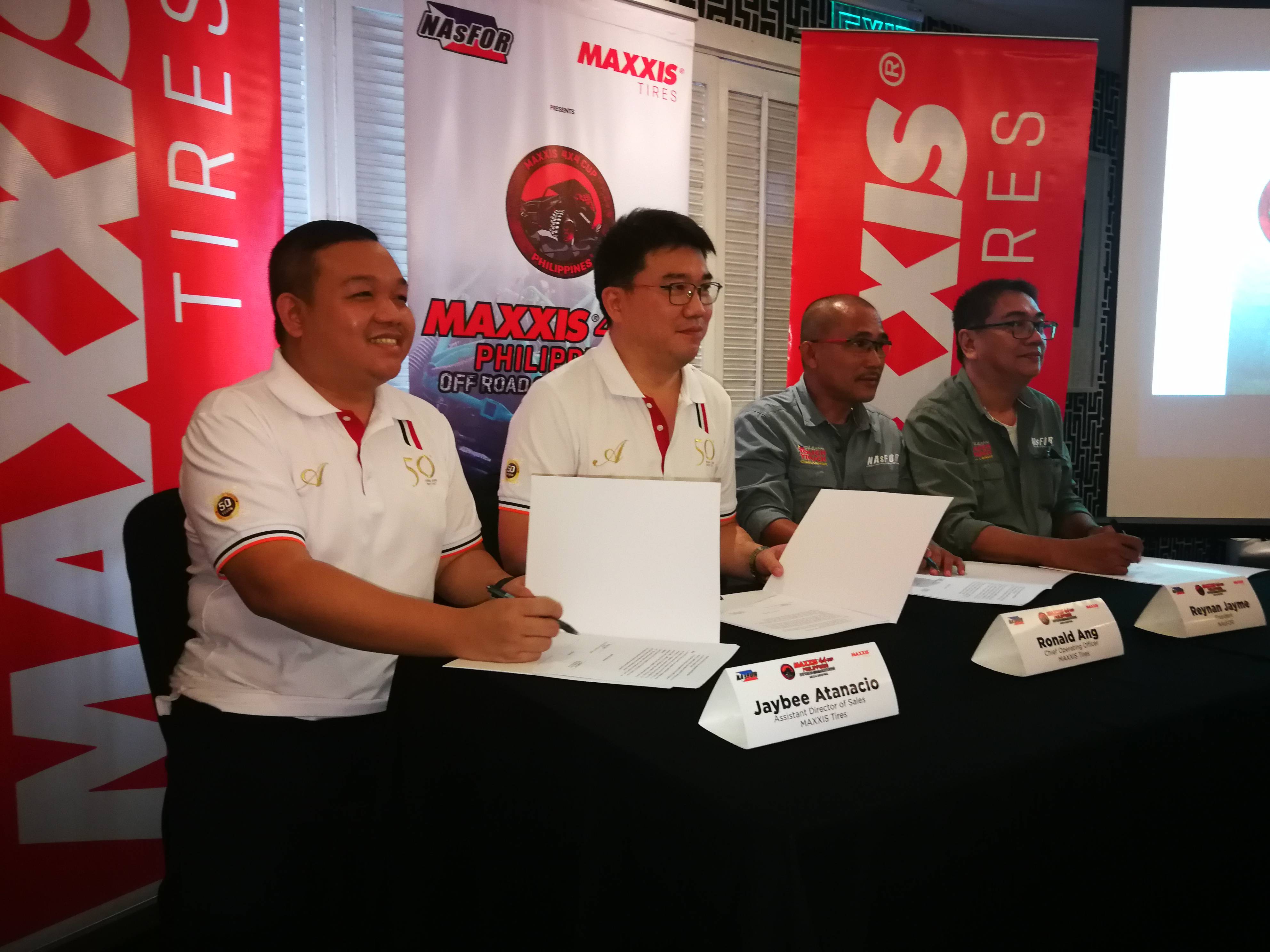 Maxxis Tires has reforged its partnership with the National Association of Filipino Off-Roaders (NasFOR) for this year's Maxxis 4×4 Cup Philippines Off-road Challenge.
The Maxxis 4×4 Cup Philippines Off-road Challenge is a 13-round series that features twists and extremely muddy terrain with uneven ground and waist-level puddles that put racers and their 4×4 trucks to the extreme test.
During the contract signing, Ronald Ang, chief operating officer of North Trend Marketing Corporation, distributor of Maxxis tires in the Philippines, said that they are excited for the 2019 season.
"We're extremely excited to announce another cycle of the Maxxis 4×4 Cup Philippines Off-road Challenge happening this year in several provinces across the nation. The off-road community has grown so much in the eight years that Maxxis has been co-presenting this year-round race event. We promise both the fans and participants a whole new level of thrill and action this 2019," he said.
With Maxxis Tires such as the Mud Trepador M9060 and Razr MT772, racers are more confident in conquering the track. These Maxxis tires have tread and sidewall reinforcements and are made with rubber compounds specific for off-road adventures. The Mud Trepador M9060 and Razr MT772 are designed to withstand punctures and cuts, endure low air pressure operation, improve off-road stability and handling, and provide strong traction in all types of terrain for superior driving performance.
The partnership between Maxxis Tires and NAsFOR for off-road communities started in 2011, delivering tough tires for the latter's members nationwide who brave the off-road sport.
"This year is going to be extra challenging for our racers as we've managed to cook up more twists and turns in the mechanics. Also, to take the 4×4 cup series up a notch, we are happy to share that this year's Driver of the Year will be sent to Kota Kinabalu, Malaysia to compete in the renowned Borneo Safari. It's going to be extremely fun as well as the whole event encourages families and friends to support the racers, making the two-day activity a festive gathering. We're grateful to Maxxis as they've been continually supportive of our projects, year in and out," NAsFOR Events Director Ramon To-ong shares.
Interested participants in this year's challenge may visit NAsFOR's official website nasfor.com or its Facebook page at Facebook.com/nasfor for more details.