Toyota Unveils Its High Performance Hatchback: The Toyota Yaris GRMN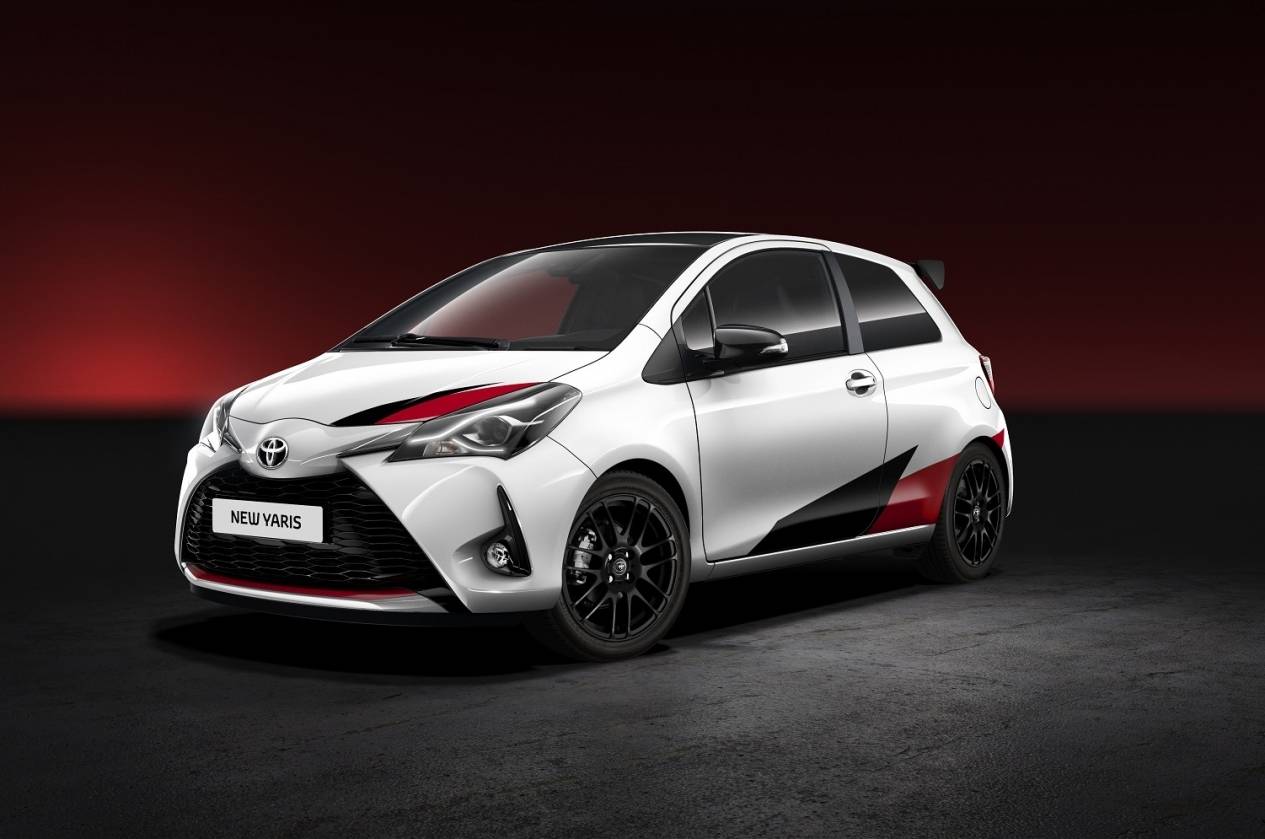 The all-new Toyota Yaris GRMN doesn't fit the name. "Yaris" comes from "Charis", a minor goddess of charm and beauty in Greek mythology. Call us absurd, but we don't think the Yaris GRMN deserves to be named after an unknown deity with aesthetic fetishes. It doesn't add up, really. Is it sportier? Yes. Muscular? Of course. Athletic? More so. But charming and beautiful? Not this one.
This is a more aggressive, high-performance car, mind you, and carries the same nameplate (Toyota Yaris WRC) that will compete for the World Rally Championship this year. So yes, this car deserves no less than the proper descriptive words to flaunt in-between stops. Just please don't call it "charming" -- or worse, "pretty".  You can do better than that.
Aside from its grille looking like it's going to eat the road, the more sculpted, rally-bred Toyota Yaris hatch offers a beefier front bumper, roof-mounted spoilers, larger air dams, and newer rear bumpers. Its exteriors are heavily face-lifted, with newer front headlights, redesigned tail lamps, and 17-inch matte black alloy wheels to complete its hunky / chunky look.
The interiors have also been updated, with a new entertainment system to match its dynamic design. Toyota revealed that they included a lot of "technical modifications" along the way, but of course, the exact details will only be revealed at the Geneva Show this month. What's more, the event will also introduce Toyota's return to the World Rally Championship (WRC), using no other than the Toyota Yaris WRC to race them ahead.
Other details for this three-door, high-performance model hatchback has yet to be revealed, though. So far, the only information we know is that the model will come with a 1.8-liter supercharger engine that gives a cool 210-hp for that extra kick. Yes, that's almost double the 106-hp churned by a regular Toyota Yaris. And why should you be surprised? We're talking about high-performance here. Of course Toyota has to make sure this car lives up to the hype.
In case you didn't know, Toyota has merged most of its racing or motorsports activities under the Gazoo Racing Banner. GRMN, which looks like a shortened version of "German" when texted on a mobile phone, actually stands for Gazoo Racing Masters of the Nurburgring.  It's led by Finland's Tommi Mäkinen, who bagged four WRC championships in a row between 1996 and 1999. Aside from competing, the Gazoo group will also help conceptualize and create high-performance cars for Toyota, with the likes of Yaris GRMN already taking the lead.
So what this means is if you love Toyota's models at their fastest and most bad-ass versions of themselves, then look for "GRMN" on the banner. They are synonymous with the terms, "sporty" and "fast", and who knows? Maybe you'll wake up one day and find out your favorite Toyota model has a GRMN version released in the country.
That would be in the future, though. So far, there are no plans of releasing the Yaris GRMN in the Philippines. Toyota plans to release it first in Europe, with the possibility of going to North America, depending on consumer demand and market success.