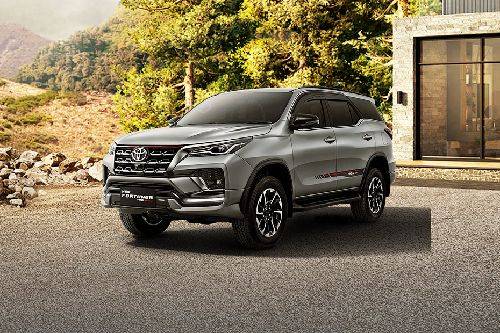 Toyota Fortuner
DP: ₱326,600
EMI (₱28,014 x 60 Months)
SRP : ₱1.633 - ₱2.509 Million
Toyota Fortuner 2022 Colors and Images
View Toyota Fortuner 2022 interior, exterior & road test images. Fortuner 2022 is available in 8 different colors.
Toyota Fortuner 2022 Interior
Toyota Fortuner 2022 has 15 images of its interior, top Fortuner 2022 interior images include Keychain Fob, Engine Start Stop Button, Airbags View, Front And Rear Seats Together, Passengers View, Cup Holder Side View, Folding Seats, Front Seats, Seat Adjustment Controllers, Glove Box, Glove Box Open, Power Accessories Outlet View, Armrest Rear, Inside Light and Front Side Ac Vents etc.
Key

Ignition/Start-Stop Button

AirBags

Seats (Aerial View)

Passenger View

cup holder side view

Seats (Turned Over)

Door view of Driver seat

Seat Adjustments Control

Glovebox (Closed)

Glovebox

Center Tunnel with attached Smartphone

Centre Armrest (Rear)

Reading Lamps

Front Side Ac Vents
Toyota Fortuner 2022 Exterior
Toyota Fortuner 2022 has 10 images of its exterior, top Fortuner 2022 interior images include Front Angle Low View, Front Medium View, Rear Cross Side View, Drivers Sideview, Front Cross Side View, Headlight, Door Handle, Drivers Side Mirror Front Angle, Roof Antenna and Rear Medium Side View etc.
Front Left Side

Fornt Left View

Rear Left View

Side View (Right)

Front Right View

Headlight

Door Handle

Side Mirror (Body)

Antenna

Rear Medium Side View
Toyota Fortuner 2022 Colors
Toyota Fortuner is available in 8 different colors - Atittude Black Mica, Freedom White, Avant Garde Bronze, Grey Metallic, Phantom Brown Metallic, Silver Metallic, White Pearl and Brown
Atittude Black Mica

Freedom White

Avant Garde Bronze

Grey Metallic

Phantom Brown Metallic

Silver Metallic

White Pearl

Brown
Big Saving!!
Save upto 59% ! Find the best deals on used Toyota Fortuner in Philippines
Toyota Fortuner News
Automotive News
Fortuner Owner Reviews
Based on
18 Customer Reviews
Toyota Fortuner Reviews
A Phenomenal Roaster!

The car drives exactly like how it looks. After driving my Fortuner for nearly half a year, I can rely on the conduction abilities of my four wheeler with my eyes closed. The masculine look on the face of the car accentuates its beauty of being taken to the roads by many folds. The car is the reflection of my success in life for me. This is my first ever experience with a full size SUV and it has absolutely left me with no room for complaints. Many say that this SUV could have been better with more features in its body, but I feel the mover gets the right amount of inputs to drive phenomenally on the Roads!

Robert Monday May 2, 2022 15:16:18

The ultimate SUV

I don't think there could be any SUV better than the Fortuner. I know a lot of people will start naming Fords, Mazdas, etc etc. But when you look at a big-sized SUV like this, you will eventually fall in love. All of the three rows inside are very comfortable and spacious, unlike most others where the last row is small and cramped up. The top-end variant is loaded with safety features and sensors all around. And then there is the 2.8L engine that makes 204 horsepower, more than most other cars in the segment. The huge 500 Nm of torque makes sure there is a big boost every time I hit the accelerator pedal.

jhaerix Saturday Feb 12, 2022 07:33:28

The undisputed king of SUVs

I am a proud owner of the Toyota Fortuner for about a year now. It offers a thrilling ride experience and pretty convincing features. The Fortuner is a massive car with a commanding appearance and a roomy cabin. The size of this SUV suggests that it will have plenty of interior room. Inside the Fortuner, the seats are quite comfy and provide adequate thigh support, which is useful on long rides. Despite its big size, this SUV is quite easy to manoeuvre in city traffic. You have a nice view of the road, and the steering is responsive. The engine, on the other hand, has a lot of potentials and produces a lot of power. I would suggest this incredible ride to all the SUV lovers.

Isagani Sunday Jan 16, 2022 08:26:29

One of the most spacious and quality SUVs in the Filipino market

The Fortuner from Toyota is my personal favorite SUV because it has a huge amount of interior space which comfortably houses the seven people seating inside. You also get a very good quality exterior design that looks really powerful and muscular. I particularly love this car and the comfort features that are there inside. I feel there could have been more infotainment and tech features in the car but given the interior space is practically bigger than most other SUVs in the market I could not help myself against buying this car. Love my experience with this car.

Gabriel Saturday Nov 27, 2021 08:04:59

Hands down, worth the money

Toyota Fortuner was my first ever full-fledged SUV, and I am proud to own it. Hands down, the SUV is worth the money. Its function, power, features, even appearance make the SUV worth at least the consideration. What's more impressive is that despite having a massive structure, I hardly feel any pain turning it around the corner. Its seating is also very comfortable. No matter how long you drive the car, you will never have those back issues. For me, it is a big thumbs up for anyone seeking a comfortable, robust car.

Jehrom Wednesday Oct 20, 2021 17:07:51
Toyota Fortuner Price, Promos, DP & Monthly Installment
Toyota Cars
Toyota Cars

Toyota Fortuner Alternatives
Find Second Hand Cars By City
Compare Toyota Fortuner with Alternatives
Second Hand Cars Similar to Toyota Fortuner
72 Used Cars Available

Starts @ ₱998,000

31 Used Cars Available

Starts @ ₱1.1 Million

89 Used Cars Available

Starts @ ₱1.145 Million

3 Used Cars Available

Starts @ ₱1.148 Million

2 Used Cars Available

Starts @ ₱980,000
Second Hand Toyota Cars
Second Hand Toyota Cars
347 Used Cars Available

Starts @ ₱488,000

65 Used Cars Available

Starts @ ₱898,000

25 Used Cars Available

Starts @ ₱938,000

147 Used Cars Available

Starts @ ₱688,000

143 Used Cars Available

Starts @ ₱500,000
Second Hand Toyota Fortuner by Budget
Under P1,000,000
Under P2,000,000
Used Toyota Fortuner Under P1,000,000
92,000 KM, Diesel, 2.4 G Diesel 4x2 AT

80,000 KM, Diesel, 2.8 V Diesel 4x4 AT

40,000 KM, Petrol, 2.7 G Gas A/T

105,000 KM, Diesel, 2.4 G Diesel 4x2 AT

100,000 KM, Diesel, 2.4 G Diesel 4x2 MT