Car Comparison: Nissan Terra vs Isuzu mu-X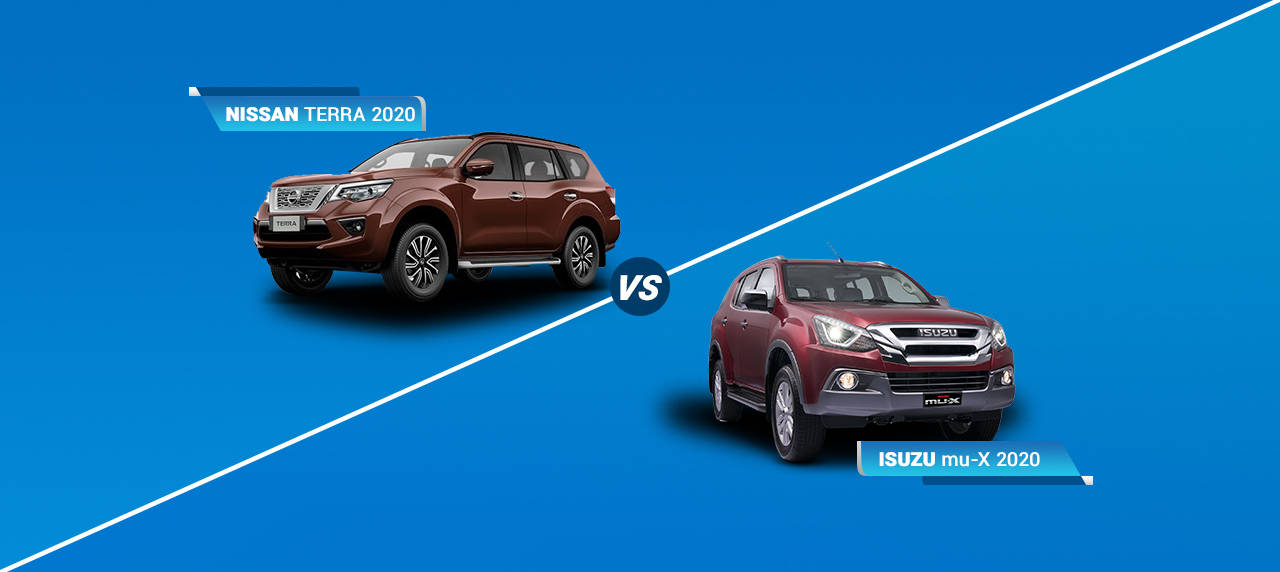 We, Filipinos are known for our tight-knit family culture. It's not uncommon to see three generations live in one household as it's not customary for us Filipinos to move out when we hit 18. This extended family setup influences even our taste in vehicles, that's why seven-seaters like MPVs and SUVs are what comes to mind when most Filipino families consider owning a car. Today, we'll look at two affordable mid-size SUVs that have gained quite the local following. We're talking about the 2020 Nissan Terra and the Isuzu mu-X 2020. Both brands have made quite a name for themselves here in the Philippine automotive landscape earning the trust of car buyers in the segment. Both the 2020 Nissan Terra and the Isuzu mu-X 2020 offer a wide selection of trim levels making sure there's a five-door seven-seater mid-size SUV for every family. Nevertheless, we'll pit their base model Isuzu mu-X RZ4E LS 4x2 AT and the Nissan Terra 2.5 4x2 EL MT to give each car manufacturer a fair fight. To the uninitiated, the Isuzu mu-X's official moniker is the mystery utility-eXtreme and was based on an outdated MU-7, colloquially known as the Alterra. SUV enthusiasts might find that the Isuzu mu-X 2020 bears a bit of resemblance to Chevrolet's Trailblazer. That's because the mu-X was developed in collaboration with General Motors giving this mid-size SUV quite the pedigree. Likewise, the 2020 Nissan Terra is based on its Navarra platform giving the Terra a ladder-frame multi-link suspension setup. Dimensions
Whilst the Isuzu mu-X 2020 is a product of American-Asian engineering, Nissan's thoroughbred workhorse still manages to lord over it in terms of its exterior dimensions. Its larger body allows it to easily haul a cabin packed with seven passengers and a bag full of goodies. Nevertheless, in its smaller build, the Isuzu mu-X 2020 still looks able and live up to Isuzu's brand reputation. Exterior Whilst the Isuzu mu-X 2020 takes some design cues from the Chevy Trailblazer, it still offers unique exterior features that give it its distinct character. Even the base model offers Isuzu's eye-catching bi-LED projector headlamps equipped with daytime running lamps plus auto headlamp leveling. These front lights give the Isuzu mu-X 2020 an aggressive look coupled with the angled black front bumper that makes it look like it's wearing a scowl. At the back of the SUV is Isuzu's horizontal type rear combination lamps outfitted with LED positioning completing Isuzu's suite of bold front and rear lights. On the other hand, the 2020 Nissan Terra boasts LED with styled LED position lamps complete with auto-on and off and Follow-Me-Home functionality. The lights on the rear offer Nissan's LED signature tail-lamps. The front grille of the 2020 Nissan Terra's base model looks more upscale thanks to its chrome garnish while that of the base model of the Isuzu mu-X 2020 still looks decent with its material gray radiator grille. This design extends to the backside of each SUV with the 2020 Nissan Terra offering a chrome finished rear plate garnish while the Isuzu mu-X 2020 comes with a material gray tailgate garnish. Interior The cabin of Isuzu's mu-X 2020 base variant offers just the bare essentials. It comes with Jersey & Tricot fabric-covered seats, conventional-type instrument panels, and hard plastic fascia. Fortunately, the RZ4E LS 4x2 AT variant still manages to give potential car buyers an eight-inch touch screen panel equipped with a navigation system. Its dark gray interior accent makes it feel modern enough but not quite as the cabin of the 2020 Nissan Terra. While the base 2.5 4x2 EL MT variant also uses back plastic fittings lining the dash, its knit-type back fabric makes the overall cabin feel a little more sophisticated. Nissan did not skimp on its infotainment offering providing the base variant with an eight-inch touch screen panel that's Apple CarPlay ready. Engine
Isuzu's reputation in the Philippines is built around how good its engines and transmissions are. That's why you'll hear Jeepney drivers talk big about vehicles with Isuzu pang-ilalim. That said, it's not surprising to see why Filipino car buyers find the Isuzu mu-X 2020 the more practical choice. Isuzu's Blue Power diesel engine provides decent power output while maintaining fuel efficiency and low emission. On the other hand, Nissan banks on how much muscle and power their turbocharged diesel engines are. That said, the Isuzu mu-X 2020 speaks of fuel efficiency and overall engine longevity while the 2020 Nissan Terra offers unrelenting raw and sheer power. Safety Nissan's base Terra trim level offers a considerable set of safety features from airbags and seatbelts, to advanced parking sensors. Conversely, the Isuzu mu-X 2020 comes with a few rudimentary features centered around safety including SRS airbags, side door impact beams, and under-front skid plates. Here's a quick look.
Price Check our table below if you're interested to know just how much taking home a 2020 Nissan Terra or an Isuzu mu-X 2020 would cost.
Conclusion There's a reason why the budget-friendly Isuzu mu-X RZ4E LS 4x2 AT comes with a lower price tag. It offers the bare essentials in both the vehicle's interior and in its safety features. However, what it lacked in its amenities concerning comfort and safety, it made up for its efficient diesel engine. At a higher price, the Nissan Terra 2.5 4x2 EL M/T offers a better package of features making it the ideal choice in our book.
Read All
Featured Articles