Car Comparison: Nissan Terra Vs Toyota Fortuner
Considered as a newcomer in the Philippine SUV segment, the recently unveiled Nissan Terra offers a lot for Filipino car buyers. For its price, it
offers a slew of features
focused on technology, convenience, and safety. However, the more dominant Toyota Fortuner with its
reputation for dependability and reliability
has always been a top pick for prospective customers in the sport utility vehicle market. Today, we'll be putting an industry veteran against a newcomer and see which amongst the two makes for a better option. We'll check both vehicle's base variants to make our SUV match-up a fair fight. Right off the bat, the 2020 Nissan Terra
offers a larger body
that translates to larger cabin space. Both its drivers and its passengers can enjoy more room making it a more comfortable vehicle to ride in. When stuck in traffic, a roomy cabin with impeccable air conditioning to match is key. It's also a feature, unique to Nissan vehicles, Filipinos have learned to associate the brand with.
Nothing beats Nissans when it comes to ACs. On the other hand, the 2020 Toyota Fortuner boasts unparalleled reliability in a solid, more compact body. Toyotas are dependable, period. Just ask your dad's
mekaniko
who will be more than happy to let you in on the brand's legendary "to hell and back" reliability. That said, you can expect the all-new Toyota Fortuner's smaller overall build to be one of the best the Philippine SUV market has to offer.

Let's take a look at their dimensions.
Exterior
The design language of both five-door sport utility vehicles can be quite similar. They both have that simple and safe approach to how the lines and the contours of the vehicles are laid out. It goes without saying that the exterior design of both SUVs offers a universal appeal. The base model of Nissan's SUV offers a defined snout with LED headlamps
equipped with styled finisher
coupled with Nissan's auto on/off and follow-me-home functions as well as front foglamps with chrome accent finisher. At the back, you'd also find LED signature tail lamps and a rear body color bumper with carbon accent. Chrome finished outside door handles and chrome finished rear plate garnish complete its look.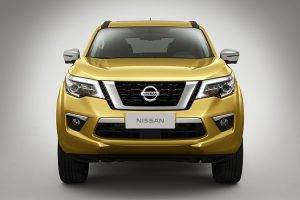 On the other hand, Toyota's base Fortuner model
offers relatively similar features
like its front fog lights, adjustable headlamps, and chrome grille. It also offers power rear view mirrors, rear window washers, rear window defoggers, and an outside rear view mirror turn indicator.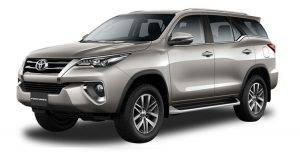 Interior
The interior design of the 2020 Toyota Fortuner looks warm and cozy. The
cafe au lait
tone
of the seats, the fascia, and the faux wood interior fittings make the cabin of the Toyota Fortuner
feel like an extension of your living room
.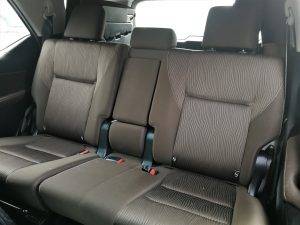 2018 Toyota Fortuner 2.4 G 4×2 TRD Sportivo
Conversely, the 2020 Nissan Terra boasts a
modern-looking interior.
The base model is lined with black knit-type fabric as well as black plastic fittings that line its dash.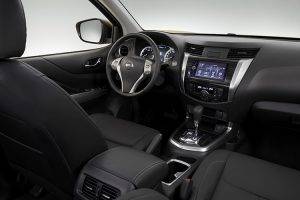 Nissan Terra
While the infotainment system of both SUVs features touch screen panels, the ones outfitted on the 2020 Toyota Fortuner seems to lag behind with a slightly slower response time compared to that of the ones the 2020 Nissan Terra comes equipped with. With that said, the 2020 Toyota Fortuner's updated infotainment system offers USB, Bluetooth, Aux, and iPod connectivity as well as Apple CarPlay and Android Auto compatibility. On the other hand, the 2020 Nissan Terra's infotainment system offers USB, Bluetooth, Aux, iPod connectivity, and is Apple CarPlay ready.
Engine
Under the hood, the 2020 Nissan Terra
offers a little more power and torque
despite its smaller engine. This translates for better acceleration and the capacity to haul in heavier cargos – or more groceries. Both SUVs
score a 7-8 km/L fuel efficiency in
city traffic. However, the 2020 Toyota Fortuner
averages at 15 km/L in the fast-paced freeway
with the 2020 Nissan Terra
scoring a 14km/L
driving on the highway.
Safety
Proving itself to be no Johnny-come-lately to the mid-size SUV segment, the 2020 Nissan Terra offers slightly better safety tech with its
Nissan Intelligent Mobility Suite
. Although Nissan's Intelligent Mobility is only offered with its higher VL trim levels. The option to have a slew of advanced safety features makes the 2020 Nissan Terra an ideal option for someone who puts safety at their top priority. The base models of both SUVs share the same standard loadout.
Price Both SUVs are offered in five different variants. Here's how much they're priced and their respective trim levels.
Conclusion When we look at the price tag of both base trim levels, the 2020 Nissan Terra seems to be a more practical choice considering that it's as road-worthy as the 2020 Toyota Fortuner. Plus, those looking for a five-door SUV packed with modern feel and amenities will find that the 2020 Nissan Terra is to their liking. However, when it comes to overall reliability and longevity, the 2020 Toyota Fortuner still makes for a solid option, especially if you plan to make a workhorse out of your SUV. Regardless of your preference, both SUVs make for a great vehicle offering the latest updates in their respective model lines.
Car Articles From Zigwheels
News
Article Feature
Advisory Stories
Road Test