Car Comparison: Toyota Fortuner Vs. Ford Everest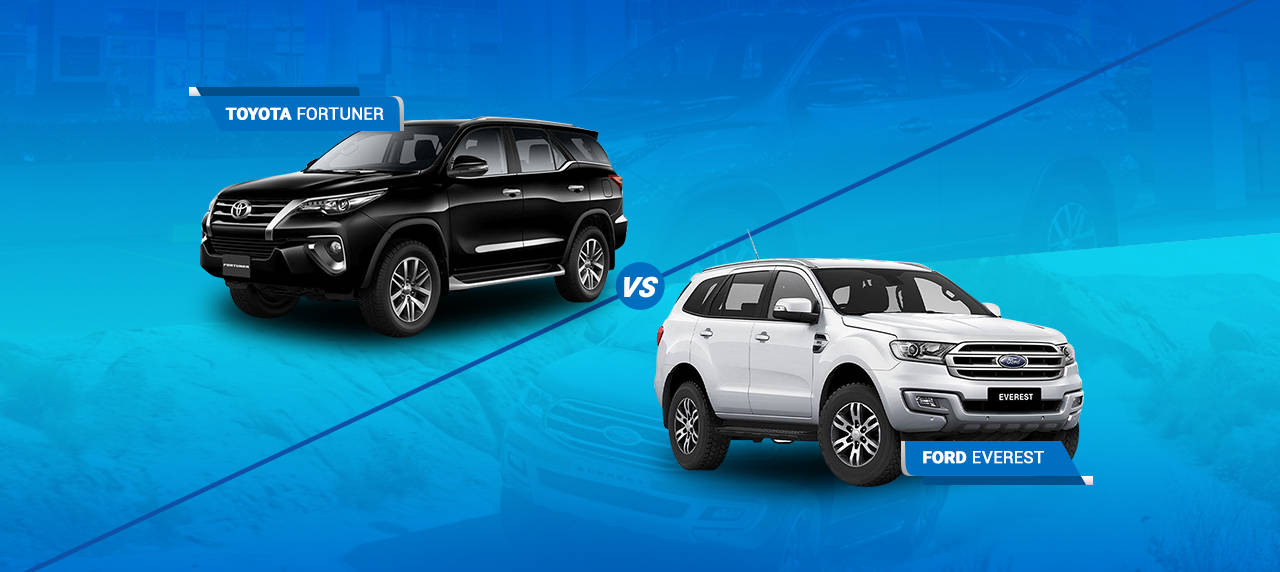 The Philippine automotive market has always had a high demand for mid-size SUVs. Our roads are often unforgiving; with small, city avenues that easily get congested by traffic and are at times prone to flooding. Offering the perfect marriage between comfort and utility, it's not hard to see why these mid-sized SUVs took the local automotive landscape by storm.
The 2020 versions of both Ford Everest and the Toyota Fortuner are two of the most sought-after five-door sport utility vehicles today. While each vehicle is equally capable, we'll put both the base variants head to head to see which mid-size SUV under the two-million price point makes for a better choice. At a glance, both vehicles look like they can do more than haul a family of five and a bag full of groceries. Wide-angled bodies make for a larger cabin room and allow Filipino families to bring home pasalubongs from local novelty shops that litter the roads outside the metro. However, it's what these vehicles have inside the hood that gives each its unique character. Before we get to that, let's look at their dimensional differences.
When considering the vehicle's overall size, the 2020 Ford Everest appears to be the bigger SUV. It stands a tad taller over the 2020 Toyota Fortuner at 98 mm, with a slightly wider frame difference of 7 mm, and a longer build spanning a difference of 28 mm over Toyota's mid-size SUV offering. The wheelbase of the all-new Ford Everest is also slightly larger than that of the brand-new Toyota Fortuner as a consequence of its sizeable physique. Kids may find the larger Ford Everest a bit challenging to get into by themselves but will notice that its roomier cabin makes for a more comfortable experience whilst on the road. Thanks to its larger wheelbase, the Ford Everest can accommodate 20-inch wheels offering a 225 mm ground clearance.
The Toyota Fortuner still offers a decent range between the pavement and the lowest point of the vehicle's central base at 193 mm that allows it to breeze through the flood-prone and pothole littered streets of the Metro. Exterior The design language of both mid-size SUVs is noticeably different. The American vehicle boasts curved and confident outlines while that from the Japanese SUV offers slightly sharper and sleeker profiles. At a glance, the 2020 Ford Everest speaks to sporty and snappy car nuts while the 2020 Toyota Fortuner attracts grease monkeys looking for sound and aggressive looking vehicles – something many Filipino car owners are accustomed to. Having said, the design cues of the Toyota Fortuner appeals more to the masses. A simple approach, without having too many bells and whistles, makes the 2020 Toyota Fortuner a safe choice for anyone looking for a daily driver. On the other hand, the styling of the 2020 Ford Everest's exterior appears to be more muscular and substantial. Interior What differences both mid-size SUVs have from the outside extends to the vehicle's interiors. The seats of the 2020 Ford Everest look more modern and has a more comfortable feel compared to that of the 2020 Toyota Fortuner. Luxury and utility are what make the 2020 Ford Everest the better vehicle considering its interior design. The front seats feel better cushioned as well as the instrument panel and the infotainment system that sits in the middle of the SUV's fascia. The all-new Ford Everest's 8-inch multi-touch screen is outfitted with Ford's SYNC 3 and is Apple CarPlay and Android Auto compatible allowing intuitive operation and makes driving more convenient overall. Apart from the crisp display, Ford's infotainment panel feels more premium than that of the 2020 Toyota Fortuner's AVT infotainment system, which also is Apple CarPlay and Android Auto compatible . The second and the third-row seats of the 2020 Ford Everest offer a better cabin ambiance and better cabin quality. Ford's third-row seats are equipped with power folding capabilities making loading and unloading of cargo a breeze. Engine While both vehicles share glaring similarities, they offer obvious differences with their engine specifications. The 2020 Toyota Fortuner is equipped with a 2.7L Dual VVT-i Diesel Engine while the 2020 Ford Everest is outfitted with a 2.0L Turbo Diesel Engine. Here's how they stack up against each other.
Thanks to Ford's 2.0L Single Turbo Diesel Engine, the 2020 Ford Everest offers better power and torque output than Toyota's Fortuner with its 2.7L Dual VVT-i Engine. This makes the 2020 Ford Everest a more capable vehicle on both paved and rough roads. Safety Safety is of paramount concern, especially with mid-size SUVs. That said, here are a few safety features you'd expect from both vehicles. Assist
The 2020 Toyota Fortuner is packed with standard safety features that allow its driver and its passenger to ride comfortably and conveniently in almost all driving circumstances. However, Ford boasts added safety features via its traction control which eliminates excessive wheelspin giving the 2020 Ford Everest impeccable road grip and stability. Pricing Interested in getting either the 2020 Ford Everest or the 2020 Toyota Fortuner? Here's how much the 2020 Ford Everest is priced per variant.
The 2020 Toyota Fortuner offers more options with five variants to choose from, including a spruced up TRD variant for those looking for an upscale experience. Here's how much they cost.
Verdict The 2020 Toyota Fortuner makes for an affordable option for many Filipino car buyers, that's why it's not uncommon to see Fortuners driving around the city. At just under two million, you're getting an SUV that's well worth the price. However, additional money spent on the 2020 Ford Everest means additional safety, comfort, and a little bit of luxury. That said, the 2020 Toyota Fortuner is the ideal workhorse – driven by fathers because of its old school vibe and its touch of utility. On the other hand, the 2020 Ford Everest is the kind your cool titos would drive with its modern features and more sophisticated cabin.
Also read: Car Comparison: 2019 Isuzu mu-X vs 2020 Ford Everest
BUYER'S GUIDE: 2020 Ford Everest
TEST DRIVE: 2018 Ford Everest Titanium 4x4 AT Premium Package - Beauty and Brawn
TEST DRIVE: 2018 Toyota Fortuner 2.4 G 4x2 TRD Sportivo - Tweaks That Does Wonders