DOTr Issues New Guidelines for GCQ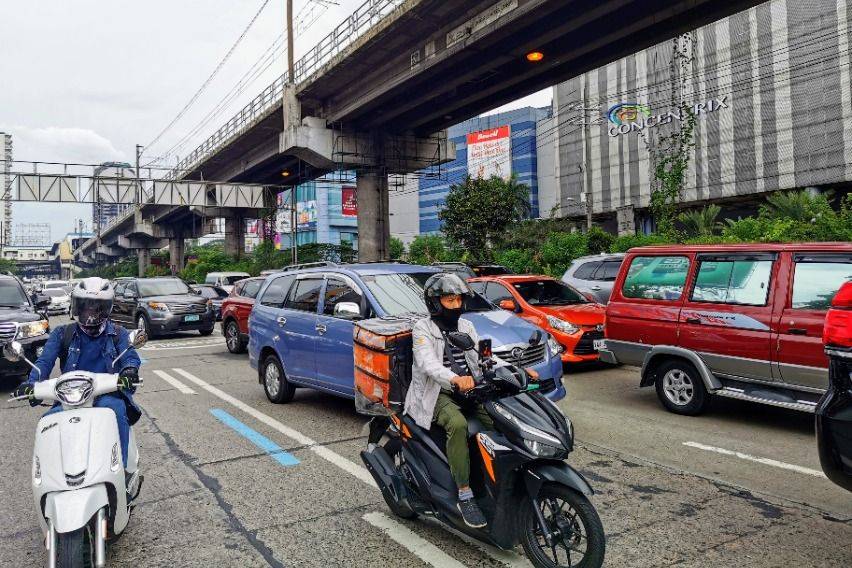 It seems as though the world is slowly starting to crawl back to normalcy, one step at a time.
Starting last Friday, May 1, public transportation services in moderate and low-risk areas under general community quarantine (GCQ) have resumed operations at reduced or minimal capacity to ensure compliance with strict safety measures against the coronavirus (Covid-19) threat.
"Public transportation in the road sector will be available in areas declared under GCQ but we will strictly impose health safety standards at all times to ensure the safety of our drivers and passengers," Department of Transportation (DOTr) Assistant Secretary for the Road Transport and Infrastructure Mark Richmund de Leon said.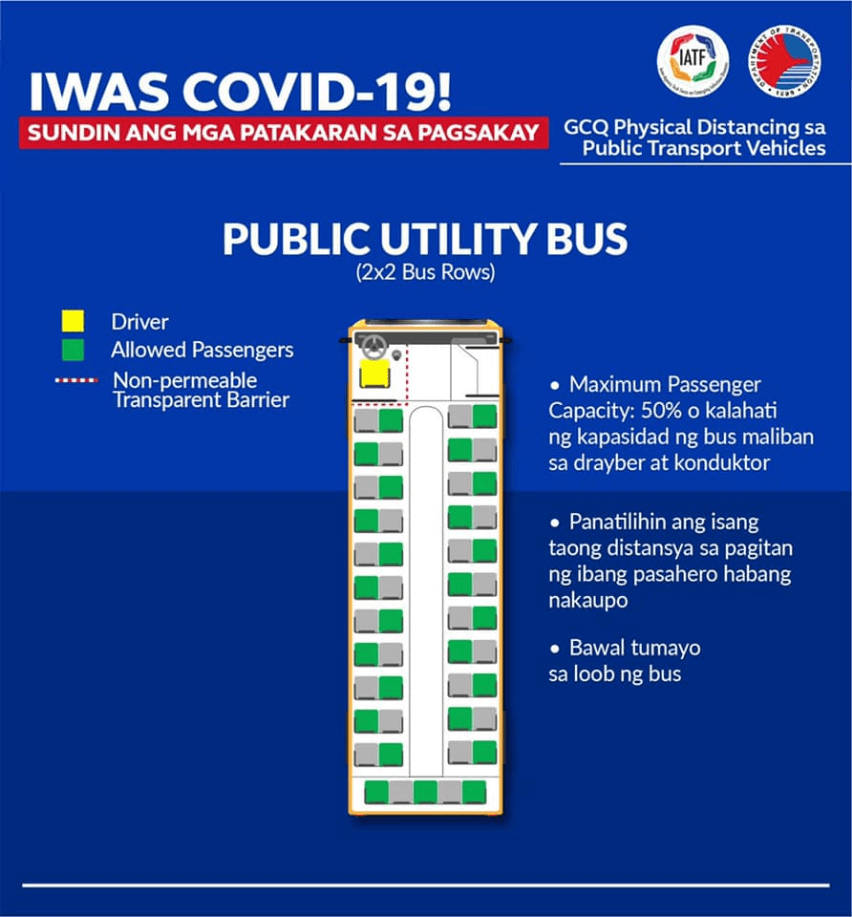 DOTr has issued strict protocols/guidelines that all permitted PUVs, transport terminals, and operators must adhere to at all times: Safety, Capacity and Coverage/Scope.
Safety pertains to guidelines that aim to reduce further contact, transmission, and spread of the virus through the mandatory use of face masks and gloves for PUV drivers. Thorough cleaning and disinfecting practices of vehicles, terminals, and even among passengers are also required.
Also required for each mode of transportation are capacity and passenger load factors to ensure that the proper protocol for physical distancing is followed. As per DOTr's press release: "Passenger load for public utility buses (PUBs) and public utility jeepneys (PUJs) should not exceed 50 percent or half of the vehicle's capacity, excluding driver and conductor. For UV Express and taxis, passenger load should not exceed two passengers per row, except for the driver's row where only one passenger is allowed. Tricycles, on the other hand, must not exceed one passenger in the side-car, while backriding will not be allowed."
On the other hand, private cars and motorcycles are allowed to operate provided that they fulfil the purpose of essential travels as defined by the Inter-Agency Task Force (IATF). Cars will only be allowed one passenger to occupy the front passenger seat, while succeeding rows of seats shall not exceed two passengers each. Motorcycles however, are still prohibited from having backride passengers. The use of bicycles and similar devices are also highly encouraged, and LGUs are also encouraged to identify bike-lanes, or bike-only roads.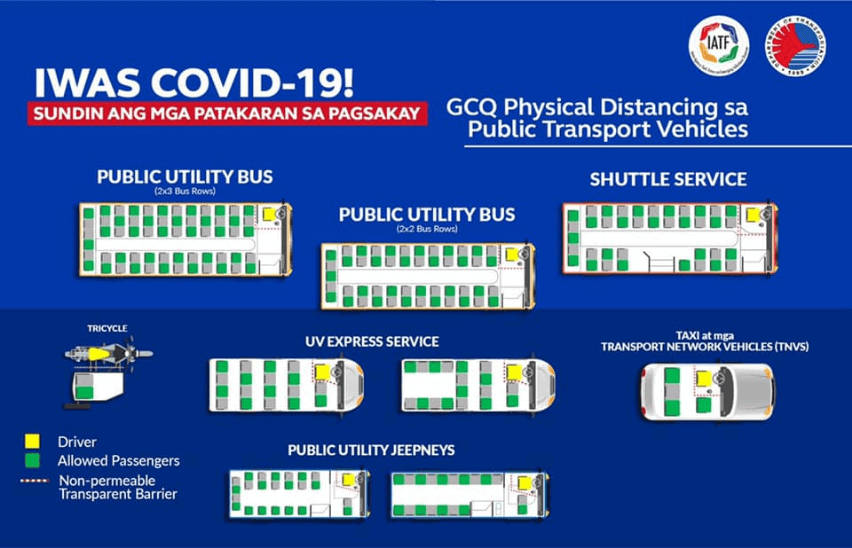 Land Transportation Franchising and Regulatory Board (LTFRB) Chairman Martin Delgra III noted that the official guidelines state that: "the mode of PUV that will operate in each route in the GCQ areas will be guided by the number of passengers that will be transported."
"PUV modes with higher passenger capacity such as buses will be prioritized consistent with the Department Order No. 2017-011 or the Omnibus Guidelines on the Planning and Identification of Public Road Transportation Services and Franchise Issuance".
In areas where buses are not enough to serve the actual passenger demand, or the road characteristics will not permit their operations, PUVMP-compliant vehicles are the next priority. In areas with unavailable buses and modern PUVs, PUJ's and UV Express may operate. In areas were no other mode of public transportation is available, tricycles may be permitted to operate as determined by the LTFRB in coordination with the corresponding LGU," Delgra explained.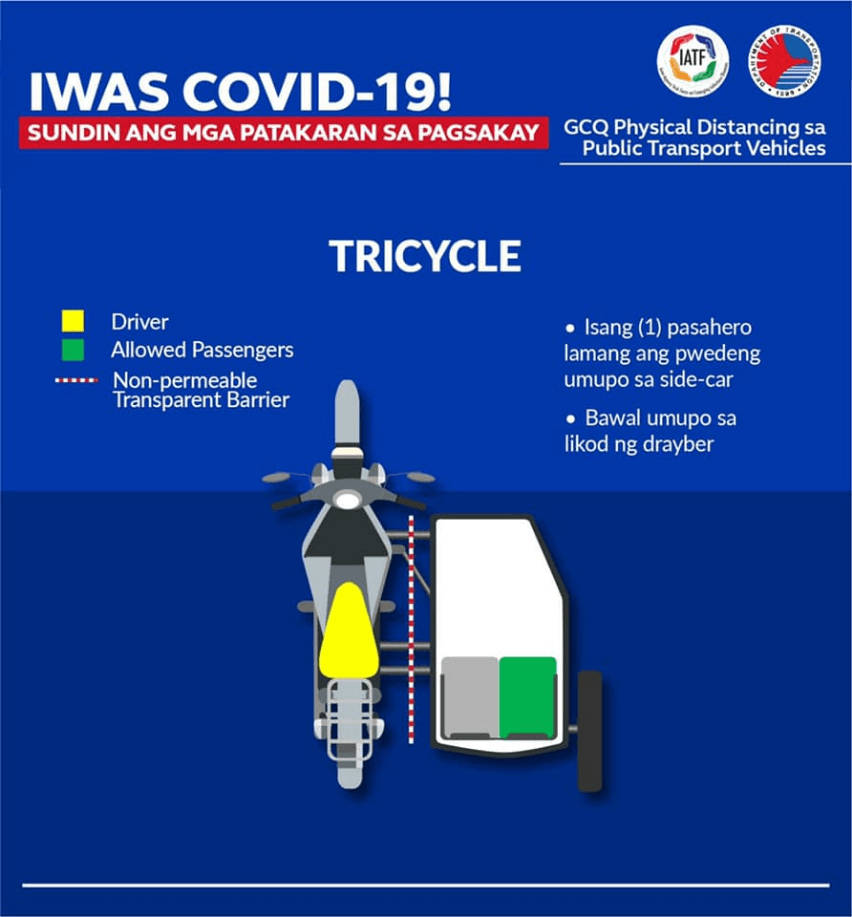 The process of issuing special permits to allow PUVs to operate is now in motion. Drivers and operators may apply for the permit, free of charge, through LTFRB offices or by email through LTFRB's online channels.
"Social distancing protocols are our priority so we must prioritize vehicles that provide the least physical contact," Transportation Assistant Secretary for Road Mark Steven Pastor added.
"Modern buses and PUVs have bigger capacity and some are equipped with an Automatic Fare Collection System (AFCS) which prevent physical contact when paying fare so they are our priority choice to transport people in GCQ areas."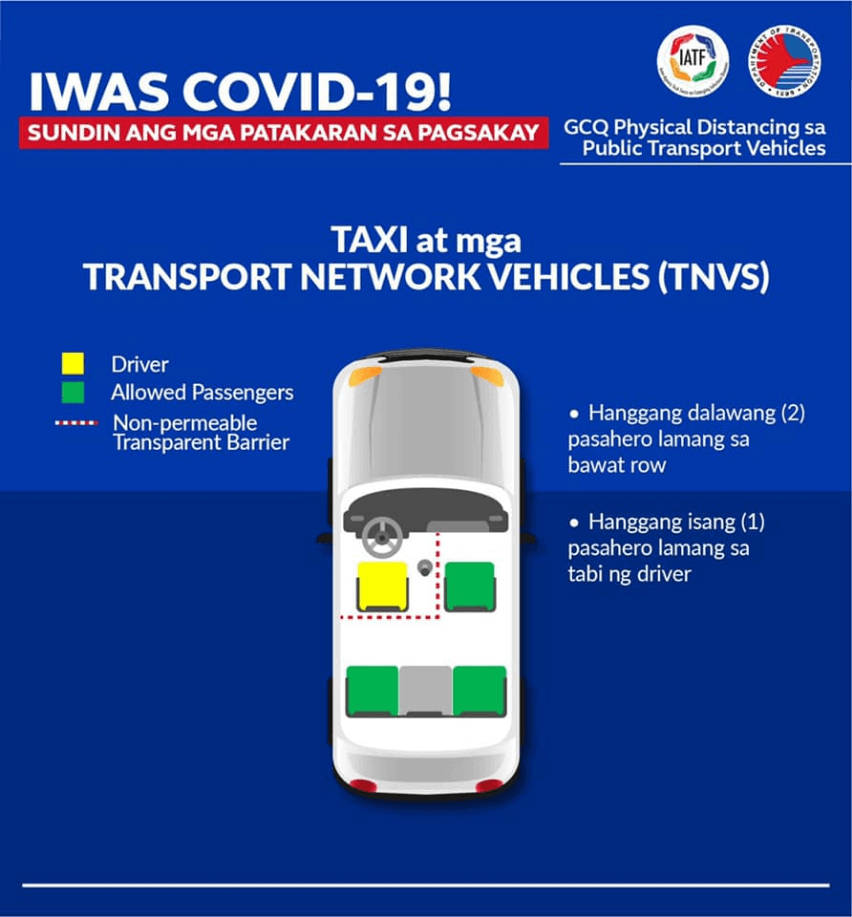 The DOTr assured that any private vehicle owner, PUV driver and operator, and private or public transport terminal operators who violate the guidelines will be sanctioned.
"The DOTr is also calling for the help of enforcement agencies such as PNP and local government units (LGUs) to help ensure that social distancing and sanitation is observed in terminals and vehicles in these municipalities," de Leon claimed.
"Let us all do our part to safeguard the health of all drivers and commuters in the transport sector."
Meanwhile, any mode of public transportation in areas under the extended enhanced community quarantine (ECQ), including Metro Manila, are still prohibited.
Photos taken from Department of Transportation
Also Read:
Cleanfuel, Total Gives Fuel Subsidy for DOTr's Free Ride for Health Workers
Car Articles From Zigwheels
News
Article Feature
Advisory Stories
Road Test