Buyer's Guide: 2020 Foton Traveller XL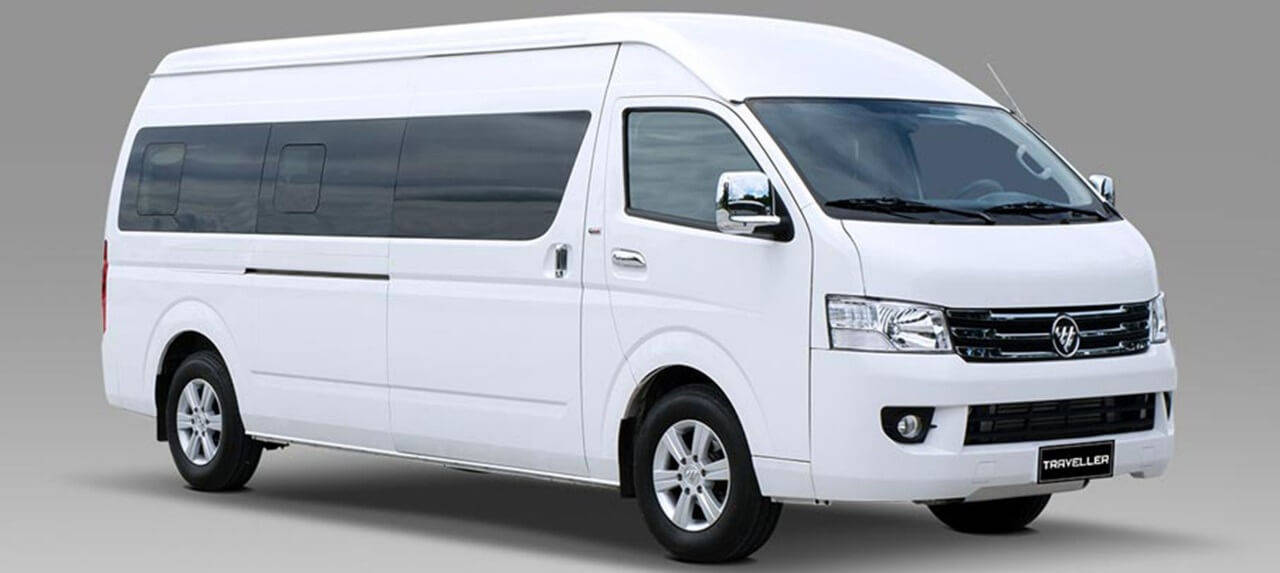 There's no shortage of people haulers in the country, considering that there's a huge market for them as UV Express units, rentals, school ferries, ambulances, and all-around family vehicle.
And so it goes without saying that while we will always have the Toyota HiAce and Nissan NV350 Urvan to lean back on, the market can certainly use more variety.
This means that there's always a place for newcomers like the Foton Traveller XL in the Philippine auto sales industry. Discover what this Chinese-made van has to offer in this 2020 Foton Traveller Buyer's Guide.
Specifications
The latest version of the Foton Traveller uses the same engine as its predecessor—a 2.8-liter Cummins CRDi turbo intercooler diesel engine that puts out 148 hp and 325 Nm of torque. Powered by Blue Energy technology, this engine is Euro 4 compliant, which makes it highly fuel efficient—a very useful feature if you intend to use this van for commercial purposes. Speaking of commercial purposes, the van is able to pull up to 4,035 kgs when fully loaded.
This engine is mated to a 5-speed manual transmission that's controlled via a console-mounted shifter. With regards to suspension, the Traveller XL is supported by a double wishbone/coil spring/stabilizer bar trio at the front and a longitudinal leaf spring/telescopic shock absorber combo at the rear. This suspension system is grounded by 16-inch wheels.
Exterior
The Foton Traveller XL's profile is very similar to that of the 2018 HiAce and current Urvan, so fitting in the market won't be a problem for it. Considering that its contemporaries are much longer established, 'fitting in' instead of 'standing out' is probably the better strategy in terms of styling, because size-wise, it is unmatched. The car has an overall measurement of 5,990mm long, 2,320mm wide and 1,920mm tall, easily making it the biggest van in the market today. One minor gripe is that it comes in only one color—Silver.
Interior
Foton cars have certainly grown in quality by leaps and bounds. While the brand was pretty much okay with selling HiAce clones in the past, this is no longer evident in how the interior has evolved. True, plastic is still the primary trim material, but it doesn't look cheap as it did in past models. The cabin has individual seating for up to 19 persons in a 3+3+3+3+3+4 front to back seating configuration.
Another good thing about the Traveller XL—while other high-capacity vans are content with stiff impoverished seats, the ones in this van are comfortably shaped and well-padded, with full backs and durable-looking reclining components.
The Traveller XL takes the extra effort to be more entertaining as well, as it is now equipped with a touchscreen infotainment system that allows for AM/FM radio and provides slots for USB, SD, and Aux inputs, while providing Bluetooth connectivity. You can also play movies and videos on the system.
Other convenience features include the tall roof for maximum headroom, tilting steering column, adjustable lumbar support and adjustable headrest for driver's seat, individual back rest, rear aircon vents, adjustable intensity meter gauge backlight, powered side view mirrors, power windows, interior lights off delay, and 12-volt outlets for powering phones, chargers, and other electronic devices.
Space
The 2020 Traveller XL's wheelbase is at 3,720mm, which is significantly longer than both the current HiAce (2,570mm to 2,985mm) and Urvan (2,555mm). That much distance between the wheels certainly amounts to something, as passengers have a pass-through aisle that allows them to get in and out of their seat much more conveniently than in traditional vans. And did we mention that the Traveller XL is a 19-seater?
Safety
As the 2020 Traveller XL is a passenger car, it surely helps for it to have standard safety features that elevate the protection of its occupants in case of unexpected or unfortunate events. Fortunately, the van is up to the task. Basic safety equipment include dual airbags (driver and front passenger), anti-lock brakes with electronic brakeforce distribution, 3-point ELR seatbelts, adjustable steering column, LED third brake light, child safety lock, and central control lock. The van also adds traction control, rear under mirror and reverse sensor for enhanced safety.
Verdict
The 2020 Foton Traveller XL is easily the biggest van on the market today. Commercial vehicle operators looking to maximize their earning potential may do well to give this van a thorough evaluation.
The same goes for those who have families similar in size to Kevin McAllister's or Ramon Revilla's. With a price tag PHP 1.645 million the van is certainly a promising prospect for anyone in its target market.
Also read: Foton GMA Cavite Showroom Launches Under Autohub Group
Foton PH Enjoys Massive Gains in Truck Sales Despite TRAIN