Buyer's Guide: 2020 Porsche Cayenne Coupe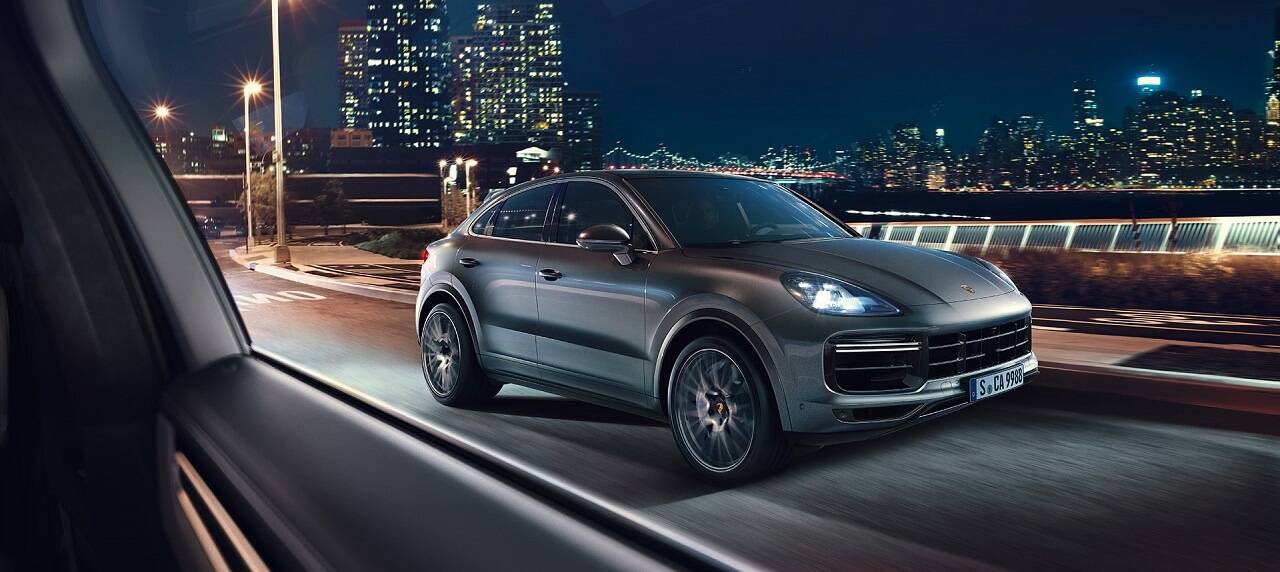 Porsche adds to the coupe-ified versions of its models with the 2020 Cayenne Coupe, a shapelier, sportier and sexier alternative to the otherwise impressive Cayenne. You may wonder why it's given a coupe label, when there's clearly four doors on the vehicle. Consider yourself enlightened, because this new Cayenne model is what's actually called a quad coupe, similar to specific variants in the Mercedes-Benz CLS, Audi A7 and BMW 6 Series Gran Coupé lines. As for what you'll get when you purchase the 2020 Porsche Cayenne Coupe, find out in this Buyer's Guide.
Specifications
©porsche.com
The 2020 Porsche Cayenne Coupe comes with three engines—there's the 3.0-liter 335 hp V6 in the base model, a 2.9-liter 434 hp V6 in the S trim, and a 4.0-twin-turbo 541-hp V8 in the Turbo trim. For the more environmentally conscious, the Cayenne E-Hybrid uses a turbo V6 and electric motor to produce a combined 455 hp. Meanwhile, the range-topping Cayenne Turbo S E-Hybrid delivers a whopping 670 hp. All the cars in the lineup have a front-engine, all-wheel drive layout and rely on an 8-speed Tiptronic S transmission system for shifting.
Exterior
©porsche.com
The new Cayenne Coupe is characterized by a rakish roofline that resembles the 911 in a way. Given the 911 semblance, it's clear how the Cayenne Coupe may appeal to many of the brand's loyal fans, although it comes with a steep compromises not only to the vehicle's practicality (a more claustrophobic backseat), but also to its price (the base Cayenne starts at USD 66,800, while the base Cayenne Coupe begins at USD 75,300).
That said, look and form are up to Porsche's usual high standards—striking, measured and elegant. The iconic 911 character line runs the length of the car starting from the headlights, and on toward the ventilated roof spoiler, then to the seamless taillight strip. Dynamic highlights and the adaptive rear spoiler serve as icing on the cake. Visual focal points include the wide body and muscular shoulders, as does the lightweight contoured roof to the 20-22 inch wheels, airblades, and rear diffuser. Carbon details on the roof and mirror add to the Cayenne Coupe's sporty details.
There are 11 color options on offer: White, Black, Carrera White Metallic, Jet Black Metallic, Dolomite Silver Metallic, Biscay Blue Metallic, Moonlight Blue Metallic, Mahogany Metallic, Quartzite Grey Metallic, Chalk, and Lava Orange.
Interior
©porsche.com
Despite its steep price point, the Cayenne Coupe isn't overly affluent with its interior trimmings. Four interior material combinations are on offer: Standard Trim w/ Partial Leather, Standard Trim w/ Leather, Leather Trim w/ Leather Seats, and Club Leather Interior. Between the four categories, the lineup offers 13 distinct material and color combinations.
©porsche.com
The Cayenne Coupe's unique attributes start with a center console that melds seamlessly with the downward-sloping dash, reminiscent of Porsche's past sports cars. Touch-sensitive buttons line the controls, allowing for easy operation. Infotainment comes by way of a full-HD 12.3-inch screen that's not only easy to reach and view, but also replete with numerous interfaces and voice control system with online connectivity. Other interior goodies include panoramic fixed glass roof with sunblind, adaptive 18-way powered sports seats, seat ventilation, 4-zone automatic climate control, massage function, ambient lighting, and ionizer.
Safety
©porsche.com
Safety is one area of the Cayenne Coupe that you can expect Porsche to splurge on, and the vehicle certainly doesn't disappoint. Driving dynamics are aided by an adaptive air suspension that employs Porsche Active Suspension Management (PASM), Porsche Dynamic Chassis Control (PDCC), Porsche Torque Vectoring Plus (PTV+), and Porsche Traction Management (PTM).
These are further complimented by advanced assistance systems such as LED main headlights, Porsche Dynamic Light System (PDLS), Collision and brake assist, Porsche InnoDrive including adaptive cruise control, Night Vision Assist, Lane Keeping Assist and Lane Change Assist, and ParkAssist (front and rear) with 'Surround View.
Space
©porsche.com
Though the cabin's size is what you'd expect from a coupe, the Cayenne Coupe interior is surprisingly huge for a Porsche. It's a given that adults will have a hard time fitting in the backseat, but there's enough legroom for a toddler to stretch his legs. That said, the backseat has a nifty sliding feature that lets you bring your child or pet closer within reach or add some extra cargo space. Speaking of cargo space, the trunk has a 623-liter carrying capacity.
Verdict
Porsche could have certainly just raked the roof of a standard Cayenne, market it as a coupe, and people will still lap it up. Fortunately, the German sports car maker is not one to do things half-baked. And so far from being simply a coupe version, the newest member of the Cayenne family is a variant that can stand on its own.