BUYER'S GUIDE: Toyota Land Cruiser 200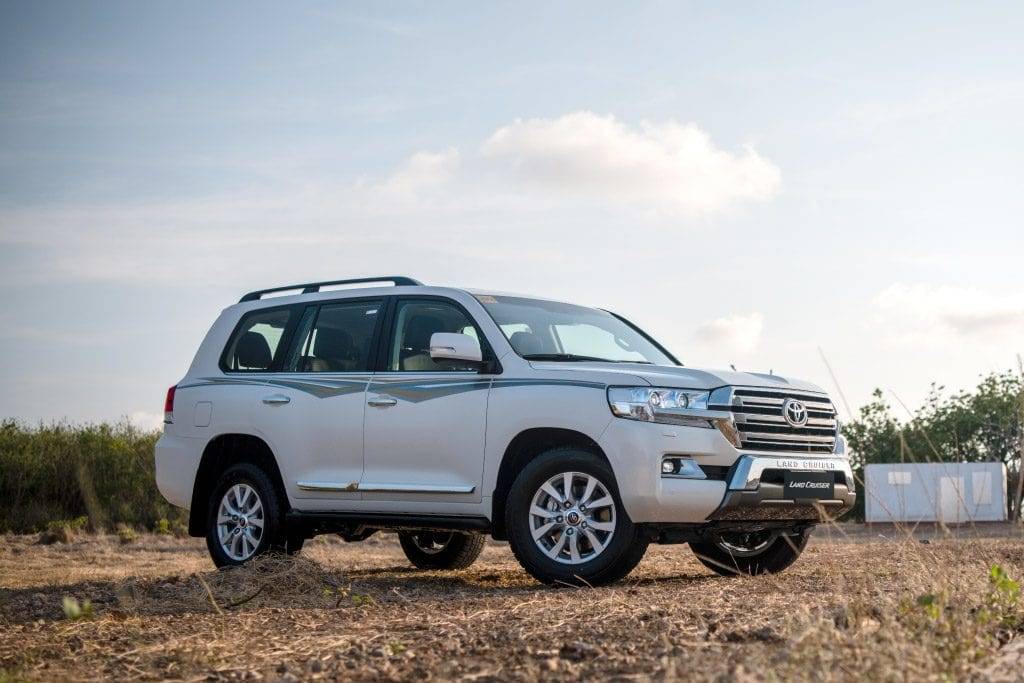 The Toyota Land Cruiser 200 commands respect. And it's not just because its immense size looks imposing on the road. This vehicle has been in existence for more than half a century already, and if its 67-year old heritage is not enough to get your nod, then its performance as an off-road warrior probably would.
That's not to say we have you fully-convinced, though. You need to actually drive this SUV to appreciate its true merits when driven on rugged terrain. Whatever the case, this SUV can wait--no other vehicle can outlast anyone in this planet better than a Land Cruiser can.

Engine and Specs
The Land Cruiser 200's 4.5 liter V8 turbodiesel engine can churn around 229 hp and pull out a hefty 615 Nm of torque. It measures 5,170 mm in length, 1,980 mm in width, and 1,945 mm in height, and its 2,850 mm wheelbase is more than enough to wade through most floods (and obstacles) that come your way.
Exterior
The Land Cruiser 200 sticks close to its roots, which means it still looks a bit "old-school" compared to other SUVs today. But what it lacks in excitement, it makes up for bulk, since its most recent model is the biggest and bulkiest of all the Land Cruisers that walked the face of this earth.
And did we say it's bulky? Yes we did. Those muscular bumpers and powerful front grille can eat those crossovers for breakfast.
Comfort and Convenience
Space isn't a problem for the Land Cruiser: this SUV has a second row that offers a 40/20/40 split, while its third row has a 50/50 split. That space is more than enough for all its eight passengers to dance or prance about, and have enough room to stretch out, use those comfortable headrests, and sleep like a baby.
We love the automatic four-zone air conditioners with automatic rear coolers. Not only do they provide a lot of comfort inside, but they're spread out evenly in all cabin areas. This means no complaining at the back for a malfunctioning--or even a non-existent air cooler.
Here's a bit of warning: This vehicle is so huge that driving on narrow roads can be a nightmare. And forget finding ample space to park it, especially when you're driving in Manila. The most you can do is to park it somewhere at a commercial center and walk your way to your chosen destination.
Interior
Getting inside this SUV almost feels like you're in a luxurious home. Its plush, leather seats, faux woodgrain and chrome accents on the new dashboard are warm and inviting.
Once you enter inside, that's when you feel almost swallowed by the immense space everywhere. Its eight-seater cabin is huge, to say the least. But that's not to say it's all space. It's extremely comfortable inside, but it's nicely balanced with a lot of elegance as well.
We love its built-in navigation system, with notable features that include a large infotainment system, wireless connection, HDMI input, and an optional backup camera.
Now, here comes the tricky part: if you love music, then you need to lower your standards a bit here. The car's audio is really just a standard player--nothing stands out here to make audiophiles scream with ecstatic pleasure.
Performance
What can we say? The Toyota Land Cruiser 200 shines on off-road driving, hands-down. There's a reason why a lot of politicians in the Philippines love the Land Cruiser--it can literally face hurdles, slopes, crashes, or waves and come out smiling in the end.
Still, we'd like to point out that the chassis is a bit too firm for our taste, so there's less refinement when you drive it over bumpy roads. There are times you can feel those dents too much, which can get pretty annoying from time to time.
Safety
This SUV is generous when it comes to safety features. SRS airbags, Blind Spot Detection, Multi-terrain Anti-Brake System (ABS), Blind Spot Detection System, and Hill-Start Assist Control are just some of the features you can look forward to when you buy this vehicle.
One notable feature we like is the Crawl Control with Off-Road Turn Assist function. This allows the Land Cruiser a much tighter turning radius, allowing for better control when making small turns on rough terrain. What's more, this feature helps control the throttle and brakes when you're driving at low speeds. This makes driving on rough terrain much easier.
Our Verdict
Is the Toyota Land Cruiser's hefty price tag of PHP4.3 to PHP4.7 million worth it? Yes, if conquering the challenging outdoors more than satisfies your adventurous spirit. And if you like to share it with others who are as passionate, adventurous, tough, and powerful as you are, then it's really a match made in heaven.
But more than that, the Land Cruiser has enough safety features,  luxury and comfort to make it a memorable experience for everyone. Just remember to work out that cardio when you can't find an available space to park it from time to time.