Car Comparison: 2020 Geely Azkarra vs. 2019 Toyota RAV4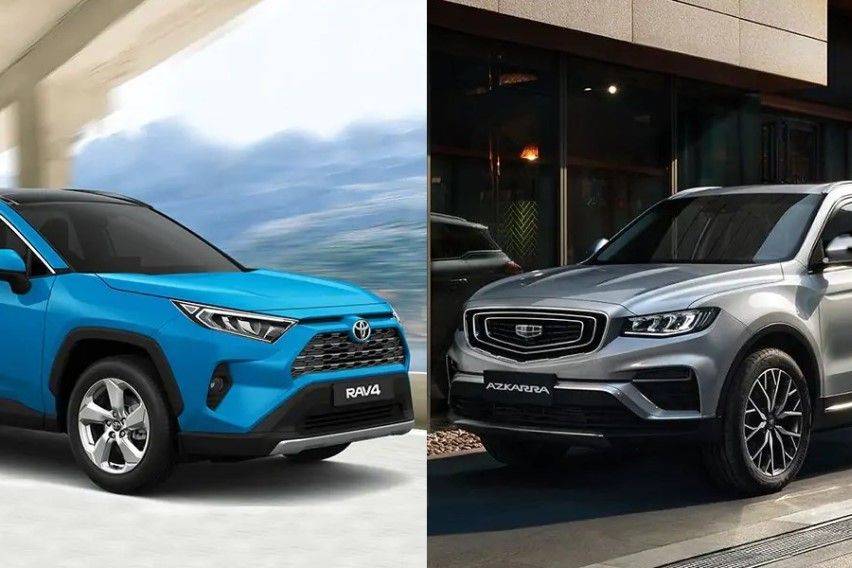 With three SUVs now on the market, Geely's second coming in the Philippine auto market is certainly yielding huge dividends for the Chinese car brand. Its second local release following the successful Coolray, is the Azkarra crossover SUV, launched locally in the middle of last year, and represents Geely's first digital launch for the year, and ever.

When it first came out in the early 1990's, the Toyota RAV4—short for Recreational Activity Vehicle 4--brought a lot of inspired innovations with it. The fold flat rear seats, a genuinely useful all-wheel drive, and a design that confused a lot of people (is it a car or an SUV?) were just some of the perks and quirks that the first Toyota RAV4 was known for. It was one of the first crossovers in the market, and its standout qualities made it an instant hit. The crossover has grown a lot since then.

So does an upstart have what it takes to lock horns with Toyota's ever-reliable crossover SUV? We find out below.
Powertrain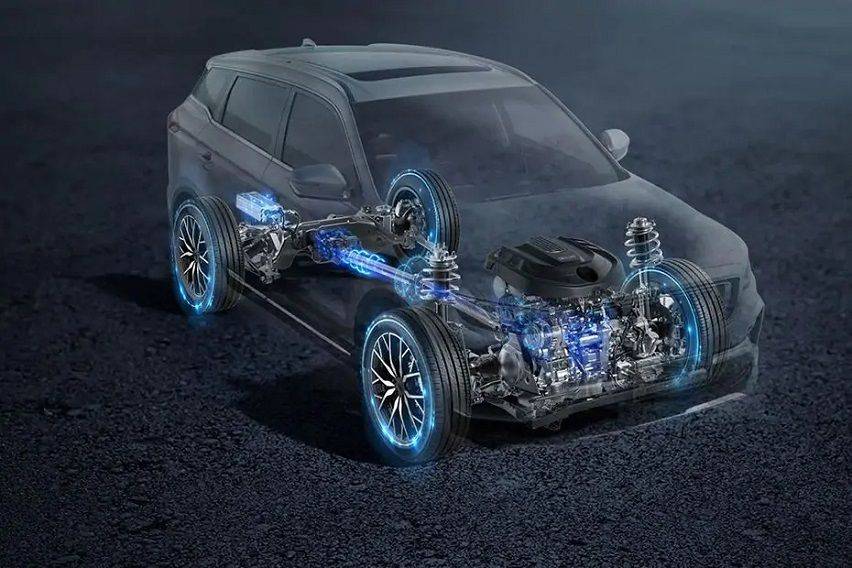 The Geely Azkarra is primarily driven by a 1.5-liter turbocharged engine, aided by an all-wheel-drive 48V EMS (Electric Motor Synergy) hybrid power mill in the Luxury trim. Electrified features such as a 48V belt-starter generator, 48V lithium-ion battery module, a 48V-12 DCDC converter, and battery management system helps the top-ranging Azkarra reach a combined power output of 190hp and 300Nm of torque. The Azkarra Premium on the other hand, is driven solely by the 1.5L engine, delivering an all-gasoline power of 177hp and 255Nm. Regardless of powertrain, the Azkarra boasts real-time all-wheel drive system that delivers reliable responses.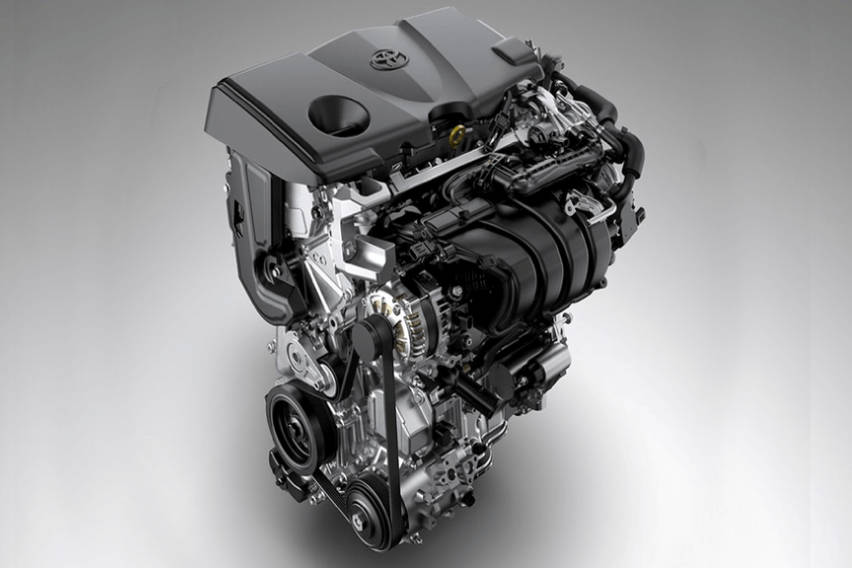 Powering the all-new RAV4 is a 2.5-liter naturally aspirated, inline-four engine mated to an eight-speed Direct Shift auto gearbox. All the three trims (LE, XLE, and LTD) are front-wheel drive, and dish out 203hp and 243Nm of torque. The car also comes with an advantageous Eco Mode for improved fuel efficiency and savings.
Exterior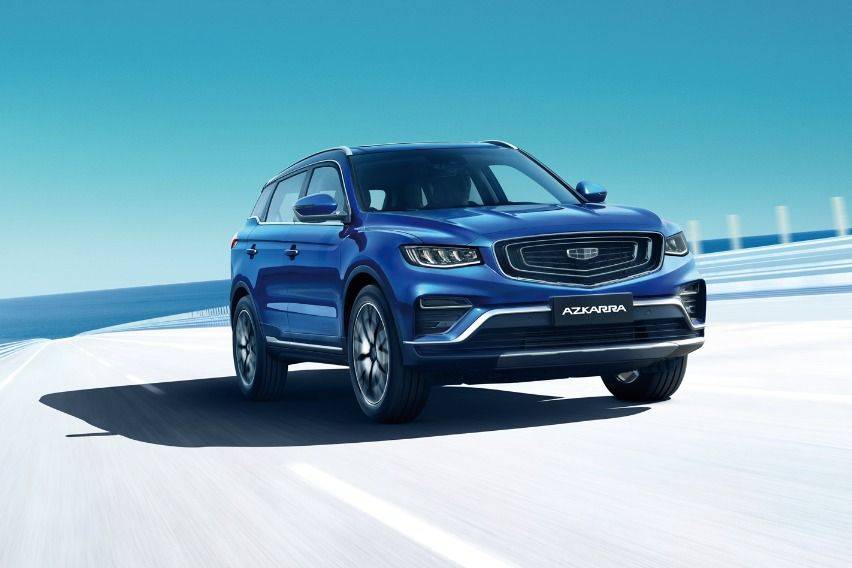 Exterior-wise, the Geely Azkarra SUV exudes a bold look, courtesy of a raised hood and a more pronounced grille displaying the brand's signature Expanding Cosmos design philosophy while being bookended by deep-set smart LED headlamps. At the sides, the air intakes exude both form and function, stretching across the horizontal width of the car and thereby enhancing the SUV aerodynamic performance. Out back, smart LED taillamps mirror the silhouette of the lights found at the front.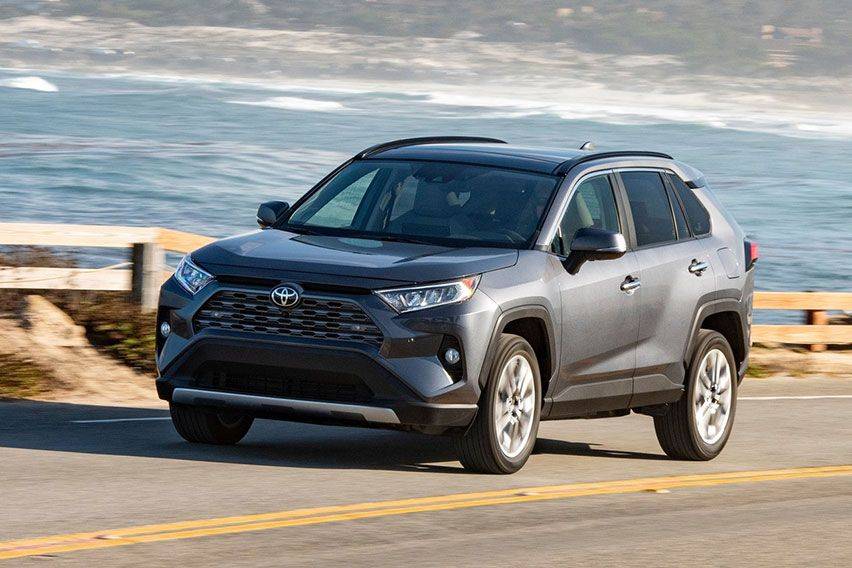 Unlike its predecessors that tend to disappear among its peers, the look of the new Toyota RAV4 is instantly attention-grabbing. The Decepticon-looking front fascia features a 'cross-octagon' styling that combines the wedge-shaped front with an octagon-shaped rear, imbued with a 90-degree profile similar to those found on the Mazda SkyActiv line. Depending on the variant, the latest RAV4 can come with either 17- or 18-inch aluminum wheels.
Interior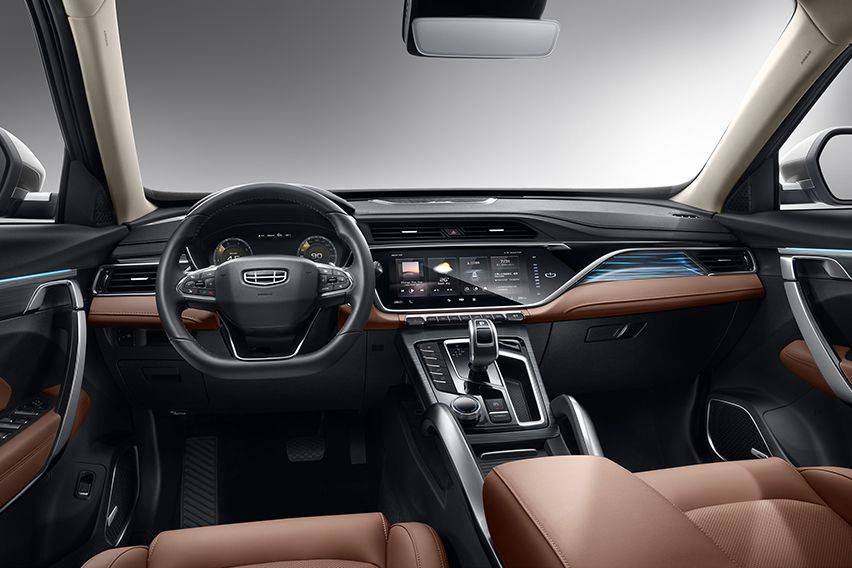 Inside, the Geely Azkarra immediately conveys more spaciousness, elevated by an elegant contemporary design. The air vents in particular, display a sort of "wrap-around" look, pushing into the doors and further enhancing the perceived space. Meanwhile, fluid interlacing character lines are well-placed inside the cabin to help enhance visual depth throughout. But perhaps the cabin's most eye-catching features are the two HD central infotainment panel and full LCD instrument panel, with each seamlessly integrating into the high tech dashboard highlighted with wood grain textured trims.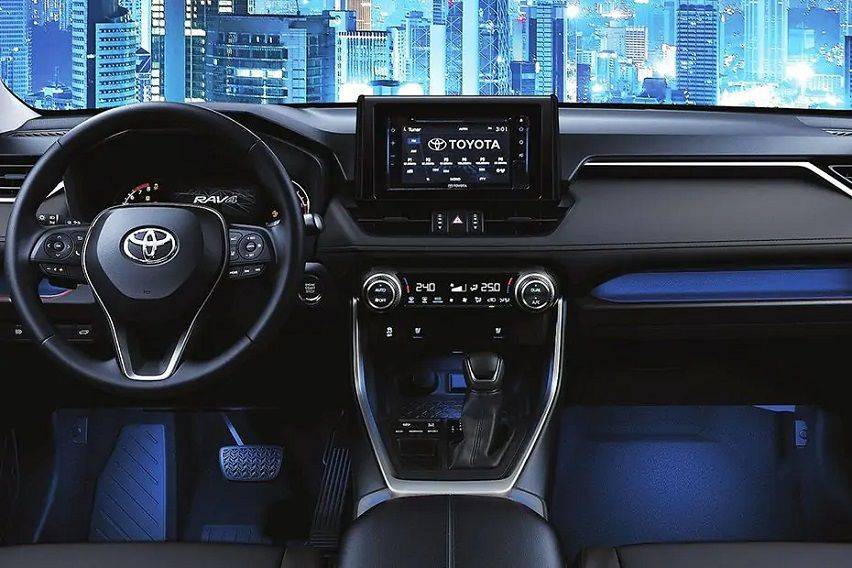 Though the cabin of the new Toyota RAV4 looks sleek and stylish, it is evident that Toyota rightly placed its priorities on functionality rather than aesthetics. The layout is ergonomically sound, starting with the seven-inch touchscreen crowning the center and bordered by easily identifiable knobs and controls. Interior features include eight-way power-adjustable driver's seat with memory and lumbar support, rear cooler, near-field communication wireless charging system, leather upholstery, and panoramic moonroof.
Space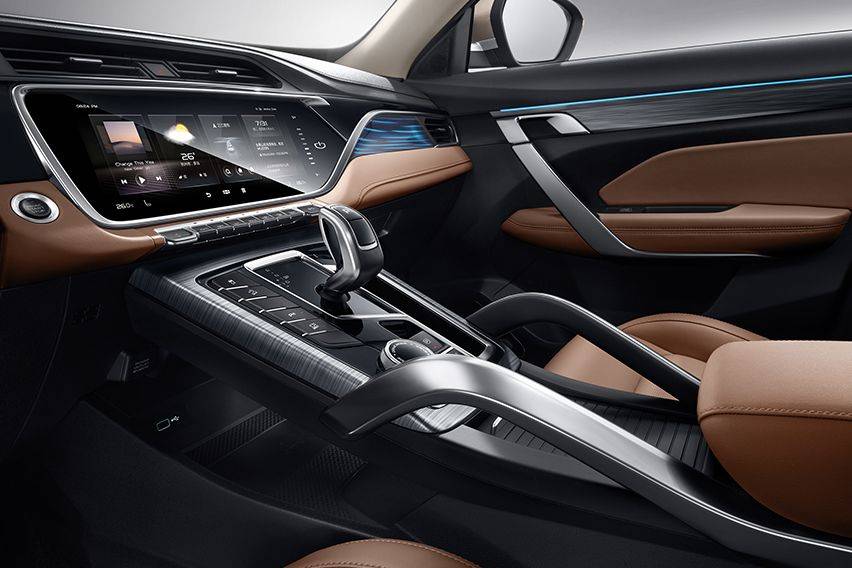 Left and right, the Geely Azkarra has received plenty of praises for its spaciousness. Even tall adults won't feel uncomfortable in the crossover's rear cabin during long trips. There's no transmission tunnel in the middle, so center rear passengers won't have to spread their legs apart. It's got eight cupholders in all, not to mention a cooling box on the center console for keeping beverages cool. Boot space is 320 liters with the rear seats up.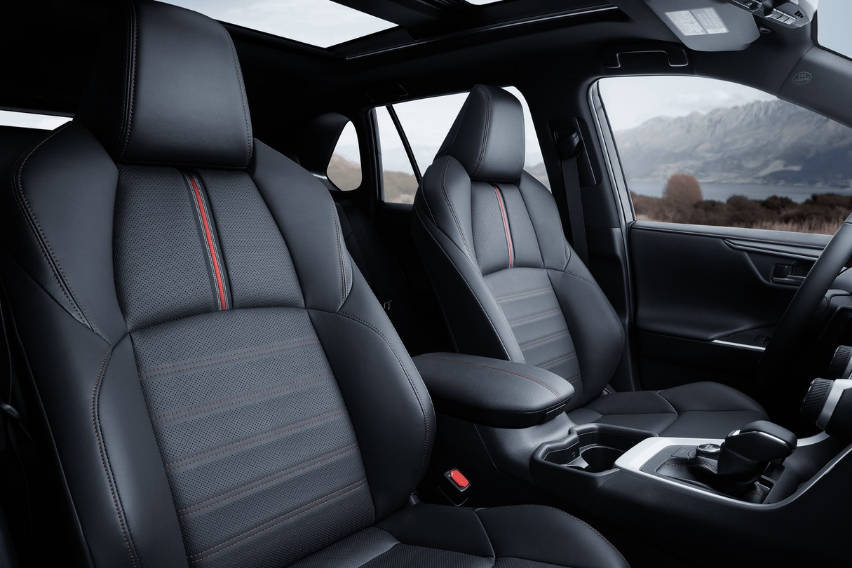 Generous legroom is practically expected in the Toyota RAV4, and the latest model doesn't disappoint. Rear passengers are welcomed by spacious seating at the back, and a low floor makes loading cargo a breeze. Storage spaces are aplenty, thanks the enormous center console and double-tiered design of the dash. There's 547 liters of boot space in total, including a 100-liter underfloor storage area, useful for hiding valuable personal belongings out of sight.
Safety
With a five-star rating from China New Car Assessment Program (C-NCAP), plus an N95-grade air filtration system, the
Geely Azkarra
is easily one of the safest cars in its price range. Other noteworthy safety features include a smart electric tailgate, full range 360-degrees panoramic camera, electronic parking brake with autohold, and super long distance illumination. There's even a suite of advanced safety systems to enjoy,

In the new Toyota RAV4, standard safety features  include seven airbags, anti-lock brake system, trailer sway control, hill climb assist, and engine immobilizer. The top variant comes with additional front and rear parking sensors plus a rearview camera.
Pricing and options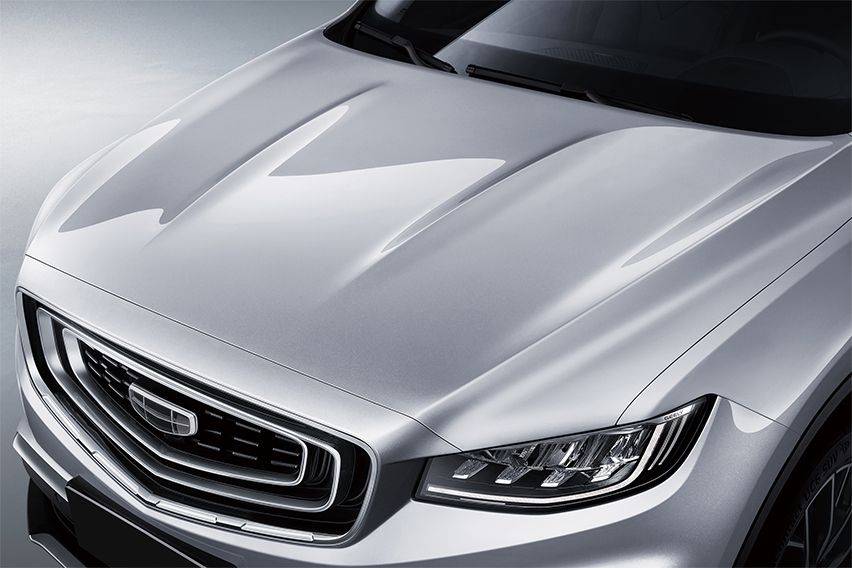 Shoppers of the Geely Azkarra can choose between two options Premium (PHP1.44 million) and Luxury (PHP1.6 million). The Chinese brand prides itself of affordable luxury, and so there's just a difference of PHP160,000 between the two variants, despite their many differences in features. Color options are the same for both variants: White, Blue, Silver, Red, and Black.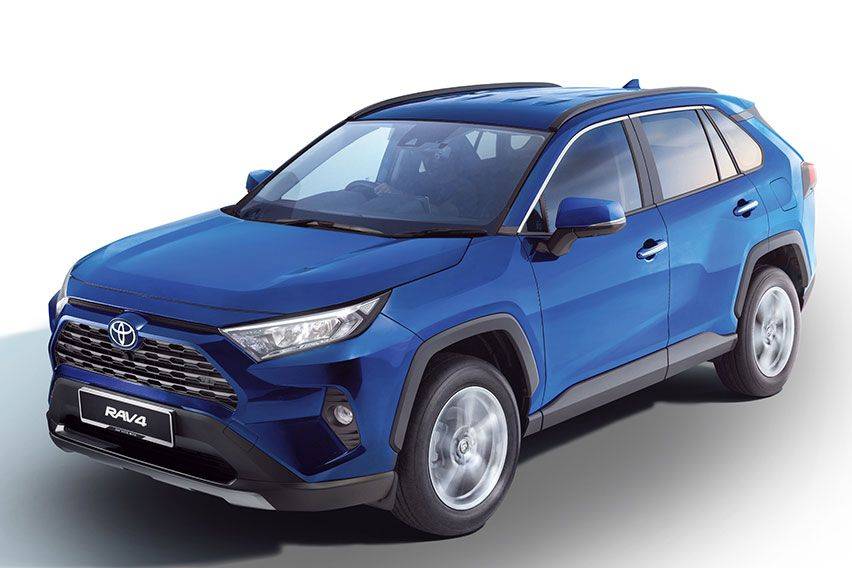 As mentioned, the 2019 RAV4 comes in three different trims, priced as follows:
There are six standard colors available: White Pearl Crystal Shine, Red Mica, Silver Metallic, Gray Metallic, Urban Khaki, and Cyan Metallic. For those who want a more custom look, three other colors–Super White II, Attitude Black Mica, and Dark Blue Mica–can be specially ordered, with a wait time of around three months.
Verdict
In hindsight, it would appear that
Toyota
simply stopped trying with the RAV4, contented in sticking with tried-and-tested formulas instead of taking risks as the Japanese maker did with the original version. As such, it's simply no match for the determined newbie that is the Geely Azkarra. With better powertrain options, a sleeker and sportier look, better safety, better equipment package, and a more affordable price point, we'd rather put our money on the crossover made in the Middle Kingdom than the one from the Rising Sun.

Photos from Geely, Toyota