Car Comparison: Suzuki Ciaz vs Honda City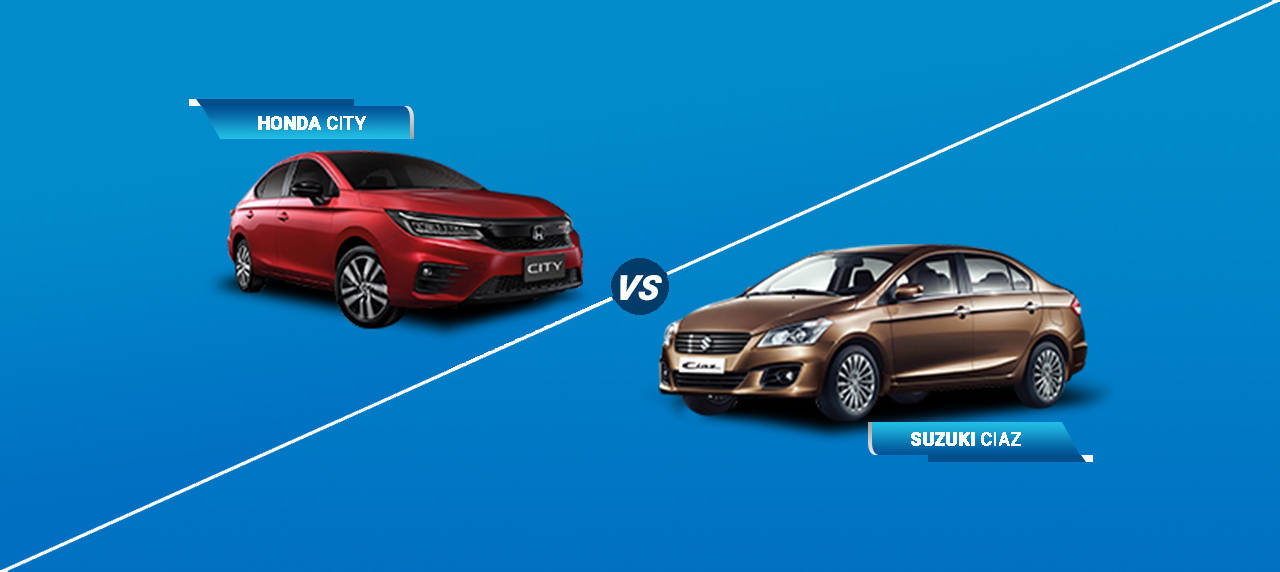 The local automotive industry has seen quite the shift in the preference of Filipino car buyers these past few ko years. The market has shown growing interest and appreciation for smaller and more compact vehicles like subcompact cars, compact crossovers, light pickup trucks, MPVs and AUVs, and of course, mid-size sedans.

It's not difficult to see why prospective local car shoppers tend to lean towards mid-size vehicles. Today's mid-size car segment offers better cabin space and better safety features than their predecessors. Vehicles in this segment are also more affordable and are more economical in terms of fuel consumption compared to its larger, beefier brethren.

That said, it's only befitting to pit two vehicles that best exemplify the modern mid-size sedan; the Suzuki Ciaz and the Honda City. Let's take a look at what the base model of both cars has to offer.

Dimensions




Geared to attract car buyers looking to get into the transport network vehicle service (TNVS) industry, the Suzuki Ciaz was made with a larger body to accommodate better cabin room for its passengers. In fact, it's one of the roomiest vehicles in its segment. Moreover, the Suzuki Ciaz offers better ground clearance and a wider wheelbase, providing it a decent distance for the vehicle to fly by potholes and road humps. Designed to be the four-wheeled, mid-size sedan workhorse; you can expect the Suzuki Ciaz to deliver when tasked with errands like picking up your balikbayan relatives and their boxes of pasalubongs from the airport.

On the other hand, the Honda City still offers decent dimensions allowing it to carry four to five passengers with ease. With four generations under its belt, the Honda City still is the car to beat despite having smaller dimensions compared to the Suzuki Ciaz.

Exterior

While the Suzuki Ciaz aims to show that size matters in this segment, the Honda City proves that design and engineering make more of an impact.

The Honda City is outfitted with an aerodynamic-oriented, wedge-like exterior. Its angled and more prominent creases show Honda's functional approach to the overall exterior design of the Honda City. To top it all off, Honda equipped the City's 1.5 E M/T base variant with a slew of exterior features like multi-reflector halogen headlights, LED guide type daytime running lights, fender-mounted turn signals, and power door mirrors. Those looking for pogi-points won't be disappointed with the Honda City's chrome front grilles matched with a silver-painted trunk garnish. The handles and the mirrors of the 1.5 E M/T Honda City were made to match that of the colorway of the vehicle.

Developed to be the "authentic sedan," the Suzuki Ciaz aims to make more of an impression of elegance rather than a sportiness with its somewhat rounded aesthetics and larger build. Its expansive body speaks a design language that emanates both exclusivity and functionality. Outfitted with halogen projector headlamps, two-part rear lamps, and side mirror-mounted turn signals, the Suzuki Ciaz offers basic but sophisticated features. To compete with Honda City's design, Suzuki Ciaz's GL 1.4L - M/T base variant offers a chrome front grille with color-matching boot lid and door handles. Those wanting to have chrome door handles, beltline ornaments, and boot lid will have to opt for Suzuki Ciaz's top trim level.

Interior

The interior features of the Honda City are an extension of its exterior façade. You'll see a relatively functional and aggressive design like robust controls and durable-looking plastic. Everything the driver needs can be accessed from the driver's seat with ease. The aggressive interior design is complemented with the base variant's black interior color motif that extends to the inner door handles and the dash. Inside, you'll find a 1-DIN audio system with USB-in & AUX-in connectivity, a 12 V accessory socket, two cup holders, and four bottle holders.

The Suzuki Ciaz's base model offers relatively practical interior features plus a touchscreen panel outfitted with an offline navigation system.

Engine




Pop the hood of the Honda City and you'll find Honda's iconic 1.5L i-VTEC engine. It offers more power and more torque compared to Suzuki's smaller 1.4L 414B engine. Both engines run the City and the Ciaz on front wheels.

While the Honda City seemingly has the edge over the Suzuki Ciaz in terms of power, the Suzuki Ciaz's relatively larger body allows it to offer better fuel capacity over the Honda City.

Safety

Both vehicles offer basic safety features common for mid-size sedans.
Honda's base 1.5 E MT variant offers driver and front passenger airbags as well as Honda's G-Force Control (G-CON) body structure to boast. The Suzuki Ciaz's safety features appear somewhat modest with the basic standard seatbelt and airbag fittings.




Price

Those wanting to give the Suzuki Ciaz a try won't have a hard time choosing between variants having been offered only in three trim levels.

On the other hand, Honda offers a variant for everyone offering the Honda City six trim levels. Conclusion

While the base variant of both modern mid-size sedans looks value-laden for the price, those with more specific preferences will find that the Honda City provides more room for customization and personalization.

Suzuki Ciaz's three trim levels are more suited for new car owners who might find the wider range of Honda City's trim options a little overwhelming.




Conclusion

While the base variant of both modern mid-size sedans looks value-laden for the price, those with more specific preferences will find that the Honda City provides more room for customization and personalization.

Suzuki Ciaz's three trim levels are more suited for new car owners who might find the wider range of Honda City's trim options a little overwhelming.



Also read: 2020 Honda City: Changes Explained
Here's the Newest Honda City 2020
Car Comparison: Suzuki Ciaz vs Hyundai Accent