All-New Honda CR-V Gets 5-Star ASEAN NCAP Rating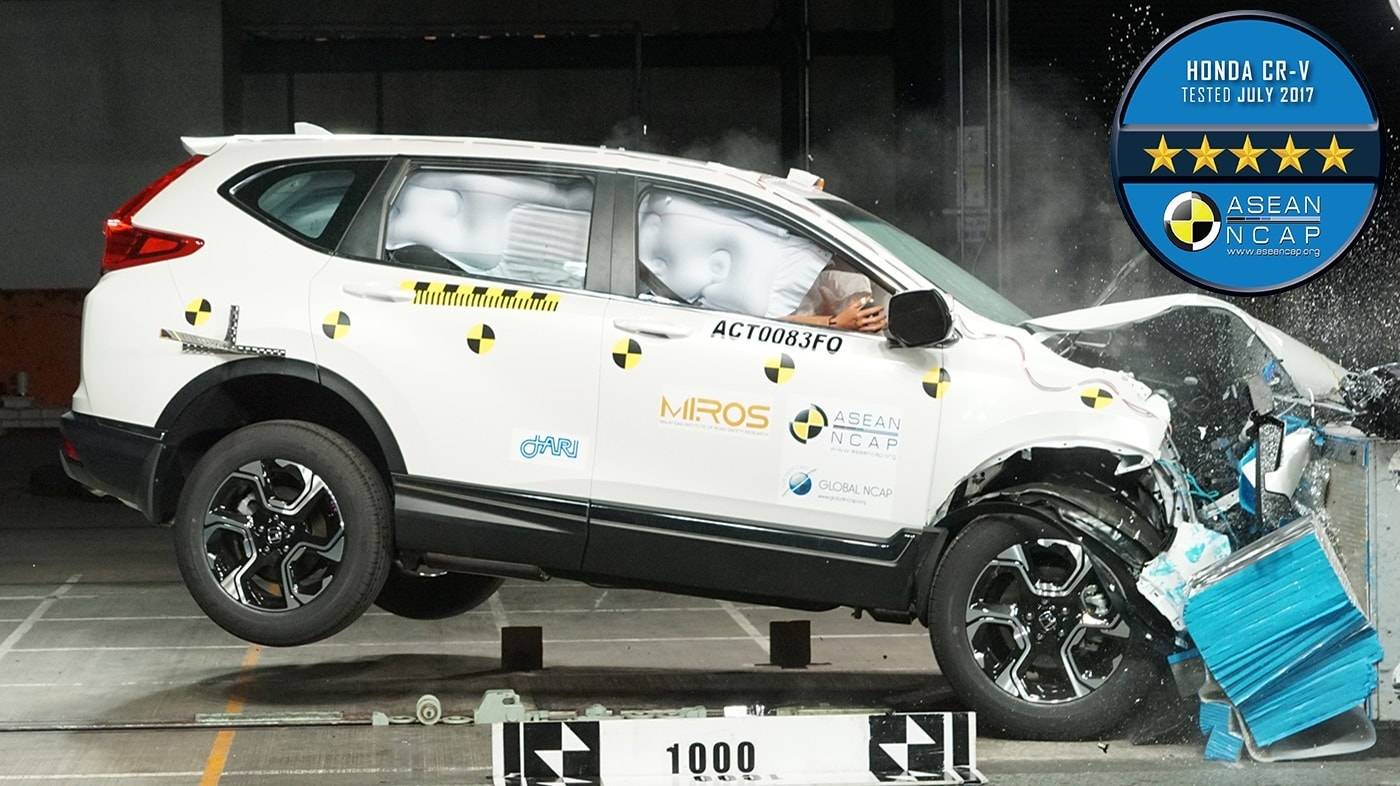 Here's some good news if you're planning to buy the all-new, fifth-generation Honda CR-V: it may be relatively new to the market--going on sale globally in December 2016 before finding its way to the ASEAN region in April 2017--yet Honda Motor Co., Ltd.'s compact crossover has received the top 5-Star rating from the New Car Assessment Program for Southeast Asia's (ASEAN NCAP) new rating system to assess vehicle safety levels.

Out of the maximum 100 points, the all-new Honda CR-V received 88.8 points which can be broken down across three sections: 47.25 (out of the maximum 50 points) for Adult Occupant Protection (AOP); 22.84 (out of 25) for Child Occupant Protection (COP); and 18.71 points (out of 25) for Safety Assist Technologies (SATs).

The new rating system essentially combines all three assessments to come up with an overall rating compared to the previous system, which was used from 2012 to 2016, that was based on a dual rating comprised of the AOP and COP which produced two final scores--a drawback of which was that manufacturers supposedly tended to promote the higher rating over the lower one.

The 5-Star rating for the all-new Honda CR-V is significant for Honda Motor since it is also the first manufacturer in the ASEAN region to be tested using ASEAN NCAP's new rating assessment system.

Helping the Honda CR-V achieve its 5-Star rating are its safety features like the dual frontal airbags, three-point seatbelts, Seatbelt Reminder for both driver and front passenger, ISOFIX Child Seat Anchor, Electronic Stability Control (ESC), and Anti-lock Braking System (ABS) which are all fitted as standard. Others safety features like side airbags, curtain airbags, blind spot technology, and driver attention monitor are available to most of the ASEAN market. Most significant though is the introduction of Honda Sensing Technology in the all-new model as part of Honda's commitment to safety which adds Lane Keeping Assist System (LKAS), Road Departure Mitigation (RDM), Adaptive Cruise Control (ACC) and Collision Mitigation Braking System (CMBS) on the higher variants, like the Honda CR-V SX Diesel 9AT AWD available locally.

"We are pleased that ASEAN NCAP's first result release under the new rating for Honda CR-V obtained a 5-Star result in the overall score," said ASEAN NCAP Chairman Prof. Dr. Wong Shaw Voon. "This shows that manufacturers are dedicated to produce safer cars for the ASEAN region in line with our new safety protocol. Furthermore, the Honda CR-V's result will be a catalyst for other vehicles to produce safer cars for this region. Although Honda Sensing is currently only available in the top range variant, we look forward to have it standard across all variants in the coming future."