'Tis the season to take advantage of Toyota offers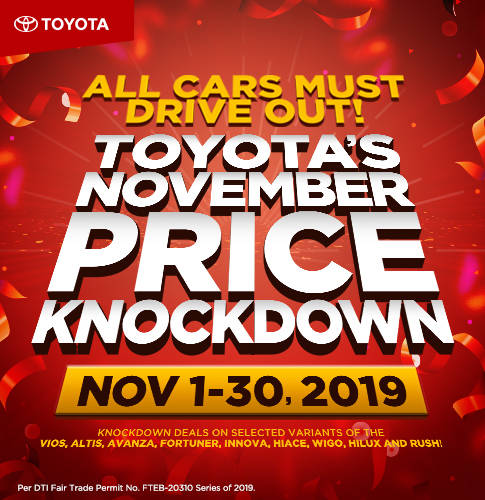 Local automotive titan Toyota Motor Philippines (TMP) has just announced its inventory clear-out sale this month.

The promo, dubbed as November Price Knockdown promo, will provide massive discounts and exclusive packages on eleven (11) of Toyota's best-selling models: Vios, Innova, Fortuner, Avanza, Corolla Altis, Hiace, Wigo, RAV4, Yaris, Hilux, and Rush.

The promo is up to November 30.

Car buyers can own and drive their favorite models with savings as much as PHP 110,000 on the Vios G Prime CVT and PHP 90,000 on the Fortuner G Diesel AT.

Pay Low and Pay Light options are also available for the other participating models.

Customers are also entitled to Free Periodic Maintenance Service (PMS) of up to 20k kilometers and a 5-Year Extended Warranty when they purchase any of the Vios G or E variants within the promo duration. The Fortuner 4x2 variants also come with Free PMS.

"As the year closes, we encourage everyone to visit our dealerships and check out Toyota's exciting offers," said TMP Vice President Elijah Marcial.

"If you've been eyeing for a vehicle for the longest time, this is a great opportunity to finally get one and enjoy the perks of owning a Toyota in time for the coming holidays."

Interested customers may access the full details and reserve through the official website link below:

http://toyota.com.ph/NovPriceKnockdown

Head to any of Toyota's 70 dealerships nationwide to know more about the November Price Knockdown promo. For the latest Toyota news and information, visit TMP's official website at www.toyota.com.ph and follow the official Facebook page at www.fb.com/ToyotaMotorPhilippines.