Car Comparison: Suzuki Ertiga vs Mitsubishi Xpander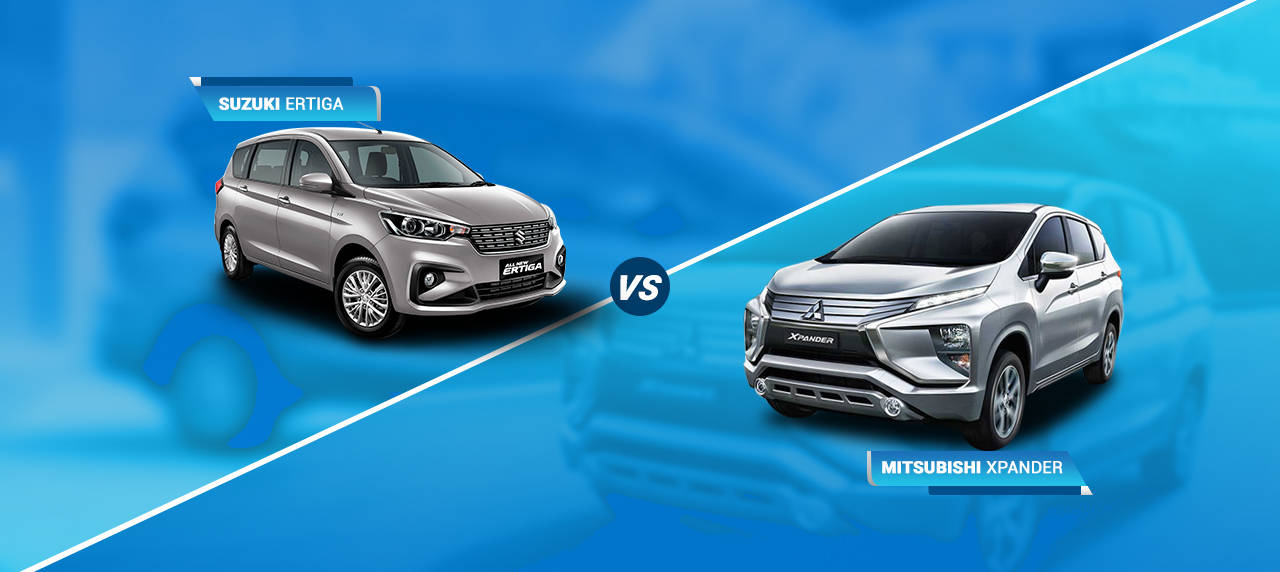 Five doors, seven seats, and a fuel-efficient engine, who can say no to MPVs and AUVs? Because of its practical features, it's not difficult to see why the local automotive industry has seen quite the spike in the sales of these compact multi-purpose vehicles. It's like owning an SUV and a sedan at the same time, all without breaking the bank. In this story, we'll look into two of the best-selling MPVs in the local automotive landscape, the Suzuki Ertiga, and the Mitsubishi Xpander, and pit their base variants against each other – mano a mano. Both MPVs have a strong pedigree to boast having been manufactured by two familiar names in the car industry. One's got that conservative yet sophisticated vibe while the other offers more of a virile and an outgoing character. Here's how they look like standing toe to toe. Dimension
The base variant Mitsubishi Xpander GLX 1.5G 2WD MT offers a longer frame with an 80 mm advantage over the Suzuki Ertiga. It also boasts a wider body with a difference of 15 mm and a taller frame with a difference of 5 mm. While these numbers may seem inconsequential, they give the Mitsubishi Xpander a slight lead over the Suzuki Ertiga when it comes to cabin space. This dimensional dominance extends further as Mitsubishi Xpander's higher trim levels offer taller builds at 1,700 mm. With the rear seats stowed, the Mitsubishi Xpander offers a maximum cargo volume of 1,632 liters while the Suzuki Ertiga offers a decent 803 liters. The same can be said in terms of both their wheelbase and ground clearance as the Mitsubishi Xpander continues to prove its beefier build for those looking for an MPV that can haul a lot of cargo. Exterior The striking difference found on both MPVs continues to be seen on their exteriors. The Suzuki Ertiga uses a more subtle design language, exuding sophistication, grace, and elegance. On the other hand, the Mitsubishi Xpander offers a more masculine and outgoing look. It borrowed design cues from Mitsubishi's larger vehicles like the Mitsubishi Strada and the Mitsubishi Montero Sport to show that they're basically cut from the same cloth. The Suzuki Ertiga's base GA - MT (Black Edition) variant is outfitted with headlamps with halogen projector functions on high beam and halogen multi-reflector functions on low beam. At its rear, you'll find LED combination lamps to match what's in front. You'll also find blacked-out c-pillars, body-colored door handles, and a key-operated tailgate opener. Mitsubishi gave the Xpander the second-gen dynamic shield fascia with bumper-embedded headlamps, and LED position lamps. The aggressive styling continues at the rear with its LED combination tail lamps. Mitsubishi also offers genuine accessories like front, side, and rear air dams, side window deflectors, and luggage mats amongst others. Interior The cabin of the Suzuki Ertiga looks sleek and sophisticated. The all-new black-edition Ertiga offers an elegant cabin atmosphere with its streamlined black design. Moreover, a darker interior means it won't easily catch stains so that's a plus. Although the cabin size is comparably smaller to the Mitsubishi Xpander, the way the interior components are laid out leaves an impression of having a generous room space. The same can be said with the interior layout of the Mitsubishi Xpander although the difference in headroom and legroom is obvious. It boasts a class-leading 2,840 mm cabin space for leaving a family of five plenty of room to move in. Engine
The Suzuki Ertiga uses the same K15B engine found on the face-lifted Ciaz and the fourth-gen Jimny. On the other hand, the Mitsubishi Xpander is outfitted with their tried and tested 4A91 engine found on other Mitsubishi vehicles like the 2004 Colt and the 2007 Lancer. With more horses to offer the Mitsubishi Xpander continues its dominance against the Suzuki Ertiga by gaining the upper hand in terms of power. However, in real-world driving conditions, the difference between these numbers is trifling. Safety The base variants of both MPVs include the standard suite of safety features. The Mitsubishi Xpander's GLX 1.5G 2WD MT is outfitted with front SRS airbags, the basic seatbelt loadout, ISOFIX car seats, tether anchors, and ABS with EBD. You'd find the same set of safety features with the Suzuki Ertiga GA - MT (Black Edition) including child-proof rear doors, an immobilizer, and side impact beams. As with all other vehicles, the higher the trim level, the better the safety features are.
Price The Suzuki Ertiga looks to be the more affordable option with a base model priced at ₱738,000. However, for a more aggressive-looking MPV that offers options for customizability, be prepared for the Xpander's ₱999,000 price tag. Check our table below for a detailed price list
Conclusion Practicality and affordability (without sacrificing quality) are what the Suzuki Ertiga was made for. So, if you're shopping for an MPV that will do just that, the Suzuki Ertiga makes for the best choice. However, prospective car buyers who look for more cabin space and the possibility of updating their MPVs looks are better off going with the Mitsubishi Xpander.
Read All
Featured Articles