Which is Better: Honda CR-V vs. Toyota RAV 4?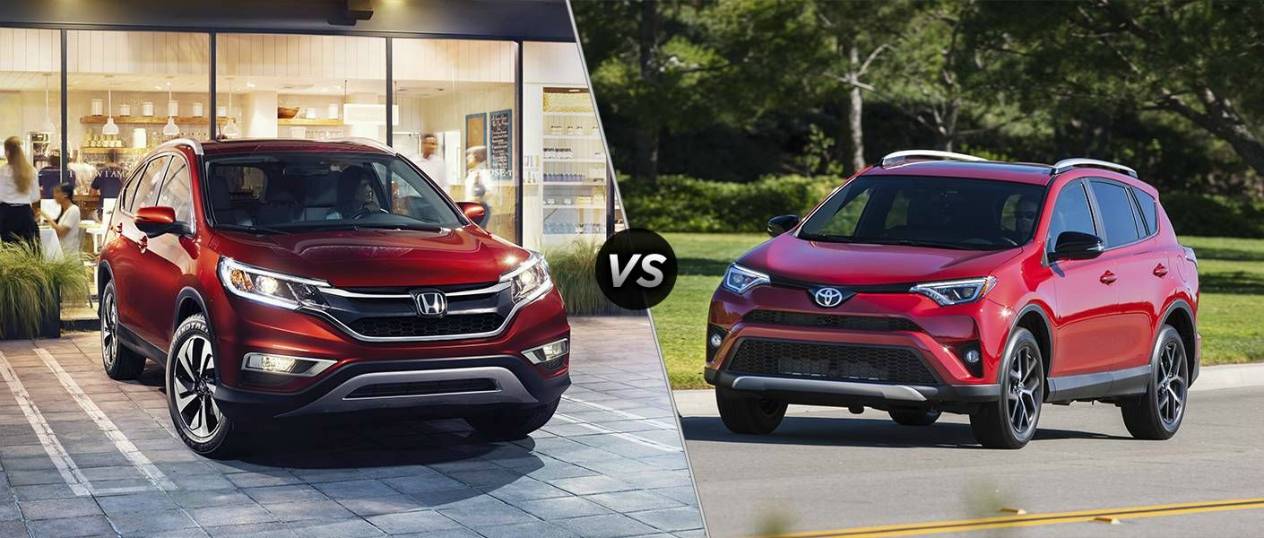 Small SUVs are a big hit to Filipinos today, mainly because these vehicles offer families more versatility, better cargo / passenger space, and decent fuel economy compared to most sedans. What's more, they don't make parking a nightmare, since their small sizes can fit relatively easier compared to a full-size SUV.
There are two popular models that come to mind when we talk about this type of vehicle: the 2016 Honda CR-V and 2016 Toyota RAV-4. Both are highly recommended by car lovers. But still, have you ever wondered which vehicle is better? Here's what we found out:
Performance and Price
Winner: RAV 4
It's true that both cars almost have similar specs when it comes to engine and fuel efficiency, but that's where everything ends here. RAV 4 wins in this round, mainly because its overall performance is better compared to the CR-V. And of course, RAV 4 is more affordable as well.
And while it's true that Honda CR-V offers better engine power than the RAV 4, there's one thing that made us think twice here: the noise. The CR-V uses CVT transmission, which can get a bit noisy in the cabin. RAV 4, on the other hand, offers a much quieter, smoother engine.
What's more, CR-V's suspension is a tad bit stiffer compared to RAV 4, which was more comfortable and softer. A stiffer suspension does have its benefits though: CR-V does better when it comes to making those sharp corners on the road.
CR-V also did well when it came to steering response. Still, we think it wouldn't matter that much if you're stuck in traffic -- which you do more than half your driving time. Climbing uphill also proved to be quite challenging for the CRV. RAV 4, on the other hand, was able to climb the slope without any problems.
Convenience
Winner: RAV 4
We think RAV 4 won this round, especially since everything about it gears towards comfort. Handing this car is satisfactory, but more so driving it. There's a much softer response that you don't get to feel when driving the CR-V. And steering was easy yet controlled at the same time.
Don't get us wrong, though. CR-V does offer good lumbar support adjustment trim if you buy its mid-level variants. You can't get that with RAV 4, which requires you to buy the higher variants to avail of this feature.
Parents who have trouble fitting their kids on the backseat of the car will love the CR-V, though. It has an easy, one-push button that folds down a part of the rear seat to add more space for your children. RAV-4, on the other hand, somehow forgot to update their seats, making it a bit unsupportive for small children.
And how user-friendly are the controls? Pretty much easy for the RAV 4. The CRV, especially its mid-to-high variants, come with a mind-boggling infotainment system that isn't user-friendly, especially for first-time car users. Still, it's touchscreen, so you don't need to fiddle around for the buttons.
Cargo and Passenger Space
Winners:
 Toyota RAV 4 (Cargo Space)

 Honda CR-V (Passenger Space)
In an ideal world, we would love it if one car can offer a lot of room in both cargo and passenger spaces. However, we're talking about small SUVs here, so spaciousness can get compromised from time to time.
Cargo Space
When it comes to cargo space, then RAV 4 definitely beats CR-V, hands down. Everything — from cargo volume to seats 1 - 3 are bigger compared to CR-V's specs.
This makes RAV 4 a much better choice if you need to haul a lot of stuff (and humans) on a daily basis.
Passenger Space
Honda CR-V wins when it comes to passenger space, with higher numbers both in head room and leg room. The only exceptions are its front leg room, which is an inch shorter compared to RAV 4's. The second row's head room is also .03 inches less than RAV 4's.
The rest, however, are bigger, including the following:
Front Hip Room
Second Leg Room
Front Head Room
Passenger Volume
Second Hip Room
Front Shoulder Room
Second Shoulder Room
By the way, we recently learned that the 
2017 Honda CR-V has beaten RAV-4
both
in cargo and passenger space this year. In this case, the newest model of the CR-V is the
undisputed winner
in this round.
Safety and Security
Winner: Honda CR-V
The Toyota RAV 4 does a fine job of adding a lot of safety features in its 2016 model. And it has an edge over the CR-V when it comes to more airbags and better LED brake lights. RAV 4 also has a Blind Spot Monitoring System and Low-Tire Pressure Warning that the CR-V doesn't have.
Still, we think that the CR-V is a safer car compared to the RAV 4 for three reasons:
First, Honda has always been one of the leading brands when it comes to car safety.
Second, it has more security features (compared to the RAV 4) as shown in the chart below:
Security
And third, it performs better in NHTSA's crash tests:
NHTSA Crash Test Ratings
Conclusion
So, which is better? Honda CR-V or Toyota RAV 4? We recommend the CR-V if overall space, safety, and security are your utmost priorities.
Otherwise, it's best to go with the Toyota RAV 4, since it fares better when it comes to performance, convenience and comfort. It's also packed with considerable safety features and space, making it a good all-rounder in the small SUV market today.